Electric Picture Display Systems, Scalable Display Technologies Collaborate on Maritime Training Simulators
Projection display technologies allow maritime workers to engage in simulated training without having to launch from the dock.
Leave a Comment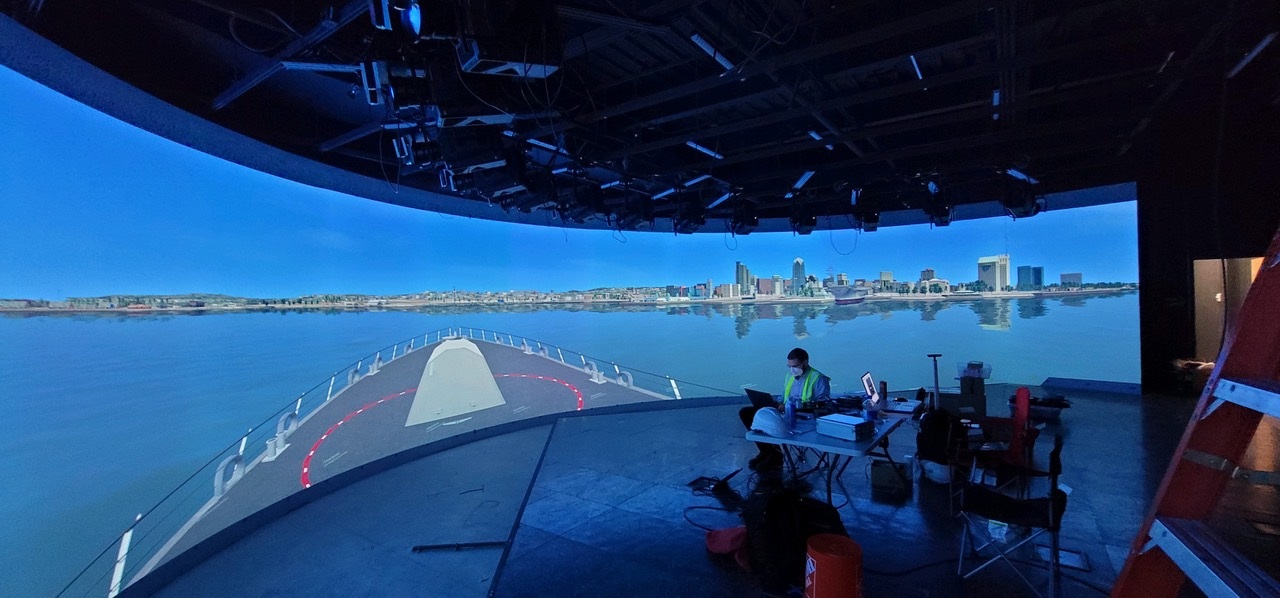 When watercraft operators, engineers, officers, cargo handlers and crew members train for the real deal, they typically have to do so from vessels launched from the dock for the necessary hands-on training.
However, projection technology from Scalable Display Technologies and integration work by Electric Picture Display Systems is helping mariners train in a state-of-the-art simulated environment from the port that can simulate threats, technical problems and how to adapt to challenges that arise on the ocean.
Electric Picture recently completed simulation projects for the Seafarers International Union in Piney Point, Md. and the STAR Center for the American Maritime Officers in Fort Lauderdale, Fla., with another project underway at the Panama Canal Authority.
The company has been working with Scalable Display Technologies since 2012 to bring groundbreaking software the automatically calibrates multiple projectors to help Electric Picture integrate a mix of cylindrical and spherical simulator displays.
R.P. Higgins, president of Electric Picture, said in a statement that Scalable is the company's go-to solution for edge-blending and warping because of the reliability, customer support and liberation from third-party hardware.
"Other manufacturers create blend and warp hardware boxes, and although that has declined in recent years, we prefer Scalable because their software solution connects directly to the graphics card," Higgins said. "It only requires a few lines of code to run the software on the content production. It streamlines the technology for our team and our end users."
Read Next: Motek Medical Standardizes Scalable Display Technologies for Military Rehabilitation
The software provided by Scalable automatically blends and warps multiple projects into a single seamless display, allowing Electric Picture to reduce installation time and provide a cost-effective solution to the end customer.
Before working with Scalable, Electric Picture worked with other companies and had to blend and warp by hand, but that proved to be too time consuming, Higgins said.
"With Scalable, the cameras do this automatically within minutes. This is something that used to take hours to blend an image line by line and point by point," Higgins said, adding that the quality of the multi-channel display that separates Scalable from its competitors. "The geometric accuracy meets the most stringent tolerances for training and blend zones are undetectable – creating an immersive environment and thus enhancing the effectiveness of the training."
Higgins also highlighted Scalable's customer service, noting one big project in San Diego with 75 projectors that requires a lot of blending and warping.
"We know that (Scalable's) technicians will ensure the project is completed seamlessly and beautifully. We also incorporate one or two days of training with Scalable's technicians and the facilities manager. This ensures we have a smooth trade-off of technology," Higgins said. "Scalable has significantly improved their software over the last two years making it more user-friendly.
Simulators will rely on projection displays until LEDs become more affordable and can curve to fit a spherical design, Higgins said.
"Many companies have transitioned their focus away from projection, but Scalable Display continues to invest in the technology, and they have become a leader in projection edge-blending and warping technology."