Epson at InfoComm 2021: Partnership with AVI-SPL and Igloo Vision
At InfoComm 2021, Epson announced a partnership with AVI-SPL and Igloo Vision to bring a 360-degree immersive laser experience display center to Orlando, Florida.
Leave a Comment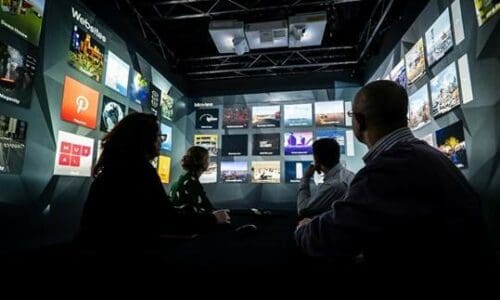 Epson announced a partnership with integration giant AVI-SPL and Igloo Vision to bring a 360-degree immersive laser experience display center to Orlando, Florida.
The company declared at InfoComm that the new immersive experience center from AVI-SPL was now open and will bring together technology designed to inspire AV leaders.
Epson stated that several Epson projectors, including the Pro L1075UNL with ELPLX01 ultra short-throw lens and BrightLink® 1485Fi, were being used in the dome and collaborative meeting space of the center respectively. The projectors were integrated using a custom mounting solution by local Orlando manufacturers.
Epson, Igloo Vision, and AVI-SPL announced that the partnership cultivates leading-edge yet turnkey solutions, along with providing design, cutting-edge technology, implementation, and execution.
"The new AVI-SPL XTG experience center enables designers and customers to see firsthand the power of immersive visual experiences and collaboration," said Brandon Brunhammer, solution architect at AVI-SPL. Brunhammer also noted, "With Epson's advanced laser projectors and Igloo Vision's powerful media players in full force and in the heart of themed entertainment, we're poised to inspire today's and tomorrow's experience center technology leaders."
According to Igloo Vision, the immersive media players power its shared immersive workspaces that come in various forms and degrees of sophistication including simple sales and presentation suites to powerful CAVE-type solutions. The company further added that these workspaces integrate with any digital content and a wide range of everyday enterprise tools, including standard video conferencing platforms. Moreover, they allow teams to work with many different types of digital content, in different formats, from different sources, all at the same time.
Epson commented that their laser projectors provide creative possibilities and interactive audience experiences with advanced technology designed to deliver color output and durability. The company also emphasized the laser projection solutions which offer a wide selection of lenses, including 0.35 ultra short-throw with zero offset for installing a projector just inches from a screen or wall, ideal for narrow spaces and rear-projection applications.
"This partnership with Igloo Vision is driving small chassis and fully featured next-generation laser projector innovation that is best experienced firsthand. AVI-SPL's global partnership designing, installing and supporting large scale Epson laser display solutions provides end-users with tomorrow's technologies today," concluded Gavin Downey, product manager at Epson.