Blackmagic Design Announces New Blackmagic Pocket Cinema Camera 6K
Blackmagic Pocket Cinema Camera 6K packs myriad features of digital film camera into handheld design for a variety of uses in several vertical markets.
Press Release
Leave a Comment
Blackmagic Design recently announced the release of the Blackmagic Pocket Cinema Camera 6K, a handheld digital film camera with a full Super 35 size 6K HDR image sensor, 13 stops of dynamic range, an EF lens mount and dual native ISO up to 25,600 for low-light performance.
The Blackmagic Pocket Cinema Camera 6K builds on the popularity of the company's 4K version but has a larger Super 35 sensor size with 6K resolution. The EF lens mount model works with a wide range of lenses from companies such as Canon, Zeiss, Sigma and Schneider.
Blackmagic Pocket Cinema Camera 6K is available immediately from Blackmagic Design resellers worldwide for $2,495.
"The elegant design of the Blackmagic Pocket Cinema Camera packs an incredible number of high-end digital film features into a miniaturized, handheld design," according to the company press release.
Made from lightweight carbon fiber polycarbonate composite, the camera features a multifunction handgrip with all controls for recording, ISO, WB and shutter angle.
"Because it's an advanced digital film camera, the sensor is designed to reduce thermal noise allowing cleaner shadows and higher ISO," according to the Blackmagic announcement. "The large 5-inch LCD makes it possible to get perfect focus at 4K and 6K resolutions."
Featuring a larger 6144 x 3456 Super 35 sensor and EF lens mount, the Blackmagic Pocket Cinema Camera 6K lets customers use larger EF photographic lenses to create cinematic images with shallower depth of field, allowing creative defocused backgrounds and bokeh effects.
This means that customers can shoot in 6K and then in post-production zoom and reframe to allow wide shots and closeups to be created, all from a single camera and without losing image quality.
More About Blackmagic Pocket Cinema Camera 6K
Blackmagic Pocket Cinema Camera 6K and 4K both have 13 stops of dynamic range, which means they preserve more detail in the lightest and darkest areas of an image than simple video cameras.
This allows customers to set exposure for an indoor scene such as a cafe and still retain the details of bright outdoor light coming through a window. Customers even get more colors than the standard DCI-P3 colorspace used for feature films.
The Blackmagic Pocket Cinema Camera features dual gain ISO up to 25,600, which means both the 4K and 6K models are optimized to minimize grain or noise in images, while maintaining the full dynamic range of the sensor.
The native ISO of 400 is ideal for scenes with on-set lighting. The gain is set automatically as they adjust the ISO setting on the camera, so it's easy to capture great images when they don't have time to set up lights.
The Blackmagic Pocket Cinema Camera 6K will shoot up to 50 fps at 6144 x 3456 16:9 or 60 fps at 6144 x 2560 2.4:1 and 60 fps at 5744 x 3024 17:9. For higher frame rates, they can window the sensor and shoot up to 120 fps at 2.8K 2868 x 1512 17:9.
Customers can even work in true anamorphic 6:5 using anamorphic lenses in 3.7K 60 fps at 3728 x 3104.
The Blackmagic Pocket Cinema Camera 6K records using standard open-file formats so customers don't have to waste time transcoding media. Recording works in industry standard 10-bit Apple ProRes files in all formats up to 4K or 12-bit Blackmagic RAW in all formats up to 6K.
Media files work on all operating systems plus customers can format media cards and disks in HFS+ for Mac and ExFAT for Windows.
The Blackmagic Pocket Cinema Camera features built in CFast and SD UHS-II card recorders, and a USB-C expansion port for recording direct to an external media disk. Customers can use regular SD cards for HD or higher performance UHS-II and CFast cards for native 4K or 6K when using Blackmagic RAW.
Blackmagic RAW is a new format designed to capture and preserve the quality of the sensor data from their camera. It gives users images with detail and color throughout the production pipeline from camera to edit, color and mastering.
It also saves camera settings as metadata so customers can set ISO, white balance and exposure in camera or override them later while editing, all without any loss of quality. Blackmagic RAW files are also small and fast to use.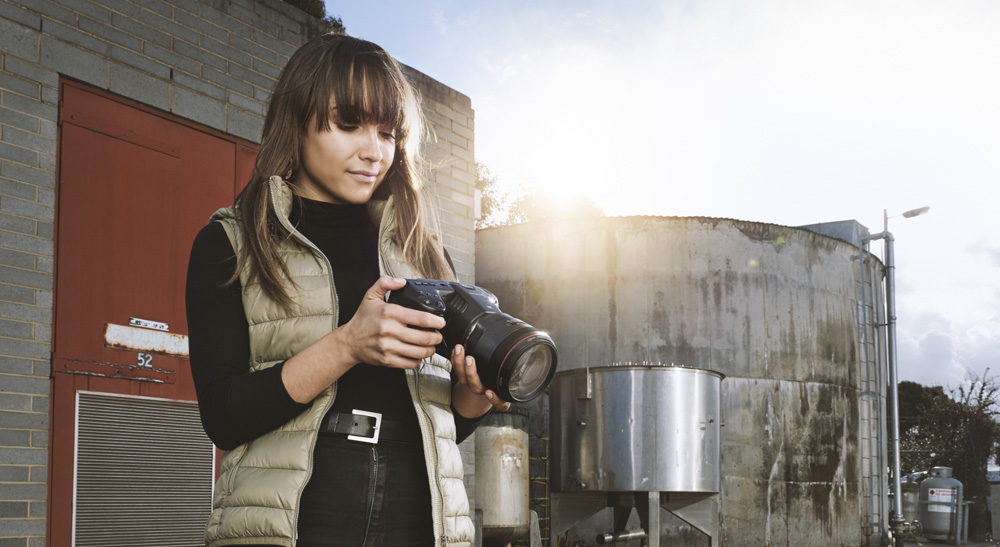 Why You Should Consider It
The rear of the Blackmagic Pocket Cinema Camera features a 5-inch touchscreen for customers to frame shots and accurately focus. The touchscreen displays critical information while shooting, as well as menus for setting up the camera and intuitive touch to focus controls.
On-screen overlays show status, a histogram, focus and peaking indicators, levels, frame guides, playback controls and more.
With the Blackmagic OS, customers get a camera operating system based on the latest technology. The interface uses tap-and-swipe gestures to adjust settings, add metadata and view recording status. Customers also get full control over advanced camera features such as on screen focus and exposure tools, 3D LUTs, HDR, metadata entry, timecode, Blackmagic RAW settings and more.
The Pocket Cinema Camera delivers accurate skin tones and faithful color in every shot. Blackmagic Generation 4 Color Science uses a 12-bit gamma curve designed to capture more color data in the highlights and shadows.
The color science also handles some Blackmagic RAW image processing, so color and dynamic range data from the sensor is preserved via metadata which customers can use in post-production.
The camera includes a full-size HDMI connector for monitoring with support for HDR and clean 10-bit output.
There's also a mini XLR connection with 48-volt phantom power for attaching professional microphones, a 3.5 mm video camera-style microphone input, headphone connection and a professional locking DC power connector.