FogCam, World's Oldest Webcam, Teaches Lesson About Serving Customers' Needs Simply
FogCam, launched in 1994 by SF State University students with a Mac and camera they bought in the campus bookstore, shutting down at end of August.
Leave a Comment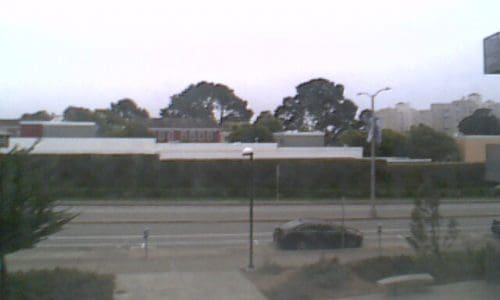 Chances are you've got at least a few traces of gray in your hair—or no hair at all—if you remember being excited when FogCam debuted at San Francisco State University in 1994. While the name itself may not generate much excitement, it was a technological breakthrough at the time.
If you haven't checked out the still-true-to-its roots feed launched by Jeff Schwartz (a.k.a. Webdog) and Dan Wong (a.k.a. Danno), two students earning their master's degrees in instructional technologies at SFSU in the early days of the Internet, time is running out.
FogCam, the world's oldest webcam, is shutting down at the end of this month, depriving loyal followers of grainy, often simple views of the world in and around the San Francisco State campus, updated every 20 seconds for the last 25 years on a Mac and camera Schwartz and Wong bought at the campus bookstore.
That means this year's returning students will no longer have the help they've counted on FogCam to provide in finding them open parking spaces near campus or find the shortest lines to grab their morning—or afternoon, depending on how late they slept in—Joe at Café Rosso.
"We felt it was time to let it go," Schwartz told SF Gate. "The bottom line is that we no longer have a really good view or place to put the camera. The university tolerates us but they don't really endorse us and so we have to find secure locations on our own."
What FogCam Can Teach You
SFSU administrators have threatened to shut the Fogcam feed down several times in the past quarter-century but Schwartz and Wong are finally ready to let it go on their own terms.
"It was a throwback to a time when anyone could publish anything," Schwartz told The New York Times. "A lot of people were experimenting." [Editor's note: That talk about people experimenting sounds like Schwartz may be talking about something other than first-generation webcams, but we digress.]
"It wasn't very exciting, but it did matter," Schwartz told the Times.
I find that line particularly interesting, because certainly there's something to be said about the marketing behind some of the world's most popular products and the desire to focus on the sizzle rather than the steak.
FogCam wasn't about blowing people away with cool graphics or the ability to add cat faces to humans on the street. It was truly a tool to help students get the information they needed more quickly in a new way that no one had tried before.
Are you doing that for your audience, or are you thinking too much about which filter you should use for the product glamour shots?