KanexPro 9-Input Presentation Switcher and Scaler Will Debut at ISE 2018
The KanexPro 9-input presentation switcher and scaler, featuring 4K and resolutions up to 3840x2160p, will be shown at 9-input presentation switcher.
Leave a Comment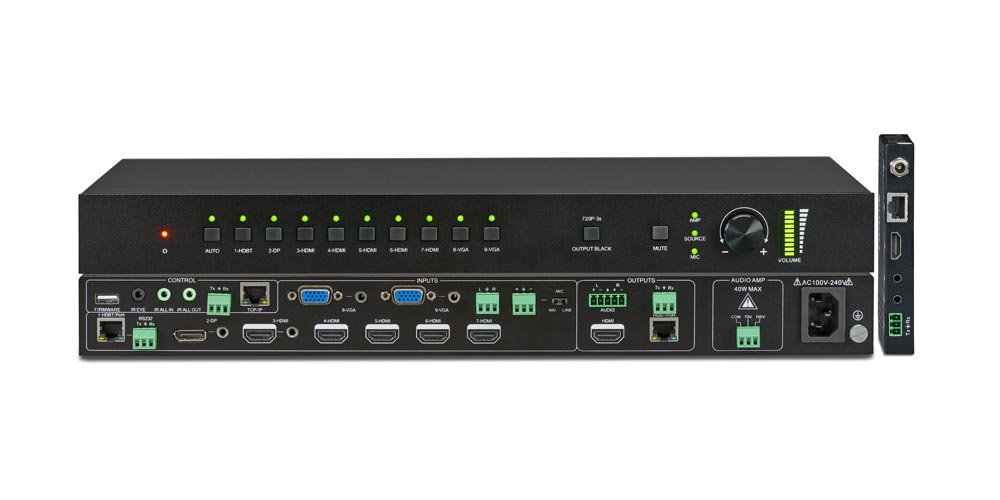 The new The KanexPro 9-input presentation switcher and scaler, SW-HDSC914K, is a 4K Presentation Switcher and Scaler with 9-inputs and resolutions up to 3840x2160p. The provider of connectivity solutions for the IT and AV markets will debut the product at ISE 2018 in Amsterdam at its stand, 1-N15.
According to a KanexPro press release, the SW-HDSC914K includes:
5 HDMI inputs
2VGA inputs
1 DisplayPort
1 HDBaseT input
For a total of 9 various inputs
Featuring 4K resolutions up to 3840x2160p, KanexPro says the SW-HDSC914K is fully compliant with HDCP 2.2 and can be utilized as a multi-format video scaling engine to support user-friendly switching and scaling from various devices, including laptops and tablets.
Users can create two simultaneous mirrored outputs over HDBaseT and HDMI while up-scaling or down-scaling to showcase desired video resolutions alongside audio.
The SW-HDSC914K can be controlled with any third-party control system by downloading RS-232 drivers to the program, as well as through front panel buttons, IR remote, Ethernet and a built-in easy to use web interface.
"Ideal for classrooms, conference rooms, huddle rooms and other collaborative spaces, the 9-input Presentation Switcher and Scaler provides users with the capability of simply scaling, switching and extending digital and analog sources," says  Kashyap Khetia, product marketing manager for KanexPro.
"Our 9-input presentation switcher and Scaler not only boasts true 4K resolutions and fast, reliable switching, but it's also simple to install and easy for any user to connect and display."
More features of SW-HDSC914K from KanexPro's website:
Auto switch & scale 9-inputs to two 4K displays
DP, HDMI and VGA video inputs can be embedded with external audio
Output resolutions selectable to: 1280×720(default), 1920×1080, 1024×768, 3840×2160@30Hz & 3840×2160@60Hz
Supports PoH (Power over HDBaseT) no external power supply necessary to power sender or receiver
HDBaseT Input resolutions: 1080p (70m), 4Kx2K(40m)
HDBaseT Output resolutions: 1080p(100m), 4Kx2K (70m)
Compliant with HDMI 2.0 & HDCP 2.2
Built in 40 Watt amplifier for speaker systems
Built-in volume control
Support Line level or Mic audio inputs
MIC port supports balance/unbalance signal & suppresses the external noise effectively
Front Panel Buttons, IR, RS-232 and Ethernet for control
Bi-directional IR & RS232 pass-through
Built-in easy to use Web Interface for control and switching
Powerful OSD function
POH – receiver inclusive
IR remote control inclusive
1U (19") rack mountable enclosure
Built-in USB port for firmware update
Backed by KanexPro 3 -Year Parts & Labor Warranty