VuWall TRx Enables Transformation of Sports Stadium into Police Command Center for International G7 Summit
For security monitoring at the G7 summit, the TRx centralized videowall management platform integrated VuWall encoders, videowall controllers and AVX extenders with Barco Displays.
Leave a Comment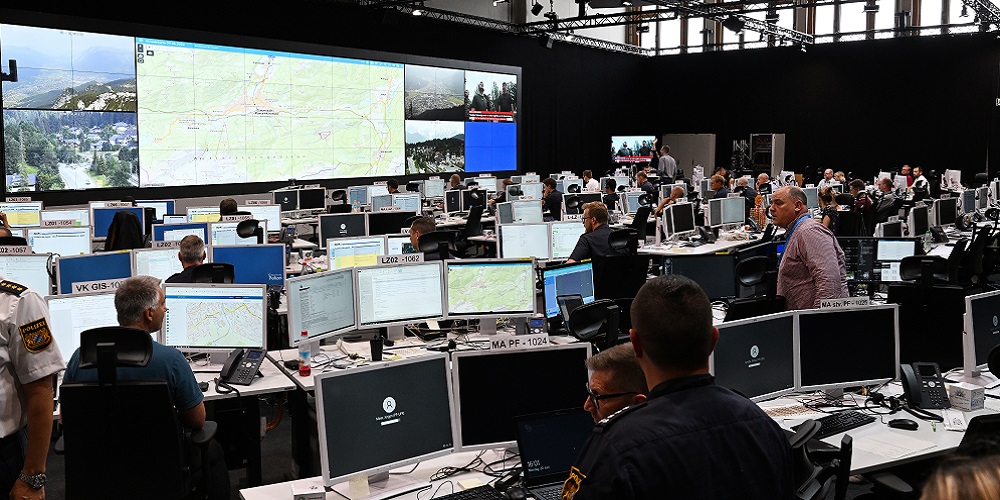 Photos & Slideshow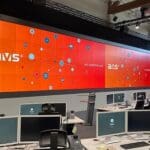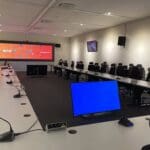 ---
The annual G7 Summit brought together the seven wealthiest countries — the U.K, Germany, Canada, France, Italy, Japan and the United States — in Garmisch-Partenkirchen, Germany, this year.  While world leaders discussed and proposed solutions to global issues, more than 18,000 police offers oversaw the safety and security of the event. The town's ice sports stadium transformed into a makeshift command center where the summit police could visualize the proceedings and surrounding area from giant videowalls with displays from Barco. To disseminate streams of data, camera feeds and other incoming information, the team thus deployed VuWall's TRx platform as a comprehensive visualization-management solution. Here, it ensured the flexibility to ingest and visualize the wide range of sources at a moment's notice.
From traffic accidents to spontaneous demonstrations, all incidents before and during the summit were visualized on the huge 12×4 videowall in the command room, along with a smaller 4×2 videowall. In addition, six 65-inch displays were deployed in a meeting room for joint staff.
The Challenge
The safety and security of the global event required many subject areas, which would make it challenging to comprehensively monitor the various situations. Operating under the traffic light principle, the incidents are accompanied by information fields in red, orange and green. Depending on the level of danger, the force would send out drones to capture images that would then be sent back to the command center.
For example, when a bear was sighted near Schloss Elmau, they brought up the footage up onto the screen. In this way, police officers wouldn't lose any time in the event of true danger and could prioritize events accordingly.
The team also had to monitor the landing of the statesmen as they arrived as well as images of the demonstrations happening in Munich and in Garmisch-Partenkirchen and the planned march to Elmau Castle. The summit police considered these "tactical television." Other feeds included public television and live streams.
Selecting VuWall
To ensure that the force could operate nimbly and responsively as needed, integrator AVS selected VuWall. VuWall says its disruptive technology design centers around an advanced ecosystem of videowall controllers, encoders and decoders. Here, Vuwall's interoperable TRx Centralized Management Platform manages the entire ecosystem.
TRx also eliminates the complexity of traditional videowall control and signal-distribution-over-IP. As a result, it requires no programming or maintenance. Here, integrators and users simply drag and drop sources they need to visualize.
VuWall adds that it redefines ease of use and visualization-solutions deployment. It thus ensures that organizations can distribute any source to any display in professional and mission-critical applications. According to the company, it emerged as a clear winner for monitoring the high-stake affairs of the G7 Summit.
Also Read: Samsung Certifies VuWall PAK Node Compatibility With The Wall
Implementing the Solution
Thanks to its unique interoperable and hybrid design, VuWall notes that TRx simplifies the integration of third-party products. It also supports a variety of AV-over-IP protocols (H.264, SDVoE, NDI) and is compatible with multiple brands. These include NETGEAR, Samsung, LG, IHSE, Adder, Genetec, Milestone, Advancis, SkySoft and many others.
Subsequently, TRx continues to grow its ecosystem, ensuring future-proof and scalable deployments. It is thus ideal for integrators and operators that tackle complicated systems with multiple-source types and brands on a single network. Additionally, TRx provides organizations the most effective distribution of visual information from any source to any display, says VuWall.
For the summit's video walls, AVS also installed 40 VuStream 150 encoders. Here, the TRx centrally configured and managed them. Along with 16 HDMI 2.0 AVX extenders, the VuStream 150 would allow delivery of high-quality video streams across the organization's standard-IP network.
In addition, the team installed two VuScape 640 videowall controllers. According to VuWall, the high-performance customized videowall processor is ideal for control rooms. This provides easy control and distribution of all content sources to any display within the summit's network with the utmost flexibility and full-featured management software.
The Final Results
From the sports center, the officials monitored and prioritized information in real time with no delay. VuWall ensured they were able to easily bring in any source for visualization. In addition, they could create a connection to all branch offices. These included border posts in Griessen, Scharnitz and Oberau. Here, a huge police force monitors the change of train passengers to buses or the rail-replacement service in the direction of Mittenwald. The officials thus tracked every bit of information without spending hours to program or configure the ecosystem. This way, they lost no time in assessing any threat or danger.
After the G7 Summit, VuWall revealed that it re-installed the state-of-the-art system to police stations in Bavaria. In so doing, it added immense and ongoing visualization resources to the organization.
Click on "View Slideshow" for images on the police command center at the G7 summit.
If you enjoyed this article and want to receive more valuable industry content like this, click here to sign up for our digital newsletters!