Visionary's PacketAV Matrix Series Selected for Piedmont Healthcare's Hospital
Piedmont community health system will incorporate the AV products across their facilities as part of a 10-year expansion.
Leave a Comment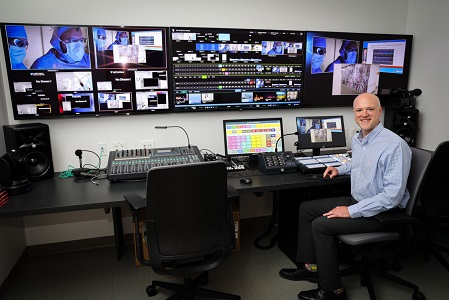 For more than a century, Piedmont Healthcare has been a recognized leader in delivering expert care. Located in Atlanta. Piedmont Healthcare is a not-for-profit community health system composed of 11 hospitals with over 2,500 medical staff personnel and more than 22,000 employees.
In 2020, Piedmont Healthcare embarked upon a 10-year expansion at Piedmont Atlanta Hospital, starting with a new 16-floor tower that will enable the facility to significantly increase capacity. The Marcus Tower at Piedmont Atlanta includes 408 beds and 13 new operating rooms. Avyve, recently acquired by AVI Systems, was selected as the technology integrator at Piedmont Healthcare's new facility. Blake Longsworth, project engineer, and Danny Rivera, account manager, led the project for Avyve.
Related: Expect New Healthcare Challenges and Greater Technology Investment in 2021
The Marcus Tower at Piedmont Atlanta includes a series of surgical spaces and operating rooms. Its goal was to tie each space back to a control room that can distribute video feeds to various locations.
"The integration was primarily in the Marcus Heart and Vascular Center," says Matt Adams, area operations manager for AVI Systems. "There are currently six operating rooms that are wired for broadcasting in this facility, and Piedmont Healthcare wanted to utilize a video feed in the operating rooms to assist during surgery and distribute the video to a larger room for teaching purposes. The surgical video feed is being distributed to a larger auditorium and web-based online audience where doctors can educate medical physicians and professionals on the surgeries that are occurring in real time."
Michael Shivers, manager of CV multimedia for Piedmont Heart, adds, "We have an auditorium inside the Marcus Heart and Vascular Center that can seat around 250 people. We also have a great need in broadcasting on the web for our virtual audience. In addition to utilizing the video feed as a teaching tool, we wanted a solution that allowed us to route video signals to different operating rooms and enabled the surgeon to see the person they were talking to. We've never had the capability to do that before. It was essential for us to have a solution with zero latency while transmitting a reliable video feed across significantly long distances."
Piedmont Healthcare's Marcus Heart and Vascular Center incorporates over 870,000 square feet of new construction and 45,000 square feet of renovations.
"The installation at Piedmont Atlanta Hospital was unique, because we were working on a series of different floors within the facility," explains Adams. "The operating rooms are located on a different floor than the auditorium, so we had to overcome a long-distance distribution for the video feeds. We selected Visionary's PacketAV Matrix Series because of the ability of this particular product to distribute a reliable feed across multiple floors. We integrated various solutions from Visionary's PacketAV Matrix Series, including 18 wall plate encoders, 49 encoders and 22 decoders, to create a solution that was incredibly flexible and provided a simplified user experience."
The Marcus Heart and Vascular Center is the first phase of installations across the entire Piedmont Atlanta Hospital facility.
Visionary's 4K UHD over IP PacketAV Matrix Series encoders and decoders redefine traditional switch matrix systems to create a flexible, scalable, cinema-quality solution for IP networks. The PacketAV endpoints offer ultra-low latency with unlimited distribution capabilities. Utilizing existing network resources, the encoders and decoders can be rapidly deployed to enable cost-effective distribution of multi-channel Dante/AES67 audio and video over IP.