5 UC&C Sessions You Don't Want to Miss at CIX23 Conference
At Commercial Integrator Expo (CIX23) Conference, the IMCCA education track will explore designing workspaces, hybrid work, video fatigue and more. Register today!
Leave a Comment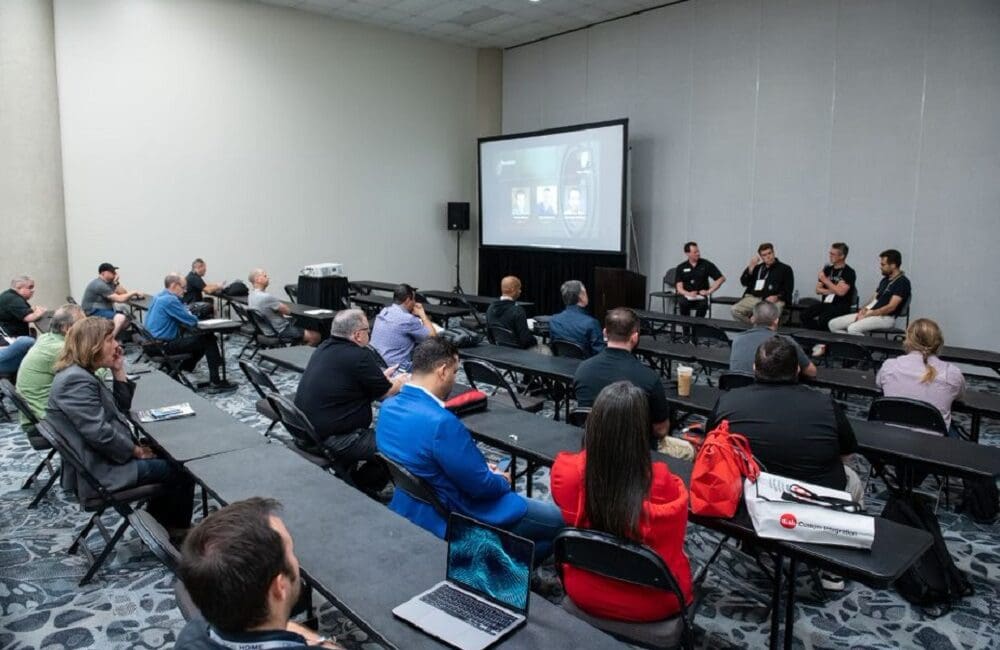 (Editor's Note: This post was originally published August 16, and has been updated with new education track schedule changes for Commercial Integrator Expo conference.)
With a multitude of education sessions to choose from at this year's inaugural Commercial Integrator Expo (CIX23) Conference, we've rounded up the top five UC&C education sessions that you don't want to miss! Over the course of three days, from Wednesday, September 6 through Friday, September 8, participants will have the opportunity to learn about a range of topics to equip them for success. The CIX23 Conference also includes a UC&C track presented by the IMCCA.
Here are five education sessions from the UC&C track that you don't want to miss!
#1 Future of Work: Home and Remote Office Design
David Danto, director of emerging technology, director of UC strategy and research, IMCCA will lead a session on the 12 steps that go into creating an optimized remote office.
Where working from home has become the norm, it's crucial to have an optimized remote office that maximizes productivity and comfort. Don't settle for a subpar workspace in your spare bedroom or a cramped corner of your kitchen table.
Danto will guide attendees through selecting the best location, identifying the right technology for seamless communication, and ensuring your bandwidth and resources are up to the task.
#2 Future of Work: Making Hybrid Working Work
Join AVI-SPL's Amelia Vrabel for a session exploring the elements of an ideal hybrid-working model. As most employers and employees are trying to find the right balance between remote and in-office work, attendees will gain tips on how to effectively manage a remote workforce. This includes how to make appropriate technology choices and how to maintain company culture.
#3 UC Technology Update: Is AV/IT Still a Question?

We've been discussing the convergence of the AV and IT disciplines for decades. Is this still an issue/a debate for our industry? Join Michelle Loret, regional sales manager – proAV, ViewSonic, when she'll cover the similarities and differences in the disciplines, the best and worst of both, and the urgency of hardening security across all applications in her education session.
#4 UC Technology Update: Videoconferencing as a Studio
While videoconferencing from home is adequate for most, some have realized that these technologies can also be used to create complex webcasts and presentations from home. Join Chris Neto, market development manager, Starin Marketing and David Maldow, founder and CEO with Let's Do Video,  for a session exploring the nuances and considerations needed to be an at-home content creator. At this session, attendees will thus learn about selecting the right gear, webcasting and podcasting and how to begin at home.
#5 Future of Work: Preventing Home Office Burnout and/or Video Fatigue
We've all felt it — the exhaustion that comes from back-to-back video calls can be daunting. Now that we've been engaging in hybrid working for over three years, we've learned some easy dos and don'ts to avoid burning out. This session will detail the steps one can take in both the technology setup and the operational practices to avoid the fatigue. This will include: managing time on a calendar, optimizing your environment and putting appropriate guidelines in place.
Register to Attend These Sessions
The schedule presents a great opportunity for industry professionals to explore new technologies, trends and exchange ideas. The event's educational sessions are essential for those who want to improve the quality of their work and communication. The sessions listed above for the CIX23 Conference are some of the most exciting and valuable classes available in the UC&C track presented by the IMCCA. Don't miss out on the opportunity to network and learn from notable industry experts!
If you enjoyed this article and want to receive more valuable industry content like this, click here to sign up for our digital newsletters!