Amp Considerations for Restaurants and Bars
Smart amps can help integrators and operators alike meet hospitality clients' current and future needs.
Leave a Comment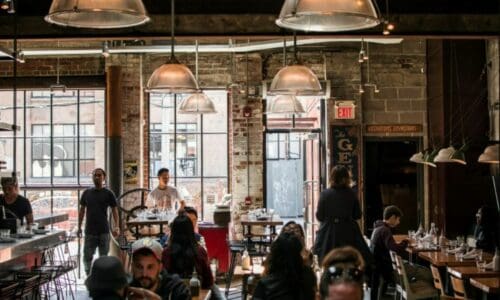 The proliferation of affordable, easy-to-use, high-quality home sound systems, HD televisions and personal devices — coupled with high-resolution audio and video content-streaming services — have raised user expectations universally. Now, we expect comparable audio experiences in all areas of our lives. From background music, to DJs, to live performances, today's restaurant and bar patrons expect great-quality sound wherever they are.
Thankfully, venue owners and operators within any market can now achieve high-end audio quality with much less cost and complexity than what was available a few years ago. And today's web- and cloud-enabled professional audio products — with a host of software and app-support products available — allow for easy-to-use, customizable, integrated systems that enable a new level of remote service and support.
Restaurants and bars can be loud, busy, crowded spaces. The staff is often focused on hundreds of different tasks at hand. Sound-system reliability and ease of use are of paramount importance for these businesses. The bar service can be a bit slow; the kitchen can run low on nachos; it may be tough to get a table — but none of those potential problems has the same jarring, festiveness-killing effect that poor sound quality or the loss of the sound system has. If the music stops, the party stops. And, all too often, patrons simply take their business elsewhere.
Flexible Distribution
High-quality, optimally sized audio amplifiers for restaurants and bars are critical to creating a comfortable guest experience, as well as to providing an intuitive, reliable system for operators. Today's network-ready, IoT-based smart amplifiers provide a level of power, flexibility, reliability and ease of use that was unheard of just a few years ago. From small sports bars to larger, multi-zoned restaurant systems, amplifiers for restaurants and bars must have the flexibility to encompass a variety of venue sizes and power requirements.
Smart, audio-network-ready, IoT-enabled amps have the configuration flexibility to customize the power output and signal routing to fit virtually any venue. An important feature that makes this configuration flexibility possible is being able to assign either Low-Z, Hi-Z 70V and Hi-Z 100V operation individually, per output channel. This feature gives integrators the ability to design systems that can evenly distribute low-voltage audio throughout different zones — for example, dining rooms, patios, private rooms and bars — and still reserve enough power to configure zones such as performance areas and dance floors with higher-powered sub-requirements.
Ease of Use
When integrating AV products into a restaurant or bar environment, operator ease of use is always a top priority. Management and staff members must operate the system intuitively on a daily, even hourly, basis. That makes smart amps a potentially attractive choice for these busy, multi-use venues.
Out-of-the-box, audio-network-ready amplifiers provide a level of flexibility and usability that aligns with the dynamic requirements that nearly any hospitality application presents. With smart, networked amplifiers at the heart of an installation, configurations can be altered, connections can be rearranged, and speakers and microphones can be moved to where they need to be. And a network jack is all that's required to get the system up and running.
Another benefit associated with working with smart amplifiers is their ability to play well with other professional audio products and systems. Smart amps easily integrate and connect with our industry's many system control providers. From touchpanels on walls, to smartphones, to tablets, restaurant staff can intuitively control sound systems with their fingertips. There's very little — if any — special staff training required.
Remote Connections
Arguably, one of the most significant benefits of using smart amplifiers for restaurants and bars — both for the operator and for the integrator — centers on cloud control. Today's smart amps have full web-service connectivity as a core feature. This web connectivity allows integrators to control, configure and monitor audio systems remotely from anywhere in the world.
Amid the last couple of years' lockdowns and requirements to maintain distance for safety, cloud-based remote connectivity became a critical tool for integrators. Indeed, it has empowered them to configure, monitor and troubleshoot audio systems remotely, eliminating the need to be onsite. With cloud connectivity, issues have been addressable safely, and clients have been able to rest assured that, if anything does happen, help is a few clicks away.
Additionally, system connectivity enables audio professionals to introduce recurring-revenue models. The ability to sell service contracts can significantly impact a business' success. [Editor's Note: This is an argument that Commercial Integrator has been making throughout its history.] Not only does recurring revenue enhance cash flow and help integration businesses better manage slow periods, but it also creates upselling opportunities, differentiates your company from the competition and establishes a high level of customer loyalty.
Smart for Business
For AV integrators and venue management alike, new smart amplifier technologies — products that often have lower price points, smaller footprints and better performance than previous generations of amp products — are facilitating flexible integration business models by offering a wider range of audio solutions.
By using smart, network-ready amplifiers, integrators can eliminate specialty analog cables and, instead, utilize readily available, network-standard cables and switches. Network-enabled AV installations cost less to integrate than analog installations, and, in fact, they can be especially cost effective because many clients already have a viable network in place. That network, then, is usable without running additional cabling.
The restaurant-and-bar vertical is quite broad, and its decision-makers put a premium on sound-system quality and flexibility. In addition to standalone spaces, restaurants and bars exist within hotels, resorts, amusement parks, convention facilities, malls and other environments. These spaces vary significantly, with a great deal of specialized systems design involved in each application. By offering flexible, connected, easy-to-use smart amplifiers as part of a restaurant or bar's AV system, integrators and operators alike can meet current and future audio-system needs.
Editor's Note: For more content about amplifiers, check out Commercial Integrator's website archive.