I Left AVEC 2019 With Three Key Takeaways
Integrators need to expand to new lucrative markets, find a way to attract new talent and focus on quality and service. Also service, says AVEC 2019 panels.
Leave a Comment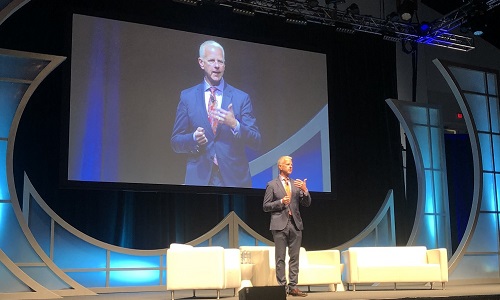 AVIXA's AV Executive Conference (AVEC 2019) wrapped up last week in the vibrant city of New Orleans. For me, a journalist just one month into writing about pro AV, it was a huge learning experience.
The speakers were engaging, the panels were informative, and the networking sessions and receptions were active (especially when there was an open bar involved—thanks AVIXA).
I left the Big Easy with so many ideas for articles and blogs that I hope can be useful for all of the executives that didn't get a chance to attend.
However, I left AVEC 2019 with three pretty big ideas, and I'm planning to dive into these headfirst for more in-depth feature stories.
Integrators need to get into the healthcare market
Healthcare is clearly where the money is. The industry is booming at a 8.5% CAGR, but AV is still struggling to work its way in to the space, as the industry generates just $5.4 billion in revenue from healthcare businesses, good for second-to-last in terms of markets served, according to AVIXA economists.
That figure is nothing to laugh at, but when compared with the $52.4 billion generated from the corporate market with a CAGR of 5.5%, the AV industry clearly has some work to do in healthcare.
That is an especially important market to hit, as concern over a possible recession lingers.
The industry needs a solution to its talent shortage
I've only been here for a little over a month, but every integrator I've heard from can't stop talking about how hard it is to find new, young talent.
There aren't many formal educational settings someone can go to learn about the AV industry, let alone the technical skills many companies are looking for in potential candidates.
As such, industry wages are flat, increasing by about 2% on average. According to an AVIXA poll, 65% of members asked said they have had difficulty hiring skilled workers. That doesn't bode well for an industry that is currently growing quickly and the lingering talk of a looming economic downturn.
Read Next: 12 takeaways from the AV as a Service Panel at Total Tech Summit 2019
We also heard a lot about what makes a good company culture and how this new crop of employees have a vastly different opinion of how their employer should treat them than older generations in AV today. I'm planning on a much deeper dive into this story.
Quality and service will win out — Also, did we mention service?
AVIXA asked AV manager members about sourcing selecting proposals for an AV project, and the results were a bit surprising to me.
6% said the quality of work is a main factor
1% said customer service is a main factor
Just 42.3% said cost was a main factor
Integrators should offer the best equipment available, utilize the newest technologies and stay ahead of market trends. Research shows clients will be more willing to pay more when your firm goes the extra nine yards.
I heard a few groans whenever "[anything]-as-a-service" was mentioned. From what I've seen and heard, many integrators offer some kind of services, like remote monitoring, routine upgrades built into the contract and other offerings. We also heard about content-as-a-service for digital signage solutions, which seemed like a new idea to me.
What do you do well? Offer it as a service. Any recurring revenue will help shore up those cash reserves in the inevitable event of a recession.
What did you learn from AVEC 2019? Drop me a line: zachary.comeau@emeraldexpo.com.
If you enjoyed this article and want to receive more valuable industry content like this, click here to sign up for our digital newsletters!