Avnu Alliance Milan Working Group Adds Members: Exclusive Q&A
The Avnu Alliance Milan Working Group, growing in membership, products and industry awareness, recently added ALLDSP and JOYNED.
Leave a Comment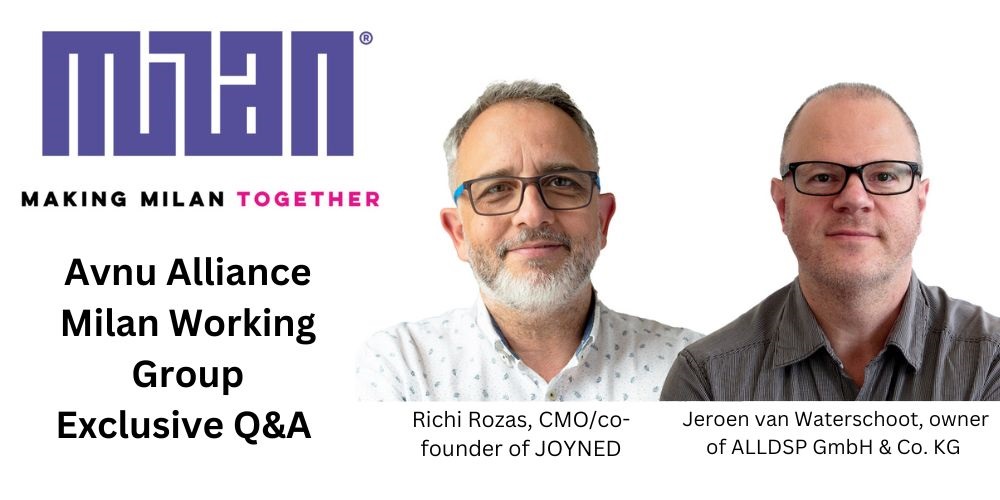 The Avnu Alliance Milan Working Group is seeing momentum in membership, products and industry awareness. As the Milan Working Group continues to grow and innovate, it has recently attracted a few new members. Here, Commercial Integrator catches up with two of its newest members for an exclusive Q&A. Here, we talk about what they are seeing in the market and why they are all in on Milan.
Check out our full interview about Avnu Alliance and Milan, featuring Jeroen van Waterschoot, owner of ALLDSP GmbH & Co. KG and Richi Rozas, CMO/co-founder of JOYNED.
Commercial Integrator: What made ALLDSP and JOYNED want to join with the Avnu Alliance?
Rozas: JOYNED was founded to facilitate and promote network technologies for the professional AV industry. Professional consortia like Avnu Alliance provide the right environments to collaborate, influence and develop the future of these technologies.
van Waterschoot: ALLDSP has been a strong supporter of the AVB open standards since they were first introduced 10 years ago. The idea of a common standard for networked audio that can be implemented by anyone without being limited by a single point of purchase opens the door to a much wider acceptance of networked audio in the market.
CI: In creating JOYNED's networking-centric solutions, why did you choose the route of open standards?
Rozas: We are strongly convinced that open standards are the basis for reliable, future-proof ecosystems. They generate certainty for manufacturers, who will benefit from the know-how that goes beyond their company expertise.
Now, the real challenge is to fill the gap between an open standard's specifications and the actual implementation of the technology into a commercial AV product. This is where we believe we can help and add value to manufacturers: by enabling them to simplify this otherwise-complex process using our technology to test and evaluate their Milan device design.
CI: For ALLDSP, a professional-audio specialist focusing on DSP products, what was the appeal of Avnu Alliance participation?
van Waterschoot: We expect that, in another 10 years, connecting through a network rather than using analog cables will be the standard. So, for our customer base of loudspeaker and amplifier manufacturers, audio networking will be a vital part of their products, and we believe Milan offers the way forward to the highest market acceptance, from entry-level products through to the highest performance products. No other protocol has the necessary traits to achieve that goal, be it due to cost or due to complexity of connection management. After all, most audio specialists do not want to be network specialists. Milan combines all of that: ease of use, low cost, and reliability.
By joining Avnu Alliance, we can be at the forefront of the development and introduction of Milan, helping to shape the progress for our customers and learning from the other members and working towards our development path to full standards conformance and certification.
CI: Among network-protocol options out there, what makes Milan particularly compelling?
Rozas: Milan was designed to comply with specific requirements of professional-audio applications like deliverability, ensuring there is no loss of information; reliability, adding features like bandwidth reservation; and seamless interoperability among all Milan-Certified products.
van Waterschoot: In principle, we consider ourselves a tool maker. We make the tools that our customers need to build their products, and we try to build whatever they need. However, more often than not, it turns out that many of our customers rely on us to give them support on new technologies, especially when unexpected things happen. In the past we have experienced that other protocols were too expensive for wide adoption and have proven to need careful attention for them to work properly. This is not the case with Milan. It simply works. There is no middle ground and no dropouts due to other traffic or unpredictable behavior of switches.
The downside is that the switches are now an integral part of the audio system, rather than just a way to distribute network packets, and therefore also must support the relevant standards. But as these standards start to be adopted by more switch manufacturers and availability of switches improves, this is no longer a limitation. On top of that, because of the nature of the open standards, Milan can be added to existing hardware, providing audio networking without the cost for additional hardware. Not only is Milan easy to use and reliable, it's also low cost. We expect a strong growth of Milan adoption in the coming years as a result.
CI: As network convergence continues, what do ALLDSP and JOYNED think the widespread embrace of Milan will create, facilitate or bring about in professional-audio applications?
Rozas: Addressing not only audio but converging different media in the same network becomes possible due to the use of a reliable network technology like Milan. This will go beyond professional applications in the future.
van Waterschoot: At the moment, apart from mixing consoles, only expensive products have audio networking, and without being a network specialist and having the recommended certifications, it is not easy to build a reliable audio network. In the coming years, audio networking will be a part of a much wider range of products, and they will be much easier to use. As a result, networked audio will become the norm rather than the exception in live sound and in installations. Today, although especially larger installations rely on networked audio, most installations are still fully analog. That will change to more integrated and networked installations focused on audio, without the need to be a networking expert. Then we'll be able to return to what we're good at: creating a great experience.
If you enjoyed this article and want to receive more valuable industry content like this, click here to sign up for our digital newsletters!