Congress to Extend Paycheck Protection Program for Five More Weeks
Companies harmed by the COVID-19 pandemic can now apply for forgivable federal loans through the Paycheck Protection Program until Aug. 8.
Leave a Comment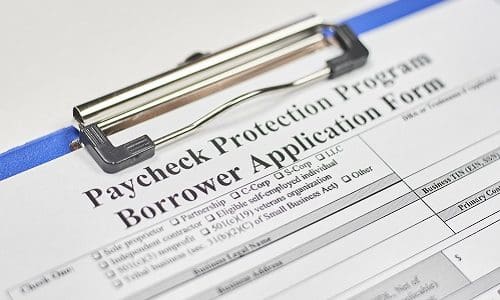 If you missed out on applying for a federal loan through the Paycheck Protection Program, you now have an additional five weeks to apply for those funds after the Senate extended the program yesterday.
The Paycheck Protection Program, designed to help small businesses maintain payroll and keep workers employed during the COVID-19 pandemic, was due to end at the end of June even though there was $130 billion in unspent funding.
The extension was unexpected, according to the New York Times, which also reported that lawmakers are beginning to debate yet another coronavirus relief package as new outbreaks around the country continue to have a devastating economic impact.
A $2.2 trillion stimulus law that includes additional assistance like expanded unemployment, is set to expire at the end of July.
Less than four hours before the Paycheck Protection Program was scheduled to end with more than $130 billion in loan money unspent, the Senate approved extending the application period until Aug. 8.

The legislation now heads to the House, which had finished voting before the bill cleared the Senate, and will require President Trump's signature for the program to continue. Members of both chambers are expected to leave Washington for the Fourth of July and are not set to fully return for two weeks.

"The resources are there," said Senator Benjamin L. Cardin, Democrat of Maryland and one of the architects of the program, which offers low-interest loans to help small businesses maintain their payrolls. "The need is there. We just need to change the date."

The unexpected approval of the extension, which required agreement from all 100 senators, came as lawmakers began to debate the contours of another coronavirus relief package. With multiple parts of the $2.2 trillion stimulus law set to expire at the end of July and new outbreaks forcing many states to slow efforts to reopen their economies, lawmakers widely recognize that another measure will be necessary.
The program was initially approved in March to the tune of $350 billion, but that money ran out in just a few weeks, so Congress appropriated another $300 billion in late April.
According to the Washington Post, the Small Business Administration has allocated $520 billion in program loans to nearly 5 million businesses.
Last month, Congress passed another law that affords businesses seeking a loan more flexibility in how they use the money and rehire furloughed or laid off employees.
If the funds are used for payroll and to retain employees, and if the company has the same number of employees it had before coronavirus-induced restrictions began.
If you still have yet to apply for the program, you can do so here after the House of Representatives and President Donald Trump sign off on the extension.