What's in the U.S. COVID-19 Stimulus Package
Congress is close to passing a massive $2 trillion stimulus package aimed at saving the economy from COVID-19. Here's what it's in it.
Leave a Comment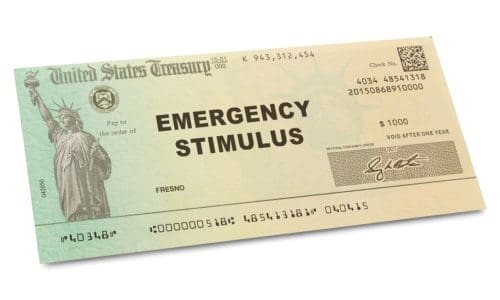 For U.S. integrators and AV workers feeling uneasy about the current state of the economy due to the coronavirus, help is on the way.
Congress has passed a massive $2 trillion stimulus package that includes billions for businesses, distressed industries, direct cash payments to adult Americans, expanded unemployment assistance and a bevy of other provisions intended to prevent a worsening economic downturn.
The financial package, which dwarfs the stimulus passed to stop the economic collapse in 2008, is meant to reinvest in the nation's economy and put a stop to the record-setting unemployment being reported.
Now, the bill awaits President Donald Trump's signature to make it law.
Financial rescue package for industry
Under the bill, the Treasury Department will be able to provide loans, loan guarantees investments to industry and corporations hit hard by the pandemic.
Of the $500 billion to keep the economy from totally collapsing, $25 billion is set aside for airlines, $4 billion for cargo air carriers and $17 billion for national security-related companies.
Businesses that receive the loans can't issue dividends for up to a year after they pay off the loan, and must retain 90% of employment levels as of March 24 through September 30.
More than $300 million is earmarked for small business loans and the bill also allows for payroll-tax deferment so small companies can continue to pay employees.
Read Next: How AV Integrators Adjust to New Business Realities Could Determine Their Role in Post-Coronavirus Economy
Unemployment benefits
The bill includes a boost to unemployment benefits that would add another $600 per week for four months on top of their state benefits. It also includes an addition of 13 weeks of extended benefits to be fully covered by federal government.
It also calls for a new pandemic unemployment assistance program for those unable to work because of the virus.
Cash payments to Americans
Per the bill, single Americans would get $1,200, and married couples would get $2,400. For each child under the age of 17, parents would get $500.
The payments start to phase out for people making more than $75,000, and those making more than $99,000 would receive nothing.
You can read the bill yourself here.
If you enjoyed this article and want to receive more valuable industry content like this, click here to sign up for our digital newsletters!