Crestron Interns Illustrate the Value of Mindfully Nurturing Talent
The global electronics leader boasts a remarkably effective internship program, bringing together top talent from around the country to collaborate, learn and grow.
Leave a Comment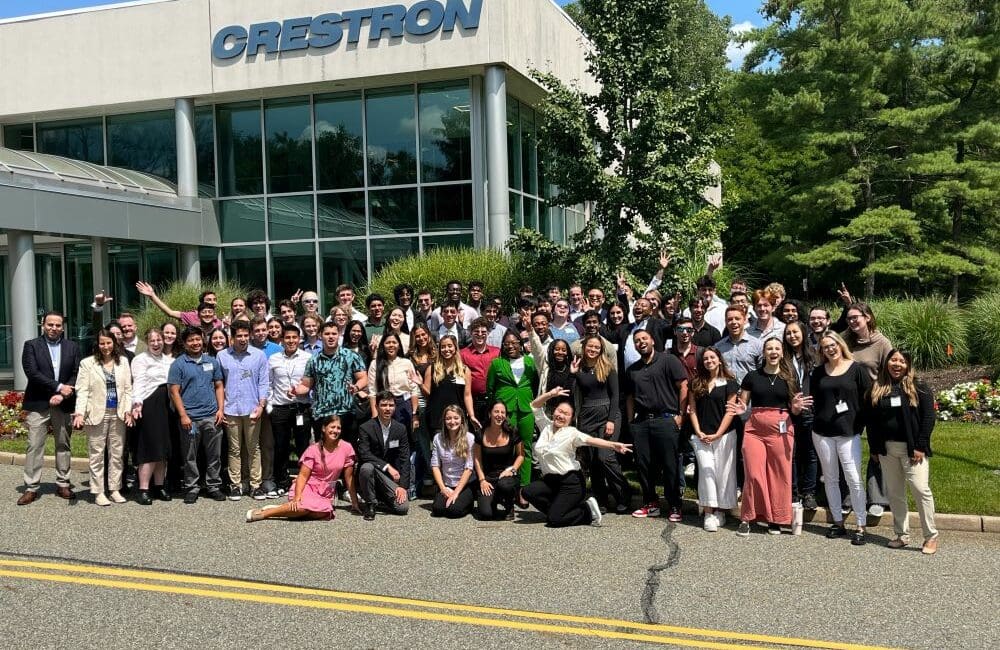 Lots of industry stakeholders wring their hands about the lack of a clear talent pipeline into commercial AV, but Crestron is doing something about it. Indeed, the Rockleigh, N.J.-based company's internship program is among the most ambitious you'll find anywhere in our industry. Recently, Commercial Integrator visited Crestron's headquarters to experience Crestron Internnovation Expo, the culminating event for the intern Class of 2023. And Internnovation Expo was just one element of a multi-day program that saw Crestron bring all 87 of its interns — the second-largest class ever — together in Rockleigh. In fact, the company flew in interns from Texas, Massachusetts and elsewhere so they all could collaborate, network and learn together. The enthusiasm was infectious, and it helped to illustrate Crestron's mindfulness about seeding the next generation — mindfulness that our entire industry community could learn from.
The Scope of the Program
Chris Fitzpatrick, Crestron's senior manager, talent development, emphasizes the scope of the company's internship program. This year's group of nearly 90 was the second-largest class in Crestron history, reaching more than 30 departments across all of Crestron's functional divisions. The interns themselves represented more than 30 schools and majors, including 15 interns from the New Jersey Institute of Technology (NJIT). Crestron talent-development leaders forged an important connection with the Society of Women Engineers (SWE) chapter at NJIT, including sponsoring a bus trip that brought students to the Crestron Experience Center (CEC) for mentorship and learning opportunities. The fruits of that initiative are not only NJIT providing by far the most interns Crestron has ever had from a single school but also Crestron attracting a majority-female group from NJIT, and one that is diverse across all metrics.
Indeed, diversity is a core value for Crestron, and the company's internship program puts that value into practice. "Over the last three years, we've branched out," Christian Bliss, senior talent acquisition specialist – campus and DEI relations, declares. "The diversity has increased year over year. And that's gender diversity, racial diversity — by any definition." One element is mindful outreach to Historically Black Colleges and Universities (HBCUs). Historically, Crestron has had difficulty attracting applicants from HBCUs, largely due to geographical factors; after all, most HBCUs are located in the south, far from Rockleigh. The advent of fully remote positions has renewed Crestron's opportunity to draw from this huge talent pool. Bliss and the team are committed to being present, and their approach — hosting information sessions — has been quite successful. "We had five people show up to the first info session that we did," Bliss recalls. "[But it was] 15 for the next and 37 for the third one. That's the exponential growth that we're seeing."
A Worthwhile Investment
An expansive internship program like Crestron's requires considerable investment — time, money and organizational resources — but that investment pays incredible dividends. Ava Petrillo, talent acquisition specialist, notes that today's students are getting the latest, most technology-forward training from their professors. "So, when they come in, they're bringing new ideas to all our different departments," she enthuses. In fact, Petrillo remarks, some past Crestron interns have had their names on patents. "So, their ideas result in our new technology," she says. That being the case, it's no surprise that an internship at Crestron has been a fantastic way to secure a full-time position with the global technology leader. "In the last five years since we've really started tracking this data, we've had 80 full-time hires just from the internship program alone," Fitzpatrick says, adding that, in a single fiscal year, Crestron converted 40 interns. "It has become a cornerstone of the talent strategy," he states.
Bliss reinforces the point, underscoring that, in recent years, when Crestron has filled entry-level positions, a large majority of placements were former interns. Moreover, he notes that there's less attrition among former interns than among non-intern hires — a fact that attests to the thoughtful, intentional quality of the program. A key factor, Fitzpatrick says, is the nonlinearity of intern-to-employee onboarding; in other words, candidates are not necessarily bound to the team they interned with. "We like to offer the opportunity for them to get to know other departments, other leaders and other managers," he attests. "We want to give them the opportunity to explore career paths within Crestron outside of just what they experienced." This aligns with the "corporate lattice" alternative to the proverbial corporate ladder. This means giving young staffers the opportunity to align their skill set with whichever department they're most drawn to — or whichever one could most benefit from their talents.
A Remarkable Experience
Commercial Integrator was on hand to see those talents firsthand when the entire Class of 2023 converged on the CEC. With interns arriving from across the country, enthusiasm was high and the energy palpable. "This is the first time we've seen the whole program together in person this summer," Petrillo says. "It is really special to us." When asked why Crestron invested in flying in the entire intern class, Fitzpatrick offers a ready answer, saying, "They got to build camaraderie with the team. They were able to meet more of the executives. There's a lot of benefits to it." Two of those benefits centered on the two-day culminating experience in which the interns partook: first, a day dedicated to corporate social responsibility (CSR) projects; second, the famed Crestron Internnovation Expo, which returned to an in-person format for the first time since 2019.
The CSR projects, which interns completed on August 1, aligned with Crestron's core values of being a responsible, community-minded corporate citizen. That day, interns partnered with the Center for Food Action, which serves children from families in the Bergen County, N.J., area who are experiencing food insecurity, to package 700 Weekend Snack Packs. Moreover, the interns teamed with Bergen Volunteers — another mission-driven, community-focused nonprofit — to create bookmarks for a book drive. Finally, the Class of 2023 created prototypes for Crestron-themed boardgames. The concerted volunteer action was a perfect opportunity for collaboration, team-building and mutual connection.
Crestron Internnovation Expo
Collaboration truly kicked into high gear with Crestron Internnovation Expo! At the beginning of the summer, organizers split the overall intern class into nine teams, each team responsible for creating an innovation project. "This year, we had the idea to reach out to different leaders within the company and have them present the interns with challenges," Petrillo recounts, "and then guide them through ways to come up with solutions." Ultimately, the teams got to choose among topics like new-product ideation, alternatives to lithium-ion batteries and CSR/employee satisfaction. Each team boasted two co-captains — except for one team, which had three — from among 19 returning, second-year Crestron interns. After weeks of diligent collaboration across time zones and home bases, the teams presented their projects for judging during Crestron Internnovation Expo.
During the second half of the same day, the interns benefited from career-enhancing activities, including seminars on emotional intelligence and professional development, as well as a résumé review. According to Bliss, "We want to invest in them. We want to make sure that they're prepared [and] they have everything they need." Petrillo underlines the point, adding, "Not only do we build interns up on Crestron knowledge and AV knowledge; we also want to make sure that, beyond their internship, they're ready for the professional world." She points to Crestron Intern Academy virtual events as being equally key to the mix, offering instruction on things like workplace culture and professionalism.
Benefiting our Craft and Trade
Fitzpatrick knows that, ultimately, if Crestron continues to enjoy success with its intern program, it redounds to the benefit of our entire craft and trade. "The rising tide lifts all ships," he declares. "We can bring 80 to 100 students into the industry a year who may have not looked at AV as a career path. And now, all of a sudden, their eyes are open, and they're evangelized to it. Well, that's a great opportunity for all of us." Bliss amplifies the point, adding, "We're developing people for the industry as a whole." He continues, "Yes, we are Crestron-centric in terms of the talent we're looking for, [but] we want to make sure it benefits the industry."
Fitzpatrick closes with a note of gratitude not only to his fellow talent-acquisition team members but also to Crestron leadership for its commitment to finding, upskilling and, in many cases, hiring hungry young talent. "My heartfelt thanks to anybody from the AV industry who is having those conversations and is pushing that forward," he concludes.
If you enjoyed this article and want to receive more valuable industry content like this, click here to sign up for our digital newsletters!