DEI Panel at E4 Boston: Creating Spaces for All
Kim Lonas, Alesia Hendley and Elizabeth Cox discuss DEI initiatives in workspaces during a panel moderated by Melody Craigmyle at E4 Boston.
Leave a Comment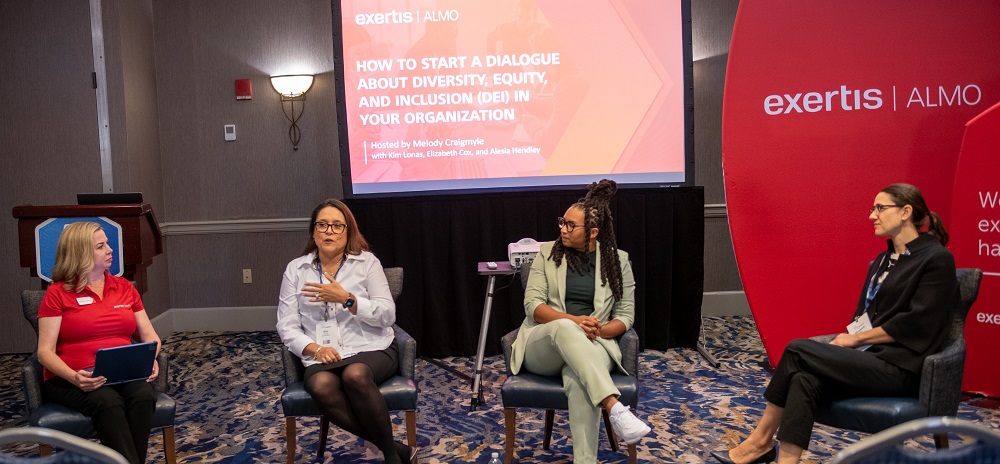 One of the biggest highlights of the E4 Boston included the roundtable discussion on DEI moderated by Melody Craigmyle, Exertis Almo; with a panel that featured Kimberly Lonas, Exertis Almo; Alesia Hendley, Audinate; and Elizabeth Cox, HOK. Not only did the discussion expand on how to inculcate diversity, equity and inclusion for workspaces; but it also touched upon the need for designing spaces for neurodivergent employees.
According to Lonas, global diversity and inclusion program lead for Exertis Almo, DEI is a term that encompasses the business programs, policies and strategies tied to people of an organization. She expands, "Diversity is more than just gender and race. It is the invisible and visible differences that people have." On the other hand, inclusion is about considering how people feel as part of the community within the organization, "Lastly, equity is about ensuring people have what they need to be on the same playing field," Lonas notes.
Impact of COVID-19
Turning to COVID-19, Lonas opines that it had a positive impact for disabled employees. "With remote work being an option, [around] 1.2 million disabled people joined the workforce," she reveals. Thus, remote work allowed these individuals to have a safe space to be productive. Additionally, it removed the bias as everyone had to be on camera. "However," she adds, "with hybrid workplaces, how do we address these new accommodations that we've implemented?" Lonas feels that this is where the pro AV industry can really step in.
Hendley, business development representative at Audinate and multimedia journalist, adds, "While video was still an optional feature, people quickly realized that audio was essential during the pandemic." She continues, "Not only that, the need for assisted hearing devices also gained more prominence." According to Hendley, this presented the opportunity for audio to be more proactive than reactive. "People now recognize that audio needs to be perfect for everyone to listen and be heard clearly," she states.
Both Lonas and Hendley agree that the people component emerged as a critical factor for human resources. Simply put, it had to consider every individual's needs and ensure they had the technology as well as the bandwidth required for effective productivity.
Designing Workspaces Now
For Cox, senior associate at HOK, these needs further extend to the present hybrid workplaces for neurodivergent employees. "Many companies are bringing people back to the office, but there also has to be consideration for creating equity in these spaces," she explains. According to Cox, architects should be cognizant of the necessary accommodations in order to create a more inclusive environment. "We [thus] had to examine the various auditory responses to different environments," she reveals. This meant determining how to create spaces for those who need to refocus or for those who needed noise around them.
Although there is a legal requirement for accommodations as per the ADA compliance, Cox asserts that companies should actively seek solutions for inculcating inclusive spaces. "We should create spaces for everyone," she proclaims. Lonas too, notes that "differences are normal, not deficit." In other words, companies should recognize the different abilities of neurodivergent people. Moreover, they should work with them to ensure that they have the necessary resources to be successful.
Also Read: Listen Technologies Announces ADA Compliant Wi-Fi Assistive Listening Systems
Hendley also advises that the accommodations should not be an afterthought. "If you're proactive about designing the spaces and installing the proper technology ahead of the game, you're bound to attract more diverse talent," she ascertains. In essence, being ADA compliant and proactive allows businesses to showcase a culture that values its employees.
The Business Perspective
Lonas picks off from Hendley's point, noting that there are business advantages to adopting DEI initiatives. "There's two ways to look at it: the people and the retention," she underlines. According to Lonas, people want to work for companies where they feel safe and have a voice. "And if you retain these people, there is cost savings in the recruitment area," she advises. In addition, more balanced teams facilitate improved productivity and innovation. As a result, Lonas observes, the return of investment is greater.
Hendley drives the point home, adding, "You don't want to be seen as the company that doesn't respect all different aspects of people." In her opinion, if people don't want to work in a company, then partners are also unlikely to make investments. "It sets off this domino effect which becomes unnecessary at this point," Hendley remarks.
Cox agrees and states, "You have to let people know that you have the tools at hand so they can be successful." Here, she suggests that the visual aspect is a huge factor in building awareness. Cox expands, "It's still an ad thing, because you have to show that they have access to a welcoming and comfortable environment."
Summing things up, all agree that DEI is a partnership between design thinking, technology and human resources. Moreover, it does not happen overnight — it is not a checkbox exercise. Building DEI takes time; but, with the right resources and knowledge, it can be a success for organizations.
If you enjoyed this article and want to receive more valuable industry content like this, click here to sign up for our digital newsletters!