Draper Likes to Keep Its Charity Work Local, But Helps Wherever It Can
Draper Inc. raises enough money to pay for two all-terrain wheelchairs for military veterans after learning last year about The Independence Fund.
Leave a Comment
Draper, Inc., understands the important role it plays as the largest company in a town of 900 residents, Spiceland, Ind. That importance is magnified even further when it comes to helping local charities and community organizations achieve their goals.
The company donated all the equipment to a local school when it was looking to redo its gymnasium and paid for the demolition of a large, dilapidated building to make way for a local park, says president Chris Broome.
Most recently, Draper donated about 1,200 masks to local health care workers who are caring for patients with the coronavirus and several employees are continuing to sew the masks for as long as there's a need to supply them.
"A lot of what we do is aimed at the local community," he says.
That doesn't mean there aren't exceptions at times to where Draper spreads its philanthropy, of course.
The company learned about The Independence Fund, which raises money for veterans with mobility issues and provides them with all-terrain wheelchairs, through fabric supplier Mermet, who has worked with the organization for a while.

Draper officials met Independence Fund staff in the fall and began the companywide fundraising initiative in January, with the goal of raising about $16,000, the cost of one wheelchair. Through donations by Draper employees, customers and industry partners, they raised more than double that.
"It really registered with us," says Broome. "Our job was to promote it, talk about why it's such a good cause and get as many people as possible to contribute.
"It got a much better reaction than we expected. A lot of veterans we work with were especially drawn to it. It really resonated with people. It was something that was easy for people to get behind," he says.
Draper staff was supposed to present the chairs to local veterans at a banquet in March but that event was postponed because of the COVID-19 pandemic. Broome hopes the intended recipients get their chairs soon, or already have them since that's what the Independence Fund fund-raising initiative was all about anyway.
"The quicker those chairs are able to be given to veterans, the better," he says. "We don't want to wait since the money has already been raised." Still, Broome hopes Draper staff will eventually get to meet the veterans for whom they were able to raise enough money to buy the two chairs.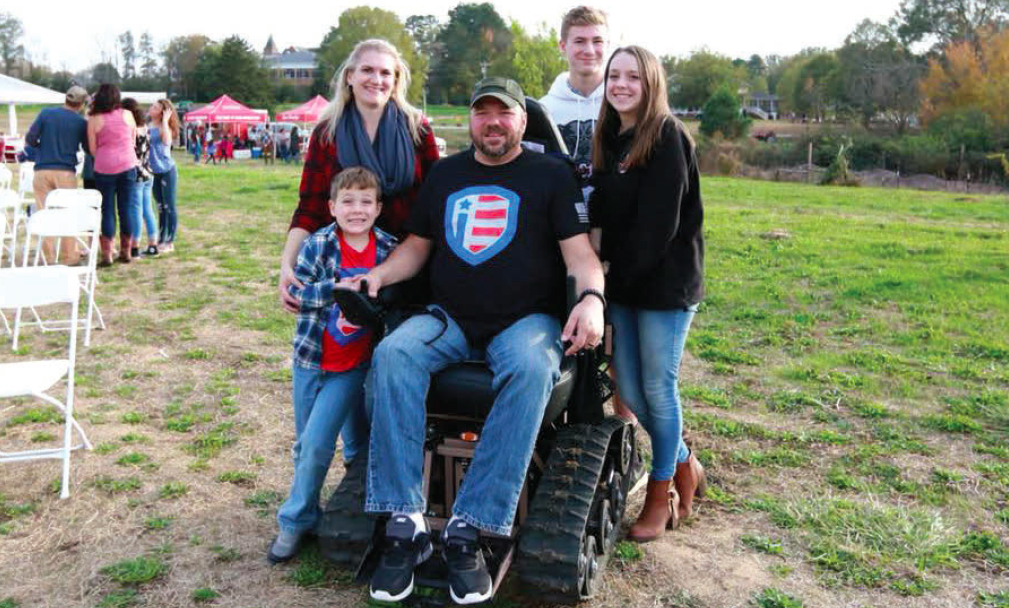 Why Draper Gives Back
Philanthropy has been a big part of Draper's approach to doing business in a small town for a long time, says Broome. In a lot of ways, its work with the Independence Fund is an exception because they like to support local causes as often as possible. But the opportunity was too enticing to resist, says Broome.
"We're always looking for ways to contribute," he says."A lot of that is our culture and also the fact we've been around for a long time. We're a 118-year-old family business. Most of the employees are from the immediate area and it's a small town. We manufacture in a town of 900 people.
"There aren't a lot of corporations here that are in a position to help and, because we are, I think it makes it more important that we find a way to contribute and give back," says Broome.
Draper doesn't turn down chances to work with large national charity organizations but they generally steer toward local efforts, says Broome. Many of the philanthropic efforts the company enacts come through ideas from employees or causes in which they or their families are involved, he says.
"It means a lot to our employees to do it locally, then they can see the benefits of it," says Broome. "That's a lot more tangible to people here than supporting something that's far away or that we don't know much about.
"It's appreciated by our employees and it's appreciated by the local community. It helps us build a really good relationship with the local community too, which is really important. When they need something, they're usually good about reaching out and telling us where we can help," he says.
"In general, we look at the opportunity," says Broome. "What kind of impact can it have? How much employee involvement do we have in those organizations?"
Coming next Monday: The next installment in our Connected to the Community series. If you know about an AV or IT company doing something good, email executive editor Craig MacCormack at craig.maccormack@emeraldx.com.