From the Editor: Reflections on ISE 2023
ISE 2023 felt like a pre-pandemic show, bringing together tens of thousands of #avtweeps to tackle everything from interoperability to equity.
Leave a Comment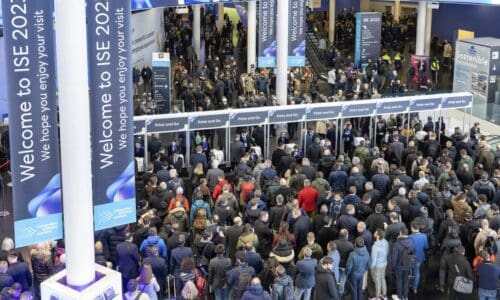 Post-pandemic, commercial AV trade shows have typically been graded on a curve. In its heyday, InfoComm attained registered-attendance figures approaching 45,000, as compared to verified attendance of roughly 19,700 at this past year's show. Despite that disparity, most reporters and analysts — myself included — judged InfoComm '22 a success. With ISE 2023 now in the books, our conclusion is equal parts different and unmistakable: This winter's exposition in Barcelona didn't feel like a pandemic-era show or a post-pandemic show; rather, it felt like a pre-pandemic show — and the numbers prove it. 
Over four days, ISE 2023 attracted more than 58,100 unique attendees from 155 countries. As such, the show underscored two key points: first, that in-person AV events are well and truly back; second, that industry stakeholders see particular value in shows that bring together the commercial and custom worlds. I expect we'll see those trends further amplified this September during the co-located CEDIA Expo and Commercial Integrator Expo, which will bring together a comprehensive technology ecosystem in Denver. 
Arguably, the most notable trend at ISE 2023 centered on how key vendors crafted their booths. Gone were white walls festooned with black boxes and accompanying explanatory text; instead, attendees saw technologies presented contextually in mock environments (e.g., lecture spaces, boardrooms, videoconferencing suites). This underscores the transition from a spec-sheet-driven mindset to an approach grounded in the user experience. Aligned with this experiential focus was a widespread recognition that users aren't looking for the most tricked-out equipment possible, but, rather, the most functional and easily navigable solutions. 
If I heard one word repeated like a refrain during ISE 2023, it was "interoperability." With supply-chain snarls continuing to inflict pain on integrators and their clients, industry stakeholders are increasingly recognizing that having the flexibility to use different manufacturers' solutions as part of an "open garden," interoperable system can mean the difference between getting a project closed out (and paid for) and having it wither on the vine. Indeed, I've never heard the phrase "closed garden" used so frequently — and almost always derisively — in my 18 years attending trade events. The yin to that yang is that lots of vendors were also touting the breadth of their offerings, referring to themselves as providers of "end-to-end solutions." 
Of course, ISE 2023 featured abundant networking opportunities with fellow #avtweeps, and those conversations were undoubtedly my show highlight. Although much of this was old, dear friends catching up (and taking #avselfies), I was gratified to hear more open, forthright talk about equity and inclusion than ever before. That manifested not only in the context of DEI but also relative to mixed-mode meetings. With so many organizations having fully leaned into hybrid work, it's gratifying to see AV professionals grappling with how to ensure that all participants have equal stature and an equal voice. Collaboration solutions that effect that outcome will win out. 
But amid all the talk of the hybrid revolution, it's notable that the two extended conversations I had about workforce management — one with an integrator, one with a manufacturer — centered on their shared commitment to having their teams collaborate in person, face to face, in physical offices. I must admit, their passionate, articulately stated stances caught me off guard. 
But maybe it shouldn't have. After all, all of us were there, in person, at ISE 2023, having an experience we couldn't have had from home. 
If you enjoyed this article and want to receive more valuable industry content like this, click here to sign up for our digital newsletters!