It's Time to Bring More Virtual Experiences to Tech Events
Even when technology events aren't cancelled due to COVID-19, organizers should utilize the expertise of industry professionals to offer virtual content.
Leave a Comment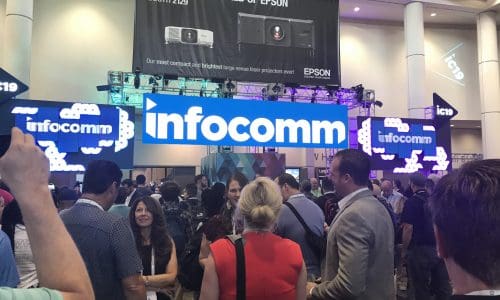 Enterprise Connect, like most other tech industry events, trade shows and conferences, was postponed due to COVID-19, but that didn't stop organizers from putting together a virtual event last week.
In case you missed this news, webcasts of these speaking sessions can be found here. For technology providers that enable remote work and collaboration, the dominant topic of conversation was very obvious: COVID-19 and working from home.
Many executives that spoke have already been working out of their homes for years, even before the coronavirus forced us out of the office and into our living rooms, kitchens or home offices. Holding a virtual event using many of the same technologies sold by these companies was essentially seamless for the seasoned videoconferencing users that gave presentations.
With that technology already a large part of the commercial audiovisual industry, we aren't going out on a limb to say pro AV events should follow suit.
Chief among those is InfoComm, the largest pro AV event held in North America, which was cancelled last week due to the coronavirus. AVIXA did allude to holding some kind of virtual event in its announcement, but no final decision has been announced.
We are exploring all possible alternatives to deliver the high-caliber education, product information and engagement that InfoComm normally offers. We realize that while it will not be the same as experiencing InfoComm in person, we are committed to serving our industry and our members by working hard to help cover the void left by a cancellation. We ask for your patience during this unprecedented and still rapidly evolving period as we explore new programming.
For an industry that provides the devices and technical expertise to enable remote work, remote learning and a truly immersive experience in doing so, bringing virtual content to InfoComm shouldn't be that difficult. Face-to-face meetings can facilitate new partnerships and business relationships, but AV professionals say remote conferencing technologies can customers achieve the same outcomes.
Communication and collaboration technology has never been more popular than it is right now, with friends, family, entertainers and organizations using these solutions to connect with people and bring them the best possible experience next to in-person communication. It's likely that the demand for these experiences won't go away when we're allowed to see each other in person again.