LinkedIn's Virtual Events Offering Can Help Integrators Make Connections
LinkedIn, already an active pro AV plaform, is offering new virtual event and live streaming services that can help integrators make connections.
Leave a Comment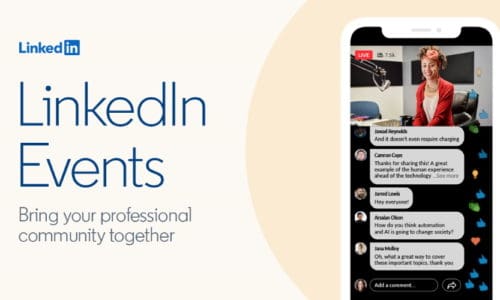 The list of technology events and conferences impacted by COVID-19 is too long to list. Some are postponed, some are canceled altogether, while some are going virtual.
We've seen events like Enterprise Connect, Red Hat Summit and Adobe Summit transition to virtual offerings, while other events like InfoComm and conferences held by Microsoft, Salesforce and SAP plan to do the same.
These may not completely replace the lost connections made during these physical events, but they help keep these respective professional communities together.
Now, LinkedIn is hoping to help organizations do just that by creating a tighter integration between LinkedIn Events and LinkedIn Live. This results in a new virtual events solution that enables organizations to stay connected with their communities and meet customers.
"As businesses around the world adjust to the 'new abnormal,' we understand that one of the biggest adjustments you've had to make is in the way that you bring your professional community together," wrote LinkedIn Director of Product Management Ajay Datta in a blog post. "We're here to help and have created the resources and organic tools you need to stay productive and connected during this time."
The new features are designed to help organizations connect with their professional communities with virtual events, sharing important updates and rallying them from afar, Datta wrote.
Users can use LinkedIn Live to live stream to their page followers or LinkedIn Events attendees using third-party broadcasting partners like Restream, Wirecast, Streamyard, Socialive and more.
Events can be shared to page followers, and direct invitations can be sent to targeted people or organizations.
Users can build buzz for their events or broadcast by posting an update to their page or event feed and by recommending key posts for their audience to check out.
Once the event is over, the organic video can be accessed by members of the community.
What this could mean for the AV industry
This could be useful for the audiovisual industry in several ways, especially since integrators haven't been able to see one another at events like the Almo E4 Experience, NAB 2020, NEC Showcase, Crestron Masters, Enterprise Connect and now InfoComm.
While some of those events have offered – or will offer – some kind of virtual show, they don't really replace those human interactions the AV integrator community will miss.
While these virtual event offerings seem more suited for manufacturers hoping to market and sell products, integrators can use this as a marketing and networking opportunity to keep those customer interactions fresh.
The AV industry is very much involved on social media, especially LinkedIn. Integrators can use this offering to reach out to their customer contacts on the platform for face-to-face connections that just aren't happening right now. Integrators can use these platforms to make important announcements or just let their customers know that they're still working and are there to answer any questions.
Right now, it's important to be present, communicate proactively, demonstrate that you're tuned in and listen to your customers.
If you enjoyed this article and want to receive more valuable industry content like this, click here to sign up for our digital newsletters!