NSCA BLC Blog #3: Tough Love on Preserving Project Profits
At BLC 2023 earlier this month, NSCA thought leaders offered some tough love on the importance of preserving project profits.
Leave a Comment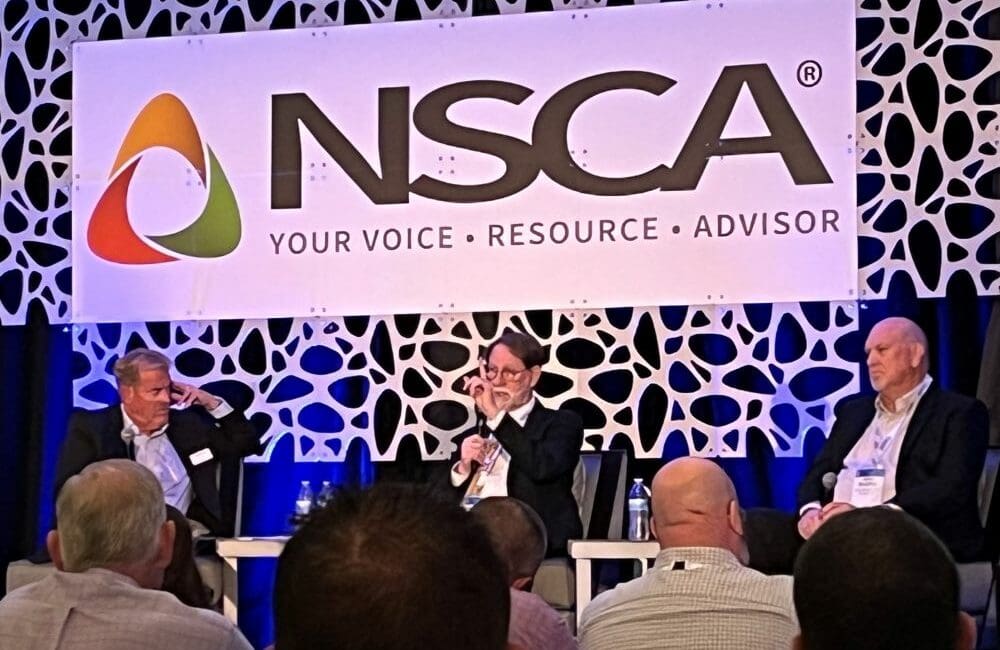 During NSCA's BLC 2023 earlier this month, attendees got a dose of tough love regarding integrator profitability. In a session entitled "Don't Sell Yourself Short," three eminent AV thought leaders warned integrators against "losing by winning." NSCA's CEO, Chuck Wilson; Ford Audio Video's president, Jim Ford; and ECD Systems' president and CEO, Mike Bradley, sounded the alarm about integrators continuing to chase after projects with low profit margins. This trend, they cautioned, is causing net profits to slip, which, in aggregate, is putting integration companies at risk. Without "naming names," the speakers pointed to the recent spate of acquisitions in the integration channel. Some of those integrators, they said, had run out of money, tapped out their lines of credit and needed a bailout. In some sense, then, this BLC 2023 session was an intervention meant to shake up the status quo.
BLC 2023 Speakers Warn About Boundless Enthusiasm
Bradley pointed out the double-edged sword of AV integrators absolutely loving what they do: A culture of boundless enthusiasm is not necessarily profit-focused. Working on a large-scale stadium, arena or other prestige project might look great on an integrator's résumé or as a website case study. However, those benefits are meretricious if they consume lots of time, energy and person-hours that integrators could spend more profitably outfitting boardrooms, classrooms and other, more prosaic spaces. Many of those white-whale projects also involve the RFP process. The bid market rarely results in integrators realizing large profits. Indeed, Ford said that his firm usually has to do 10 bids in order to win just one job — and winning can set off a round of internal second-guessing about whether the team had overlooked anything in pricing out the bid.
Wilson, Ford and Bradley concurred that integrators must become more comfortable saying "no" — and saying "no" faster. Ford offered a few questions that his team members ask themselves when presented with a project: Do we trust this customer? Is this something we're good at? Is this something we want to do? Answering any of those questions in the negative means saying "no" to the project, period. Key to the calculation is integrators empowering their financial leaders to interrogate whether a project has genuine profitability potential. However much marketing might want a dazzling project for a future case study, financial leadership's profitability analysis must prevail. That's especially true with contract language becoming more and more onerous for integration businesses. Indeed, the BLC 2023 speakers highlighted the commonness of the phrase "The integrator shall be responsible…."
Embracing Recurring Revenue
Bradley hammered home the point that integration businesses must pivot to embrace recurring revenue. He called it "an absolute" and exhorted attendees to make it part of their business plan. Bradley warned, however, of the fundamental error of integrators thinking recurring revenue is a tactic to fix a broken business; instead, he said, recurring revenue is paying the bills! He added that integration businesses with steady revenue streams that aren't solely tied to capital projects are much more attractive to possible acquirers. Although Ford agreed, he emphasized that many clients simply don't want to pay for services. With a chuckle, he said, "Our guy Larry can do that," speaking as a hypothetical client who might turn down integrator services. The stats bear this out, he added, noting that, for Ford AV, recurring revenue is maybe 10% of the mix in a good year.
Although the BLC 2023 presenters spoke plain truths, they acknowledged integrator attendees can't turn their businesses on a dime. It's hard to get project-based integrators to "change their stripes" or "rewrite their DNA," as they put it. But even as recurring revenue remains an ongoing challenge, immediate steps are available to shore up profitability. For example, integrators can devote their attention to the negotiated side, working directly with end users — not chasing RFP work. In addition, integrators can work diligently to avoid underestimating labor, which Ford identified as a systemic problem. Third is to lean into AV integration's status as mission critical and to feel confident charging accordingly. A mission-critical product and service provider does not race to the bottom; instead, it carries itself as the indispensable partner that it is. And for those clients who don't see AV integration's value, the one-word response is simple: "No."
BLC 2023: A Destination for Thought Leadership
This kind of thought leadership — presentations only available at BLC 2023 — empowers integrators to run their businesses better. I hope many in our audience take these messages to heart.
For previous Commercial Integrator coverage of NSCA's BLC 2023 and the association's education efforts, check out our website archive.
If you enjoyed this article and want to receive more valuable industry content like this, click here to sign up for our digital newsletters!