Past Meets Future at the 25th Annual NSCA BLC
The integration community is no stranger to overcoming market turmoil, and NSCA's Business & Leadership Conference has a 25-year track record of helping integrators improve their resiliency.
Leave a Comment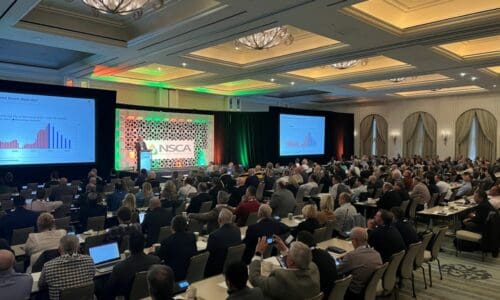 During the 2023 Business & Leadership Conference (BLC), NSCA will recognize the event's 25th anniversary milestone, while focusing just as much on the years ahead. At its core, BLC is and always has been about helping forward-focused integration companies strategize for future success. The 25th annual BLC presents a unique opportunity to recognize the past and take valuable lessons from those experiences while, at the same time, doubling down on the future. The timing couldn't be better for that juxtaposition.
Consider that the integration industry is at a monumental point. Supply-chain challenges are crippling many integrators' ability to complete projects and realize revenue. Uncertainty surrounding inflation makes budgeting, forecasting, job-costing and achieving profitability extremely difficult. Escalating labor costs further jeopardize healthy margins. And lingering impacts of the pandemic continue to create workplace and talent-management challenges.
Despite all that — somehow, some way — it's a great time to lead an integration company. The solutions that integration companies deliver to customers across every vertical market have never been more valuable. That, in part, is because integrators play a vital role in getting their customers back to the office, back to the classroom or back to whatever is "normal" for them. Meanwhile, integrators are poised to play a big role in the push toward more sustainable and healthy buildings. Well-positioned integrators have an enormously high ceiling as the Internet of Things (IoT) becomes synonymous with the smart-building sector. All this adds up to integration being the fastest-growing segment in the construction industry. Why? Well, because integrators enable workflows, make buildings safer, and facilitate efficiency and communication for those doing important work.
NSCA BLC: Facilitating Resiliency Amid Turmoil
Turmoil is not new to the integration community. During the first 25 years of BLC, integrators have come together to discuss how to overcome the recession that followed 9/11, the subprime mortgage crisis of 2008, the widespread commoditization of solutions and countless other market challenges. The annual BLC is one of the few places where integration company leaders can come together and discuss our industry's distinct obstacles. Leading into BLC each year, NSCA's CEO, Chuck Wilson, takes great pride in assessing the moment in time as it applies to integrators. From there, the BLC Planning Committee carefully selects BLC keynotes, breakout-session topics and speakers to hit integration-industry-specific buttons and provide content that will help.
There's no doubt that NSCA's role in helping integrators through turmoil will be put to the test at the 2023 BLC. The good news is that BLC has a track record of helping integrators improve their resiliency. As such, the 25th anniversary of BLC is less of a milestone and more of a poignant reminder that we've been through chaos before. So many integrators in the NSCA community have not only come out on the other side but also emerged well positioned for long-term success.
'Leadership Matters Now More Than Ever'
The theme of NSCA's 25th annual BLC is "Leadership Matters Now More Than Ever." Based on careful consideration by Wilson and NSCA's BLC Planning Committee, attendees will take in sessions on the following:
The elevated need to empower integration companies' financial leadership in 2023
How leaders can find focus amid chaos
Challenges and opportunities related to leading through turmoil
Understanding how to evolve with customers' needs
Improving company culture and retention
Yes, there will be recognition of having achieved 25 years of BLC. But note that it's not about celebrating; rather, it's about recognizing. As a non-profit trade association solely focused on helping integration companies be more successful, NSCA isn't big on celebrations. And most integration companies battling today's unprecedented market obstacles aren't likely in the mood to celebrate. Our best ideals are well suited to what NSCA's upcoming BLC will deliver.
For more information from and about NSCA, check out Commercial Integrator's website archives.
If you enjoyed this article and want to receive more valuable industry content like this, click here to sign up for our digital newsletters!