Schools Will Still Need AV After The Pandemic
Schools are starting to reopen fully, but pandemic-induced distance learning may have opened their eyes to new possibilities.
Leave a Comment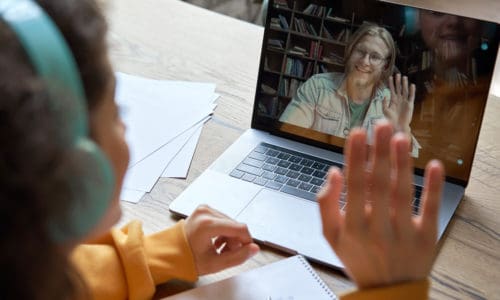 My wife is a public school teacher in Massachusetts, and needless to say, the last two school years have been tough.
Her and her colleagues were went on without much notice last March, only to resume teaching a few days later over Google Meet. For other schools, it was Zoom or Microsoft Teams, but I've heard the same thing from teachers over and over: nobody was prepared for this.
Particularly in public school, the budget for robust technology support just isn't there. Luckily, several rounds of COVID relief funding for necessary technology upgrades are making a dent in that.
However, some issues still remain. My wife and others at her school are currently tasked with one full day of distance learning, and on the other four days, most teachers are in the building full time, while some continue teaching from home. Likewise for students.
On the remote day, teachers have grown accustom to sitting at their kitchen table or makeshift office to teach their daily lessons. They've become intimately familiar with Google Meet and other UCC tools during those remote days. However, what hasn't come as easy to them is the other four days when they're tasked with reaching a room full of restless students and a video feed of other equally restless kids.
We often talk about technology parity when we think about remote and hybrid work, which is essentially making sure remote workers have access to the same technology as in-office workers, and vice versa. Those experiences should be nearly identical.
This puts the burden on teachers to simply make it work with one laptop and a classroom projector.
This NBC News article from October spells out the issue pretty well. Here's an excerpt:
Every weekday morning, Paul Yenne sets up five different devices — including two laptops, an iPhone and a screen-caster that projects videos to a large screen — to get ready for the 19 fifth-grade students who come to his classroom and the six who log on from home.

The Colorado school district where Yenne works offers in-person and online classes simultaneously, with one teacher responsible for both as the Covid-19 pandemic touches every facet of education.

Yenne, 31, delivers the day's lesson, his eyes continuously darting between the students in front of him and those stacked on a virtual grid on a laptop at the front of the room.

Despite his desire to create a seamless classroom experience for both groups, one inevitably gets left out, he said. If the technology breaks down, his classroom students have to wait until he fixes it, and if there's an in-person issue, it's the other way around, he said.

"The most exhausting thing is just to try and hold attention in two different places and give them at least somewhat equal weight," he said. "What kind of wears on me the most is just thinking, 'I don't know that I did the best for every kid,' which is what I try and do every day when I go in."
At least in public education, opinions appear to be split about how much distance learning will remain a part of the education system once the pandemic fades away. There are already nationwide pushes to get kids back in physical school buildings to take some of the burden off of parents who are sometimes forced to stay home from work to take care of their children.
However, this could give schools the tools they need to continue the necessary job of educating children in the event of another pandemic or disaster. Distance learning tech could also help save schools money by eliminating days lost due to inclement weather and keep students in the flow of learning.
AV integrators have a responsibility to approach K-12 schools about how they can solve those issues with technology like PTZ cameras, microphones and robust conferencing solutions that help ensure students at home and in school have the same experience. Consider how you can help schools transition to this new normal in a cost-friendly way.