The 2.2 Million-Pound 4K HDR Video Board at SoFi Stadium is Now Complete
The double-sided, 90 million-pixel 70,000-square-foot display at Sofi Stadium featuring Samsung display technology is now complete.
Leave a Comment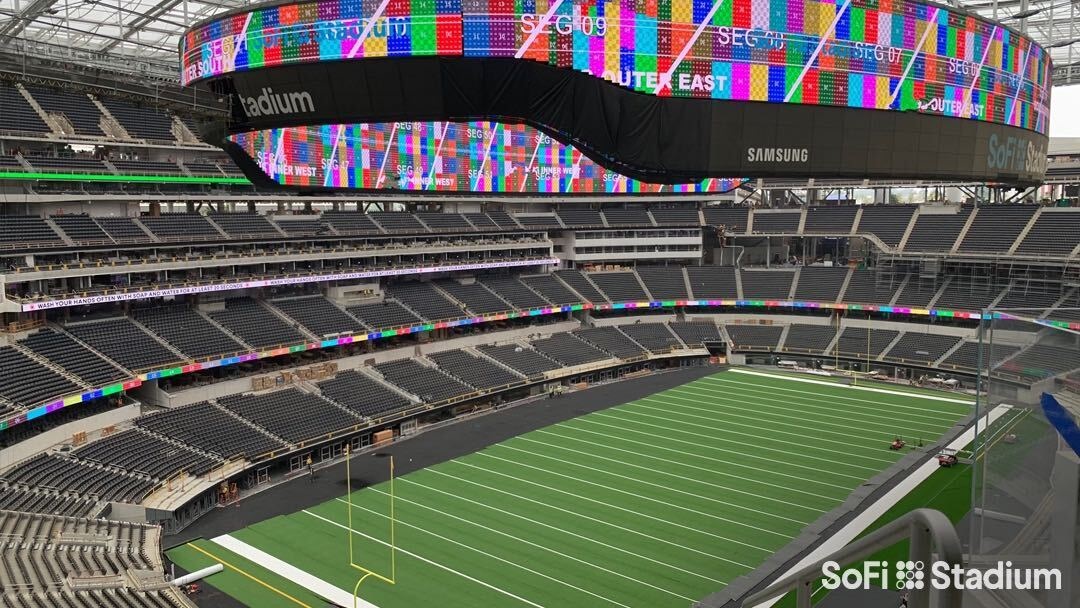 While we aren't sure when fans will be able to see a massive 120-yard LED, 4K HDR video system at SoFi Stadium in Inglewood, Calif., we're still in awe of the sheer size of The Oculus.
The double-sided 70,000-square-foot display at the soon-to-be home of the Los Angeles Rams and Los Angeles Chargers, completed earlier this week, is essentially made up of Samsung's outdoor LED panels ranging in size from 40 feet to 20 feet.
2.2 million pounds + 70,000 square feet of digital LED.

The first-of-its-kind videoboard for @SoFiStadium is officially complete. pic.twitter.com/JdQB3LuItj

— Los Angeles Rams (@RamsNFL) July 1, 2020

The stadium is set to be ready for the start of the football season later this summer, but the coronavirus pandemic may keep fans away from games for the foreseeable future.
According to Samsung, the 2.2 million-pound display features the most LEDs ever used in a sports or entertainment venue as well as the first and only 4K end-to-end video production in a stadium.
Read Next: Check Out This Massive 120-Yard Display at SoFi Stadium
"SoFi Stadium features cutting edge display technology and serves as another example of Samsung's commitment to changing the way fans interact with live sports," says Harry Patz, senior vice president and general manager of Samsung's display division, in a statement. "We are proud to outfit the stadium with an iconic, first of its kind, double-sided 4K LED display and additional Samsung digital signage technology to ensure that each fan has a unique experience every time they visit Hollywood Park. SoFi Stadium will instantly become one of the NFL's most talked about stadiums and Samsung is honored to be a part of its history from the start."
The video board has the largest LED content playback system every deployed and has nearly 80 million pixels spaced 9 millimetres from center to center, Samsung says.
Also included in the display is a built-in JBL audio system containing more than 260 of the stadium's total 4,500 loudspeakers, and it accounts for nearly half of the 1.3 million watts of Crown Audio amplification in the stadium.
We don't know when we'll see The Oculus in action since the coronavirus pandemic is worsening in parts of the country, including in California. What we do know is that Samsung and SoFi Stadium have set the bar for pro sports AV.
"The Samsung LED technology represented in the video board at SoFi Stadium is unlike anything fans have ever experienced,"says Jason Gannon, managing director of SoFi Stadium and Hollywood Park. "The design as well as the board's video and audio capabilities are the first of their kind in sports and will set a new precedent for the in-stadium experience."