The Hospitality Industry Comeback
In the hospitality industry, hotels can differentiate themselves with bring-your-own-device (BYOD) approach and audio-over-Wi-Fi technology.
Leave a Comment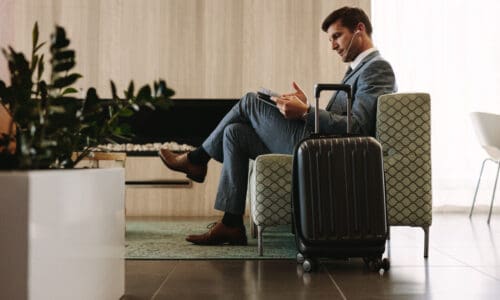 As travel returns and more in-person professional meetings and events resume, hotels and other members of the hospitality industry have an opportunity to differentiate themselves with wireless audio systems. These can accommodate guests' hearing needs, as well as meet their expectations regarding health and safety.
Hearing loss affects nearly 430 million people worldwide. In the U.S., roughly 15% of adults have trouble hearing clearly, and rates of disabling hearing loss increase significantly over age 55. The National Association of the Deaf reports, under the Americans with Disabilities Act (ADA), hotels that "provide entertainment services or other public events, or that rent their facilities to tenants who provide public entertainment or educational activities," must ensure guests can hear clearly during these events.
Audio delivered over Wi-Fi is a cost-effective, convenient, contact-free way to provide personalized sound to all hotel guests and meeting attendees. Used with the compliant quantity of Wi-Fi based receiving devices or coupled with traditional radio frequency or infrared technology systems, audio over Wi-Fi systems also meet ADA requirements for assistive listening.
How the Technology Works
Hotels looking to quickly upgrade their guests' experience by providing clear sound will find audio over Wi-Fi systems do not require extensive retrofitting or complicated installations. A server connects to the hotel's existing Wi-Fi network and guests stream sound from a hotel audio source to their smart devices. To access the system, guests download a free app on their iOS or Android device, connect to the hotel's Wi-Fi, select the channel featuring their preferred audio (e.g., banquet room A, TV #1, presenter mic, etc.), and listen to clear sound delivered directly to their Bluetooth-enabled hearing aids or through headphones or earbuds connected to their smart device.
Guests attending a conference at a hotel where audio over Wi-Fi technology is available can use their smartphone or tablet to hear presenters in meeting spaces despite loud background noise, poor acoustics, or hearing loss. These are factors that often make hearing clearly in this environment difficult, especially if listeners are far from a speaker or unable to see presenters' expressions because of face masks.
An audio over Wi-Fi system's coverage extends as broadly as the venue's wireless network, so guests who step outside a meeting space for fresh air or to refill their coffee do not miss audio. Systems also can be used to support multilingual audio transmission; users simply select the audio channel featuring their preferred language and listen simultaneously with others for a shared experience.
Hotels can customize the app with their branding and post helpful information and promotions for guests that add value and serve to enhance their experience. This might include details about the event and facility, meeting agendas, presenter bios, or promotions for the venue's spa and dining services, and information about nearby attractions.
Fostering Engagement and Confidence
Beyond conferences and events, audio over Wi-Fi delivers value to all guests (not just those with hearing loss) in hotel bars and restaurants, fitness centers, lobbies, and pool/outdoor patio areas. Guests who visit a hotel restaurant or bar and wish to hear audio on one of a number of TVs playing in the space can do so easily from anywhere in the room; there is no need to crowd close to a screen to hear better. Conversely, guests engaging in conversation with others in the space can do so without shouting over loud TV audio.
Guests streaming venue audio to their smartphone in a hotel fitness center can move seamlessly from cardio machines to weights and other areas in the space without having to unplug headsets or wait for equipment close to an audio source to become available. Similarly, they can enjoy hotel audio while working or relaxing on patios, walking trails, pool decks, and other adjacent outdoor spaces.
Maintain Distance, Use Personal Devices
Audio over Wi-Fi enables travelers and meeting attendees to maintain physical distance from others (whether by choice or local safety mandates) and use their own devices. As people resume travel and attend in-person events again, they are likely to maintain some of the habits they established during the early months of the pandemic, such as avoiding crowds and shared items as much as possible. In a global survey, 84% of travelers said technologies that address their concerns about distancing and physical touchpoints will increase their confidence to travel.
Being able to use their own familiar devices to hear more clearly, rather than check out assistive listening equipment from the hotel, is convenient. Another benefit of audio over Wi-Fi systems for guests is that the technology is contactless (no shared devices). Supporting bring your own device (BYOD) makes it easier for hotels also since there is no equipment for venue managers to track, clean, charge and store, and there is no learning curve for users.
Beyond Hotels
Beyond professional meetings and events at hotels, audio over Wi-Fi technology can be used across the hospitality industry to foster inclusion and provide better guest experiences. The technology is ideal for use in bars, restaurants, lounges, sports book/betting locations, lobbies, theaters and any venue offering audio from TVs, screens or another audio source that guests wish to hear more clearly.
Ensuring all attendees at professional meetings, conferences, and other events at hotels can hear clearly is not just the right thing to do, it makes good sense in an industry built on providing guests positive and engaging experiences.
For additional content from and about Listen Technologies, check out Commercial Integrator's website archive.
If you enjoyed this article and want to receive more valuable industry content like this, click here to sign up for our digital newsletters!