The Paycheck Protection Program Is Out Of Funds Weeks Early
The extremely popular Paycheck Protection Program has run out of money for most small businesses weeks before the deadline.
Leave a Comment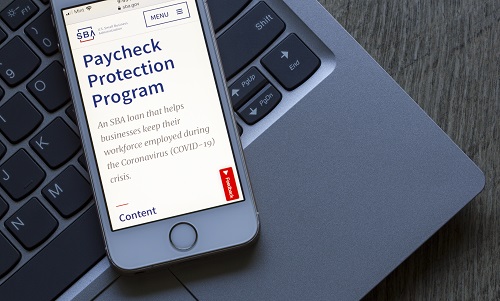 The Paycheck Protection Program, a U.S. government program designed to help small businesses keep employees on the payroll and reduce layoffs, has closed to most new applicants as the popular program runs out of funds.
The program has been extended in different ways several times, including multiple rounds of legislation and adding more money to the program. So far, small businesses have filled out 10.7 million applications and have received about $780 billion in forgivable loans, according to the New York Times.
The newspaper reported last week that the Small Business Administration's program has run out of money as of May 4, although the program was supposed to conclude with May. Loan applications pending will still be funded if approved, but no new applications will be accepted.
However, around $8 billion is still available through a fund set aside for community financial institutions focused on lending to businesses owned by women, minorities and other underserved communities, the NYT reported.
Confirming that the program is out of funds, a spokeswoman for the Small Business Administration said that the S.B.A. is "committed to delivering economic aid through the many Covid relief programs it's currently administering and beyond."

Some money remains available for lenders to finish processing pending applications that were already submitted to the agency, according to S.B.A. officials and lenders. But people whose applications had not yet been sent in for approval are at risk of being shut out.
The program was created last spring as the pandemic began to impact the economy, and Congress renewed it for a second round and allowing some applications to apply for a second loan. Then in March the deadline was pushed back to the end of this month.
Read Next: Navigating The Tax Implications Of The PPP And COVID-19 Relief Programs
The NYT reports that Congress is unlikely to approve more funding for the program with encouraging signs that vaccinations are increasing and the pandemic is subsiding.
The program was extremely popular, with each round of funding drying up earlier than expected. The program offered loans that were completely forgivable as long as a business didn't reduce its headcount during the loan period.
According to the Treasury Department, the Paycheck Protection Program has saved about 19 million jobs, but some studies estimate that number to be much lower.
Many small integrators I spoke with last year applied for and received PPP funds, and it seemed to be a very popular option with projects drying up. With PPP no longer available – at least for the time being – here's a look at other small business relief options AV companies can consider:
Economic Injury Disaster Loan (EIDL): Small businesses experiencing a temporary loss of revenue can apply for low-interest loan of up to $500,000, and the hardest hit eligible businesses could receive $5,000 that does not have to be repaid.
Shuttered Venue Operators Grant: The program includes over $16 billion in grants to shuttered venues and live events operators and gives out grants equal to 45% of an organization's gross earned revenue, with the maximum award at $10 million.
Check out the Small Business Administration's page for more information on relief programs and eligibility.
If you enjoyed this article and want to receive more valuable industry content like this, click here to sign up for our digital newsletters!