Webex Plays Catch Up in Videoconferencing Wars
Webex, one of the oldest videoconferencing providers, is playing catch-up with Zoom and others as it releases its own virtual background feature.
Leave a Comment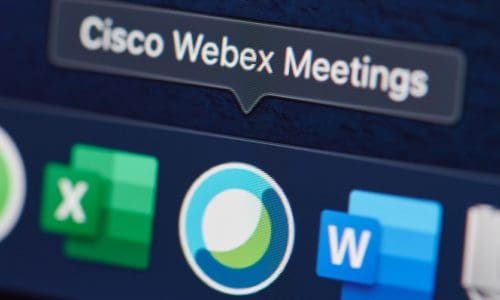 As your customers demand videoconferencing solutions, it's important to consider which platform on which to build meeting rooms.
Zoom, Microsoft Teams, Google Meet, BlueJeans and many others are constantly improving and upgrading their services since the coronavirus pandemic began and forced the closure of offices.
However, Cisco Webex, a tried and true meeting platform that also include sits own hardware, is also stepping up its game to keep pace with the new and innovative virtual meeting providers.
Most videoconferencing providers like Zoom and Microsoft Teams already allow users to choose a virtual background to keep focus on themselves and now their messy home offices. However, one of the earliest videoconferencing applications, Webex, hasn't offered that feature until now.
Last week, Cisco announced Webex users can choose a preset virtual background or blur their background to limit distractions and maintain privacy.
However, Webex does not yet offer the ability to set a custom background. In Zoom and other platforms, users can upload any image to use as their background.
According to The Verge, Webex is one of the oldest videoconferencing solutions. It was founded in 1995 and acquired by Cisco in 2007 for $3.2 billion.
Every videoconferencing provider has reported a surge in use due to the coronavirus pandemic and an increase in remote work, including Cisco.
Read Next: Zoom Launches Hardware-as-a-Service Offering
The company said its April usage of 25 billion meeting minutes more than tripled its average amount. Zoom, Teams and Google Meet have reported similar upticks in use, although Zoom still holds a lead over its competitors.
According to Forbes, other recent Webex updates include enhanced security and compliance, new hardware and new integrations. One of those integrations is with Box, a cloud content management and file sharing service.
Google and Microsoft has been extremely active in recent weeks as the companies improve and expand their videoconferencing and collaboration solutions to catch up to Zoom.
Google recently announced that Meet would soon be getting similar background features, the ability to see up to 49 people at once, hand-raising, breakout rooms, polling and more.
Microsoft last week introduced Together mode, dynamic view, a new Cortana integration and more.