AmpliVox CEO Don Roth Honored by Support from Employees, Customers and Suppliers
Efforts to raise money for Eye Tumor Research Foundation and Ocular Melanoma Foundation have deeply personal connection for this company owner.
Leave a Comment
AmpliVox CEO Don Roth still gets understandably emotional about his wife Nancy's six-year fight against ocular melanoma, which she lost in September 2018, despite countless doctor's visits, expert opinions and treatments.
But while Roth will likely never truly get over the loss of his wife of 52 years, he's figured out a proactive way to make the best of it by working to raise money to find a cure for the disease that took Nancy's life at age 76.
Roth has led efforts to raise about $35,000 for the Eye Tumor Research Foundation and the Ocular Melanoma Foundation through a GoFundMe fundraising page as well as partnerships with local restaurants and neighborhood businesses near AmpliVox's headquarters in the Chicago area.
Among the local restaurants to donate portions of their proceeds to Roth's fundraising efforts are City Barbecue, Eddie Merlot and The Warehouse, but they're not the only ones, he says.
"My dedication and my goal is to raise money in many, many different ways for the Eye Tumor Research Foundation," says Roth. AmpliVox employees "have all been very supportive in every way," he says, as have the company's customers and suppliers.
"There will always be a little hole in my heart. They fill the gap when all of these people are so supportive," says Roth.
Roth has invited all of AmpliVox's suppliers and customers to contribute to the GoFundMe page in Nancy's memory.
"Many of them have been very generous," says Roth, noting AmpliVox also includes information about donating to the effort on its purchase orders and invoices "to get the word out." Roth has offered to match donations at various times as well in hopes of generating as much support as possible.
"Our customers and our suppliers and our employees have made our lives worthwhile," says Roth. "They've made what we're doing worthwhile."
In Support of Ocular Melanoma Research
Roth certainly will never stop missing his widow, but he has no regrets about the way they worked to battle her cancer as it metastasized and spread from the lesion in her eye to her liver. Nancy Roth went through chemotherapy and treatments in Chicago, Philadelphia and New York hoping to be cured.
"We did everything we could," says Roth. "We think, through all the radiation and chemo, we got two extra years."
Shields and Shields in Philadelphia have a dedicated eye tumor research specialist hoping to solve the problem that plagued Nancy Roth and others whereby their DNA makes them more susceptible to the spread of the melanoma. Ocular melanoma strikes about 2,000 people each year, says Roth.
Shields and Shields recently named the patient consulting room in Nancy's honor and memory.
Roth also singled out the North Shore Hospital Group and Dr. Bruce Brockstein for his work with Nancy Roth as they tried to find a remedy. The family church—Lutheran Church of the Holy Spirit in Lincolnshire, Ill.—was another safe haven for the Roths during Nancy's ordeal, says Don Roth.
Nancy Roth's ashes are spread across the grounds of the church.

Nancy Roth worked as a United Airlines flight attendant for about 50 years after earning her degree in electrical engineering. She was never shy about sharing her thoughts on any topic, her husband says.
"She had an opinion on everything," says Don Roth with a laugh. "She was intricately involved in all aspects of what I did. She was my rock, my foundation. Everybody loved her.
"She was a leader in a lot of ways for women in the professionalism and development of women's attitude and education. She was compassionate, loving and kind," he says.
"We spent a lot of time together early in the morning reviewing what we're doing, where we're going, what our children are doing, what our grandchildren are doing, what we're doing with the business. I miss that very much today," says Don Roth.
Click here to help fund ocular melanoma research in memory of Nancy Roth.
AmpliVox also has supported breast cancer awareness and research for about eight years by building pink podiums. Organizations that write to Don Roth and show their support for the cause get the pin podiums free, he says. So far, AmpliVox has donated about 300 pink podiums to various groups.
The company also raises money for scholarships for the local YMCA.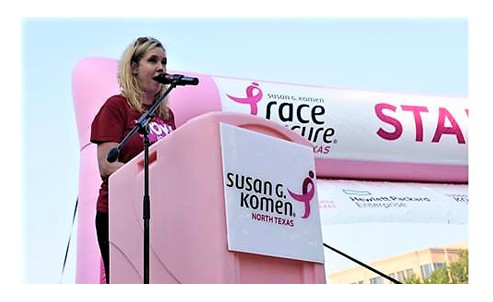 Coming next Monday: The next installment in our Connected to the Community series. If you know about an AV or IT company doing something good, email executive editor Craig MacCormack at craig.maccormack@emeraldexpo.com.