AV Company Leaders: The #1 Question You Need to Ask Employees Right Now
TigerPaw business management software has some ideas for AV company leaders and their communication habits with employees during COVID-19.
Leave a Comment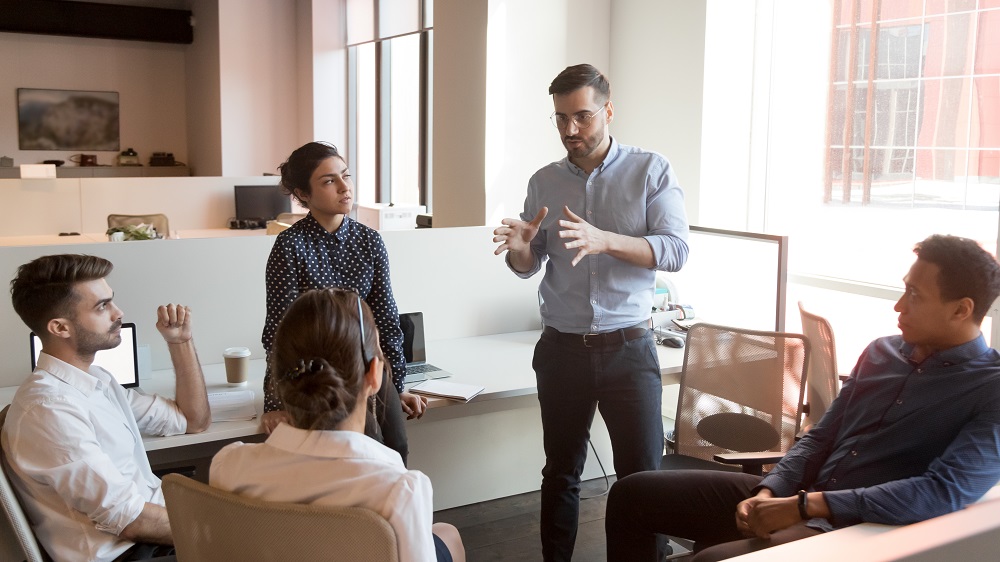 It's tough being AV company leaders right now. The checklist of things that goes through our collective heads every day (whether we want them too or not): 
Keep six feet apart

 from other people

 

 

Wash your hands often

   

 

Only leave your home when essential

No gatherings of more than 5 people at a time

  

 

Work from home if you can

 

Wear a mask

 

Don't

 wear a mask

 

Wear gloves

Don't

 wear gloves

A vaccine is still a year away

We must flatten the curve

We must plank the curve

Expect things to be this way until June, July, August, maybe longer
Not exactly upbeat stuff. The points above are testing the limits of our personal and professional tolerances. We all know why we're following these evolving instructions. Because lives depend on it, thousands of them, possibly people we know and love, maybe even ourselves. That doesn't make it easier to adapt to and to thrive in. The good news is ("good" is relative term these days) is that people are coming together to try and help other people to get through this.
I see a ton of blogs and articles on how to get financial assistance, how to make your own mask, how to do a Zoom call, even where to find toilet paper. We can judge how well efforts to help are working later, but for now, we can at least agree that people are trying to help. 
Everybody gets this. But if we have people that depend on us professionally, people that help our organizations to function, we could be forgetting to put focus on what is likely most important of all: The happiness and well-being of our people. We likely don't ask the following question enough:    
"How are you

 doing

?

" 
This question is so important right now. There are so many people suffering silently because of this new reality, so many people who have experienced loss in one way or another. We're not through it yet, not by a long shot. It's not just about the stress of money, though that's a big one. Even those of us who still have some level of income aren't free from the stresses that COVID-19 brings into our wheelhouse. I'll be very honest here: As upbeat and gregarious as I am, there are days when I wake up now a deeper shade of blue than I would have thought possible. 
Yup. True. But I'm lucky because I have things in my working life that mitigate these times and put me back on track. I want to share these with people in the hope that it will make a difference to how people are feeling.
Here are 3 things that can make a huge difference in the lives of the people you manage and work with:
Fight like hell to keep your people employed:

 

The number of people I have spoken with who have been laid-off or furloughed is staggering.

 Tigerpaw Software

 has kept all of their staff, has even hired a few more people, and that hasn't been easy and it has a cost.

  

But it's been 

right

. 

If revenues aren't enough to do that, investigate and apply for programs like the SBA (

Small Business Administration

) and 

their

 

Economic Injury Disaster loans

 program. 

The 

PPP 

(

Paycheck Protection Program

) had over $350 billion dollars in loans to help small businesses keep their people employed too.

 

I'm not saying you won't have to let some people go but please exhaust every effort to keep them first.

 
Don't

 assume everybody is doing okay:

 

If you've managed to keep your people employed, AWESOME!

 

But just having a job 

doesn't

 mean they are all going to be doing okay.

 

Broken routines, being stuck at home, knowing somebody who is suffering from COVID-19, these can all have a huge impact on mental health and well-being. As I shared earlier in this post, even I have my days. You probably do too. Please share resources with your folks to explore how 

they're

 doing and let them know it's okay, no matter how they're feeling.

 

One of my colleagues sends me a text every couple of weeks asking me how I am doing. I also have a 1:1 with my manager every week and we always spend the first 10 minutes catching up personally

.

 

Sounds simple but these personal touches make a HUGE difference to my professional life

.

 

A good online resource is produced by the CDC

.

 

It has things to watch out for, tips to reduce stress, and resources should things become more serious

.

 

It can be accessed 

HERE

.

 

Another great resource is by MHA (Mental Health America) and it can be found 

HERE

.

 

Share it on your intranet, via company email, just make sure 

it's

 a blanket approach because you never really know who will need it most.

 

Another one that has helped me personally to reframe how 

I'm

 moving through my days is produced by the BBC out of the UK. It's called "

Tips for how to stay happy in troubling times

" and very simple yet effective advice.

 

Make the ordinary functions of work more 

FUN

:

 

One of the things I just love about 

Tigerpaw

 is their commitment to being "quirky and fun"

.

 

Even in the middle of this pandemic that truth 

hasn't

 changed.

 

We have a company huddle every Tuesday via video conference call and everybody is encouraged to wear their favorite hat, football helmet, Star Wars gear, whatever gets their smile on

.

 

The President gave everybody an extra day off a few weeks ago and the way he did it was hilarious (

you'll

 have to message me to find out the 

deets

!). So many people responded to his email with laughs and thanks. The senior management team at 

Tigerpaw

 encourages everybody to "mix things up", to find the joy in activities and change their approach if the joy 

isn't

 flowing. Long before COVID-19 was a thing, they asked employees to take off at least one hour a month to take a "clarity break" to focus on their own personal well-being

.

 

If 

you're

 in a leadership role remember that the company's mood is often a direct reflection of how we approach things.

 

So have a little fun and let everybody else pick up on your cues

!

 

For some added fun, 

check out this video

 on how you can change ZOOM backgrounds to anything you want as well as creating an avatar of yourself. 

 
So I'm going to finish up by asking you the most important question you'll get today: "How are you doing?"
You are important to a lot of people both professionally and personally and I hope you're doing as well as possible right now. It is my hope that this blog has given you some inspiration and a little more energy to move forward.
If you want further inspiration for your business and yourself during COVID lockdown,  be sure to check out Tigerpaw Radio as we have a ton of episodes designed to help you with your business. We also are working on some episodes directly related to topics driven by doing business in the age of this pandemic so be sure to subscribe. 
Content courtesy TigerPaw Software