When Chuck Espinoza Isn't Thinking About Bacon, He's Helping AVIXA Train Better
AVIXA senior staff instructor Chuck Espinoza turned a passion for music — and more specifically, making music sound good — into an AV career.
Leave a Comment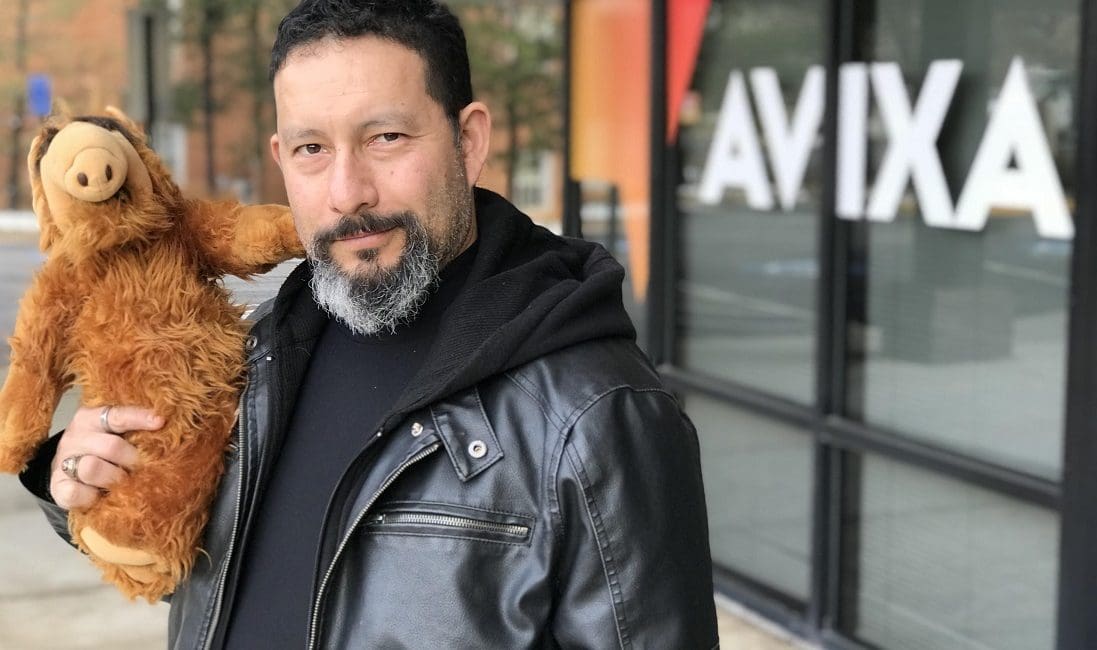 You probably know Chuck Espinoza as the guy with the long beard who loves to eat bacon, talk about bacon and eat more bacon. But there might be no bigger advocate for the AV industry than the guy who got his start down the AV path while in the U.S. Marine Corps 28 years ago.
Espinoza, 45, remembers the audio from the U.S. Marine Corps band sounding sub par, to be kind, so he asked his superiors if he could put aside his instrument and take a shot behind the sound board.
After improving the band's sound, he never played another instrument for them—and found his career calling in the process.
AVIXA recently promoted Chuck Espinoza to senior staff instructor in the learning department, about three years after he joined the association then known as InfoComm International as a staff instructor in July 2015.
Joining AVIXA was "something I wanted to do for a long time," says Espinoza, who found himself taking course after course through InfoComm at his various jobs with AV integrators before being approached about joining as a full-time employee.
Espinoza was part of the integration company that built the Randal Lemke Center for Professional Development inside AVIXA headquarters.
When he was asked to be permanent staff instructor, "I don't think a second went by before I said yes. I feel like I was meant to do this. I love every single minute of the day," says Espinoza.Let's go Back Stage and learn more about Chuck Espinoza.
Commercial Integrator: How did you go from being a U.S. Marine to an instructor for AVIXA?
Chuck Espinoza: After I left the Marines [in 2003], there was a lot of road time, a lot of time away from the family. I started working with small company as a tech and found out quickly you had to find someone to teach you the work you didn't know. I knew a lot about audio, but I didn't know much about video or control.
They recommended an InfoComm course so I took InfoComm Essentials in 2005 and got my CTS. I got promoted to more of a leadership role but I thought it was weird there was no book for technicians.
I went to new company and ended up taking the InfoComm lead technician course, then took my CTS-I test. I adjudicated InfoComm's hands-on CTS test and monitored audio portion, then ended up training the staff at my next company.
I served on the committee to publish the InfoComm Installation Handbook, a how-to guide for techs. That's when I really realized I can do a lot with this organization—if I volunteer, give my time, they will give back to the industry. It really, really grabbed me.
CI: It doesn't sound like you dreamed of being AV guy or a staff instructor when you were a kid. How did that happen?
CE: My mom says I wanted to be a fireman when I was a kid, but I grew up as a musician. I took classes in school about running sound, including the math and science of it. I wanted to play music but really enjoyed making the music sound good.
That gave me more joy. Playing [music] is OK. I love being behind the console. I'm one of those guys who never wanted to be the musician; I always wanted to be the roadie.
CI: How do you describe your teaching style and why do you think AVIXA is closing in on 12,000 CTS certifications?
CE: I don't consider myself a teacher or trainer. I just talk to people. It ends up being a conversation. I like to engage them. I don't want to be the instructor in front of the class who's just talking to people.
There's some curriculum we have to go over,but I want to hear their experiences too.I don't think of myself as the sage on the stage, more like the guide on the side.I like to listen more than I like to talk. When I was in school, it was the other way around for sure.
Anyone who's ever been in my class knows it's very light-hearted but the information tends to stick because I'll talk about a subject and everyone can talk about their experiences around that subject.
I hope they get a better understanding of the industry and the technology. I just want them to be better AV people. If we can pass around the knowledge we get about engineering and standards, the weakest link gets stronger and stronger. We get better as a community.