D-Tools InfoComm 2019 Preview: System Integrator V13
Find System Integrator v13 AV business software at the D-Tools InfoComm 2019 booth for comprehensive design, engineering and more. Find them at booth #2361.
Leave a Comment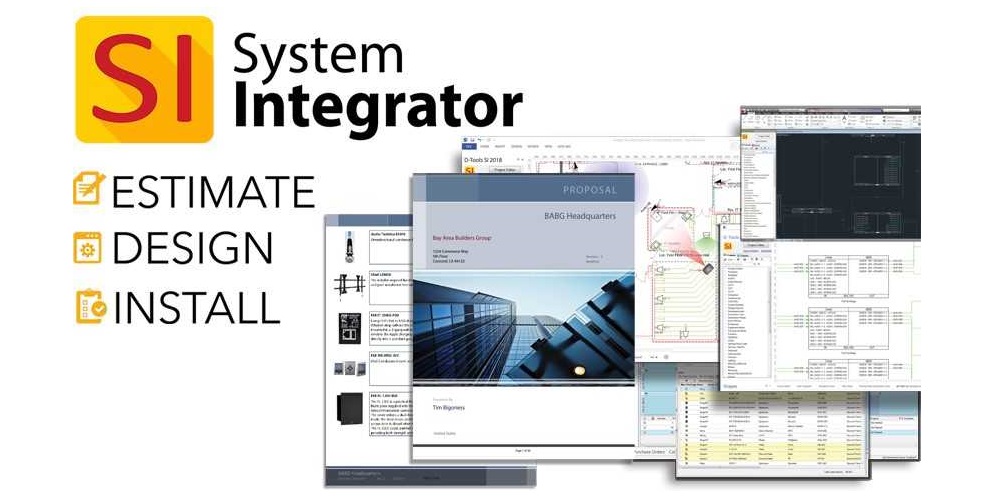 The D-Tools InfoComm 2019 booth will preview new capabilities for this year's release of System Integrator, v 13. Read our interview with CEO Randy Stearns to learn more about the company's trade show plans. Find them at booth #2361.
CI: 1) What is the top product your company is showing off at the D-Tools InfoComm booth, and what makes it unique or special?
At InfoComm 2019 (booth 2361), D-Tools will demonstrate powerful, new capabilities of the forthcoming major release of our System Integrator (SI) software solution, System Integrator v13. System Integrator guides users through project estimation and sales, comprehensive system design, engineering documentation, and installation management – all through a singular, data-driven, connected process.
Understanding the tremendous opportunity commercial integrators have to create recurring revenue by effectively managing client relationships and servicing systems post-installation, System Integrator V13 includes the ability for integrators to price out, offer and manage Service Plans as an integral part of SI, helping them to build a recurring revenue stream as well as provide improved customer service.
With this key addition, D-Tools becomes instrumental in all critial business drivers – revenue growth by improving proposal accuracy and throughput, operating efficiency through a streamlined business process, increased profitability resulting from appropriately pricing systems and reducing the cost structure, and now building more enterprise value by expanding the recurring revenue base.
CI: 2) What other products or offerings would you like to highlight, and what are some of their unique qualities?
The value of any business software solution depends entirely on a user's degree of competence with it as a productivity tool.
As such, to complement the power of System Integrator , D-Tools has invested significantly over the past few years in developing a multi-path training program and hiring a top rate implementation support and training team.
Training is now available in the form of on-site training, online training, regional trainings, webinars, knowledge base, and an eLearning platform. The professional services consultants meticulously map out and deliver on comprehensive software implementation plans, often across multiple departments and locations.
3) What else is new or noteworthy about the company for 2019?
Despite the solid offering in place for sales and engineering, D-Tools continues to expand upon its capabilities through the addition of electronic payment processing to bring in cash instantly when a contract is signed and addressing the complex issue of documenting bundled and multi-conductor cables.
D-Tools SI project management suite is being enhance to offer improved item tracking capabilities for equipment in a project. SI users can now use a barcode scanner to track products earmarked for a specific project upon receipt of those items.
Additionally, on the product library side, we are integrating AV-iQ into our Data Library to provide SI users with direct access to additional product information for their client engagements.
CI: 4) What do you see as some of the top opportunities in the marketplace right now and how can you help integrators/consultants tap into them?
AVaaS (A/V as a Service) is taking off like wildfire. To facilitate this industry-wide pricing model transition, D-Tools has partnered with Great America Financial to enable D-Tools users to convert the pricing of system sales to recurring revenue. Further, the AVaaS model necessarily includes a service contract, allowing integrators to double down on recurring revenue growth and rapidly build enterprise value.
CI: 5) What's the one lasting impression you'd like integrators to have after visiting the D-Tools InfoComm booth?
Over the past 20 years, D-Tools has built a market-proven software solution for, and an incredible following of, over 6,000 low voltage system integrators in more than 80 countries.
A culture of continual improvement ensures D-Tools progress and contributes to the product's market leadership. Most importantly, the D-Tools team thanks its customers for providing ongoing input, feedback and feature requests. It is their experience and guidance that has bred our success.
D-Tools' will continued to focus on delivering innovative solutions to the electronic systems integration industry that ultimately improves the businesses and lives of its customers