To Handshake, Or Not To Handshake?
With employees starting to return to work, is it OK to start shaking hands with others again? Yes, if you're comfortable
Leave a Comment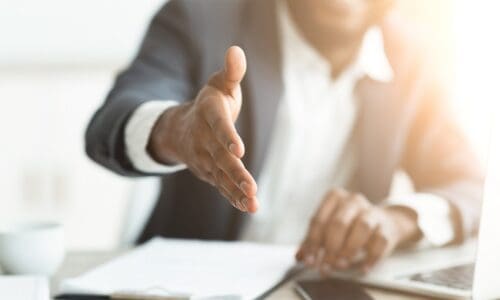 With the easing of COVID-19 restrictions and with employees starting to return to the office or meetings with clients face-to-face start to ramp up again, you may be faced with the split-second decision of whether to shake someone's hand.
If you have been vaccinated for COVID-19, pulmonologist Akhil Bindra, MD said to Health Essentials, people have "little to no risk" of getting the virus through contact of a handshake.
For months, we were told to avoid contact and maintain six feet of distance. The mere pressing of flesh was a big no-no a few months ago.
Read: We're Nearing a Return to Life with Others in Places We've Missed Since COVID-19
Alternatives to handshakes included a simple head nod and smile or wave from six feet apart.
The Center for Disease Control says vaccinated people can resume activities without wearing masks with some exceptions, such as travelling by bus, subway or plane and at airports. Guidance will vary by country or establishment.
Individuals are considered fully vaccinated two weeks after receiving the second dose of Pfizer or Moderna or Johnson & Johnson single-dose vaccine.
For non-vaccinated individuals Dr. Bhindra recommends not shaking hands. "Nothing has really changed for you," he said.
"Shaking hands again is a milestone," said Dr. Bindra. "It's a very real-world thing."
The same basic hygiene rules still apply, if you see someone coughing, it is best not to shake their hand. Washing your hands often is recommended especially after an outing or in public places with high touch areas.
For AV integrators, the lesson is not to be pressured into shaking someone's hand, if you don't feel comfortable. If your client's body language suggests they're not comfortable, a simple nod will do.
If you enjoyed this article and want to receive more valuable industry content like this, click here to sign up for our digital newsletters!