Why the Industry Loves John Laughlin (And What Integrators Can Learn from the Way He Leads Conference Technologies)
John Laughlin of Conference Technologies (CTI) is lauded by AV industry peers for his leadership and excellent business practices.
Leave a Comment

Everyone in the AV industry these days knows the name Crestron, but it wasn't always that way. Executive director Mark Swiderski says John Laughlin and the leadership team at Conference Technologies, Inc., can take some credit for that.
Since Laughlin took over at CTI, he's consistently called on Crestron to help round out jobs of all sizes in a variety of locations for a number of projects, both large and small, says Swiderski.
"Dealers like John helped us get to where we are today," he says.
"He came in with a different type of management skills than you see at some of the family-type business in this industry and surrounded himself with great people. He entrusts his people and allows them to be successful. It's a great nucleus of people and they promote from within to keep that nucleus going."
CTI has "built the company city to city" under Laughlin's leadership, says Swiderski, and his "strong belief in people is number one. He looks at the person and decides if he wants them to be on his team."
"John is one of the real good guys. He takes care of his people and cares about the industry—his people and the end users. He's always had that culture ever since the day I've known him," says Swiderski.
Good Business Partner with a Midwest Mentality
Johnathan Ivey, president of AtlasIED, met Laughlin heading into the 2016 NSCA Business & Leadership Conference in Dallas, where he toured AtlasIED's facility and they ended up completing a deal for what was United Visual's rental division in the Chicago area.
"He's really knowledgeable about products, the market and trends," says Ivey of Laughlin.
"Thanks to that visit, I got a friend, I got to sell a company and I got access to some really progressive integrators who know the trends of today and in the future. I like hanging out with them and doing business with them."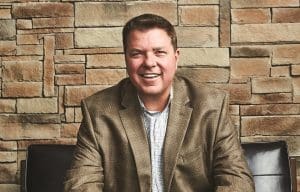 Ivey praised CTI staffers for their product knowledge and feedback on products the company is developing.
"We use them as one of our sounding boards, and they probably give us the most detailed feedback of anyone in that group," he says. "They give you insights on what you can improve."
Ivey includes his home phone number in his email signature and Laughlin shared that phone number with CTI employees.
While that might seem intrusive to some, it saved Ivey in at least one memorable case when a CTI installer called Ivey to let him know about a bad batch of speakers that were part of a run of about 900 that AtlasIED held off from shipping as a result of that phone call.
"They feel like they can call at any time," says Ivey. "They are what I call an excellent business partner with a shared Midwest mentality."
Most recently, Laughlin recommended Ivey take a class hosted by Verne Harnish, a BLC keynote speaker who Laughlin recommended to NSCA leaders. Laughlin told Ivey he'd pay his registration fee if the class didn't help him.
"Because of that experience, there's a whole bunch I'm going to change about my culture," says Ivey. "It's going to improve my business and the lives of those who work here."