NSCA Education Foundation To Host Virtual Fundraiser for "Igniting Our Next-Gen Workforce"
NSCA's Education Foundation virtual fundraiser on Dec. 2 will bring the industry together for an evening of fun while addressing the challenge of recruiting the next-gen workforce.
Leave a Comment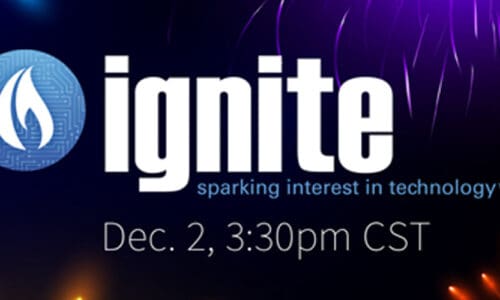 The NSCA Education Foundation is hosting a virtual celebration to raise funds for Ignite, an industry initiative focused on attracting and retaining next-generation workers in the AV industry.
"Igniting Our Next-Gen Workforce" is a completely online experience being held on Dec. 2, 2021, from 3:30 pm to 5:30 pm CST.
The theme was inspired by NSCA members who are asking for help in managing, retaining and growing their workforces.
Related: What is the Chuckstache contest? How can you get in on it? 
This year's event will be led by Tim Albright, founder of AVNation. He'll be joined live by NSCA CEO Chuck Wilson.
"Igniting Our Next-Gen Workforce" will kick off with a virtual happy hour, with time for attendees to make their own signature cocktail designed for the NSCA Education Foundation by Iowa-based Cedar Ridge Winery & Distillery. Throughout the evening, attendees will enjoy lots of surprises and appearances by well-known industry personalities.
Funds raised during the event will support scholarships, internships, and resources that continue to help the Ignite program better address industry talent shortages. Live and silent auctions will also help the NSCA Education Foundation reach its $50,000 fundraising goal for the event. Last year, auction items included:
Rolling Stones autographed Ernie Ball Music Man collection guitar
Panasonic Portable Laser Projector
Barco Clickshare CS-100 wireless system
Vaddio HuddleSHOT All-in-One Conferencing Camera
Crestron UC Video Conference Smart Soundbar and Camera
"Labor issues are absolutely top of mind for almost every NSCA member," says NSCA CEO Chuck Wilson. "Ignite is dedicated to closing the gap between classrooms and our industry by making sure up-and-coming generations know about the opportunities in technology. 'Igniting Our Next-Gen Workforce' will help us raise funds so we can continue to build a pipeline of workers to help our industry grow."
All industry professionals and their guests are invited to attend "Igniting Our Next-Gen Workforce" to enjoy the entertainment, learn more about Ignite and the NSCA Education Foundation, bid on auction items, and make tax-deductible donations through the online portal.
Attendees and participants can register here.