AV News to Know Sept. 11, 2020: New Products, Cool Projects and People in New Places
In this week's edition: Headsets for integrators during the pandemic, creating the classroom of the future and ISE adds senior marketing director.
Leave a Comment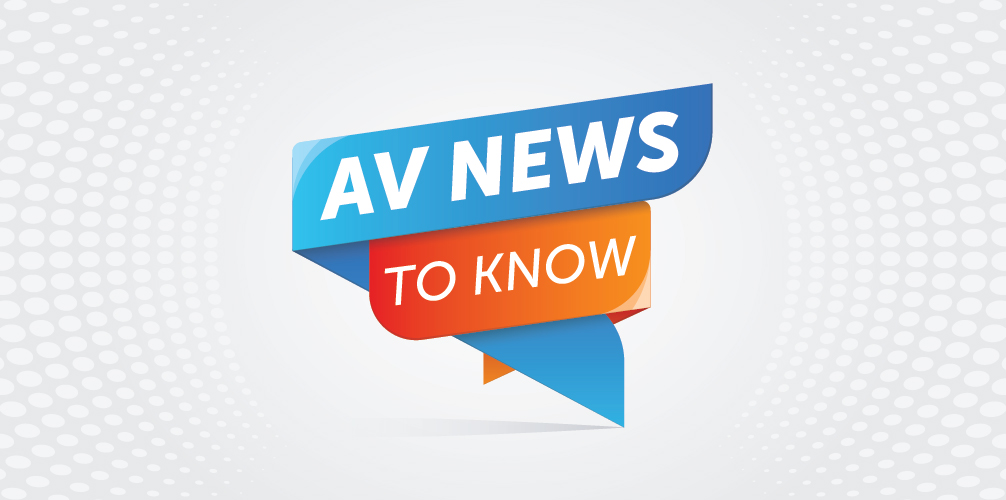 Here's a closer look at some of the AV news, products and projects you might have missed this week. We call it AV News to Know:
New AV Products
Key Digital Wall-Plate Adds VGA Connectivity
Key Digital this week introduced the KD-X3x1WUTx HDBaseT wall-plate transmitter, universal presentation switcher, and soft-codec enabling interface with one HDMI, one display port, and one VGA with analog audio input as well as USB-A, USB-B, and LAN connectivity.
The KD-X3x1WUTx is ideal for professional video installations in conference rooms, classrooms, lecture halls, auditoriums, and more.
KD-X3x1WUTx is natively received by Key Digital's KD-UPS52U Presentation Switcher or KD-X100MRx black box HDBaseT Rx. The KD-X3x1WUTx and both Rx options feature audio de-embedding for ease of integration with audio systems.
Kramer Introduces KIT-400 for 4K auto-switching/scaling over HDBaseT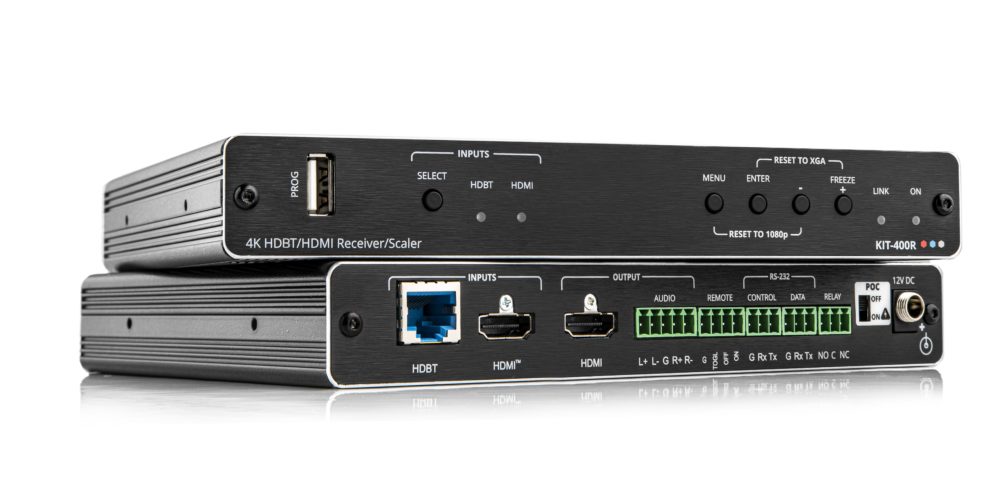 Kramer this week introduced the KIT-400, a multi-input transmitter and receiver that provides switching and scaling up to 4K60 4:4:4 for today's meeting spaces.
The KIT-400 includes the ability to store pre-defined room setups and simplifies meeting room usage with Kramer Maestro room automation and pre-installed Kramer Aware touch panel control integration. Its HDBaseT output and bi-directional powering also simplifies installation and setup.
KIT-400 is the core of the Kramer@Work KR-4000 meeting space solution with two local HDMI inputs and a local VGA input. KIT-400 serves as a high-end 4K60 4:4:4 scaler equipped with a remote HDMI input for digital signal connectivity or connecting VIA wireless collaboration devices.
Vanco International Introduces AV Streaming and Recording Products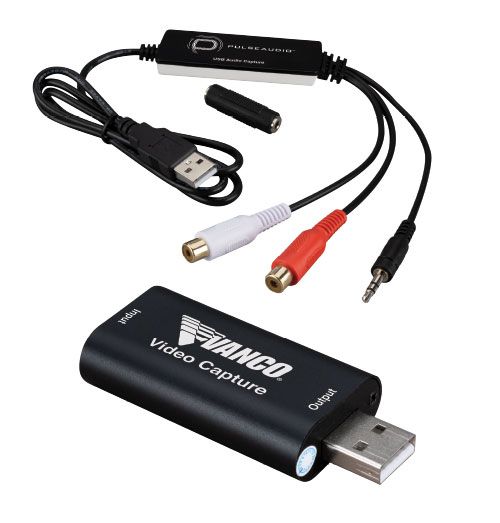 Vanco International LLC this week introduced two new products for streaming and recording audio and video: the Vanco video recording HD Capture, and the PulseAudio audio recording Audio Capture.
Both products were developed as wireless AV options that help streamline virtual working, learning, and entertaining from home.
The Vanco HD Capture and PulseAudio Audio Capture products are available for pre-order now and will begin shipping in Q4 2020. Interested distributors can contact Vanco International directly for pricing.
Conference Controller and Mobile Apps for ClearOne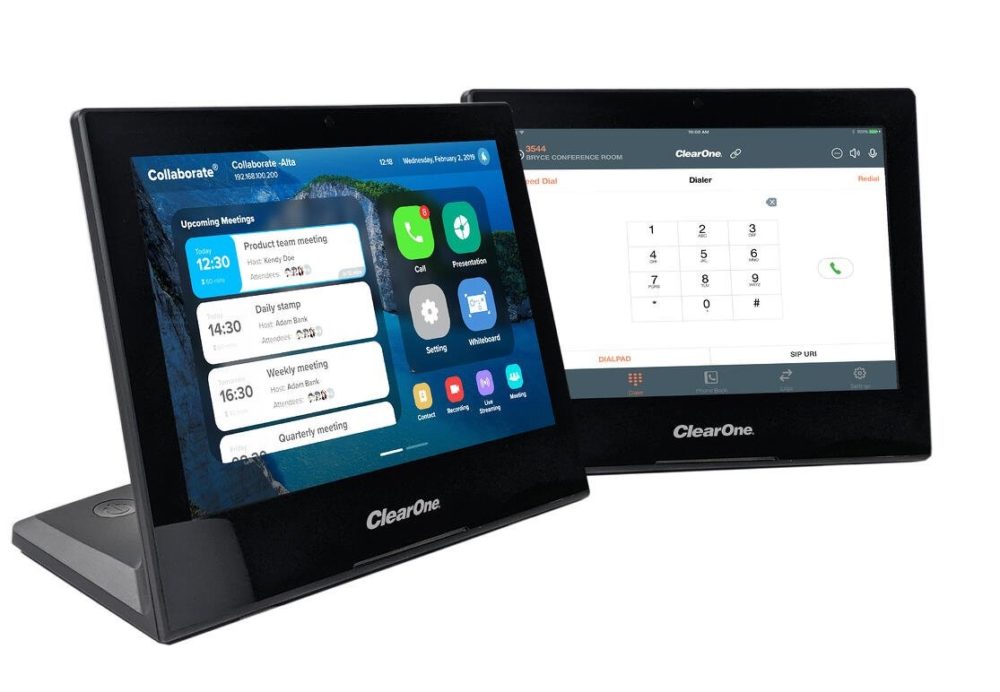 The newest conference controller from ClearOne is now available worldwide. 
The Conference Controller's 10-inch touchscreen is designed for control of ClearOne's CONVERGE Pro 2 audio DSP mixers as well as COLLABORATE Live video conferencing room systems from a single device.
The Conference Controller functions can also be accessed from a mobile device.
Tripp Lite Releases Monitored PDUs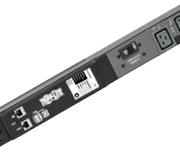 Tripp Lite has released monitored power distribution units (PDUs) to monitor power usage in data centers, computer rooms and other IT environments.
Tripp Lite's new monitored PDUs have outlet-level current monitoring, allowing the power consumption of an individual connected device to be monitored locally and remotely in real time.
Clear-Com Launches Wrap-Around Dual-Ear Headset
Clear-Com has launched the CC-70 Headset, a wrap-around dual ear headset that can be worn under a helmet, hard-hat or personal protective equipment.
This new headset offering is an ideal option for professionals required to wear protective headwear in compliance with increasingly stringent safety regulations, or for people who prefer a wrap-around headset configuration.
Audio Visual Projects
Matrix Integration and Cisco Creating the Classroom of the Future
As school districts continue to struggle with how to structure learning this fall, IT integrator Matrix Integration and Cisco are working to help K-12 districts create the "Classroom of the Future."
The solution can be implemented within weeks to accommodate students and teachers right now, as well as years down the road.
"K-12 schools need e-learning solutions, and they need them fast," said Reggie Gresham, VP of sales and marketing for Matrix Integration. "Ultimately, as classrooms get back to business as usual, the investment in infrastructure will continue to pay off for schools and districts."
Potential Savings in the Millions
Cisco and Matrix Integration worked with Mooresville Schools, a public K-12 school district located southwest of Indianapolis, to create a unified and collaborative e-learning solution that enhances learning now and in the future.
"Setting up e-learning has been a huge challenge for districts all over the country," said Jake Allen, assistant superintendent of Mooresville Schools. "I feel like we got a huge head start by working with Matrix Integration and Cisco last school year.
"We discussed all of our challenges as well as our ideal outcomes, and together we developed a robust remote learning system that was implemented within weeks, with plenty of room to grow," he said.
Leaders in the school district wanted to construct a seamless, fully collaborative learning solution that would work for the short term as well as introduce long-term, creative teaching and learning tools.
They also wanted to make sure the solution was powerful and flexible enough to encourage as much interaction between teachers and students as possible, to keep students from leaving the district as well as to maximize learning.
In short, the assignment was to implement the "Classroom of the Future."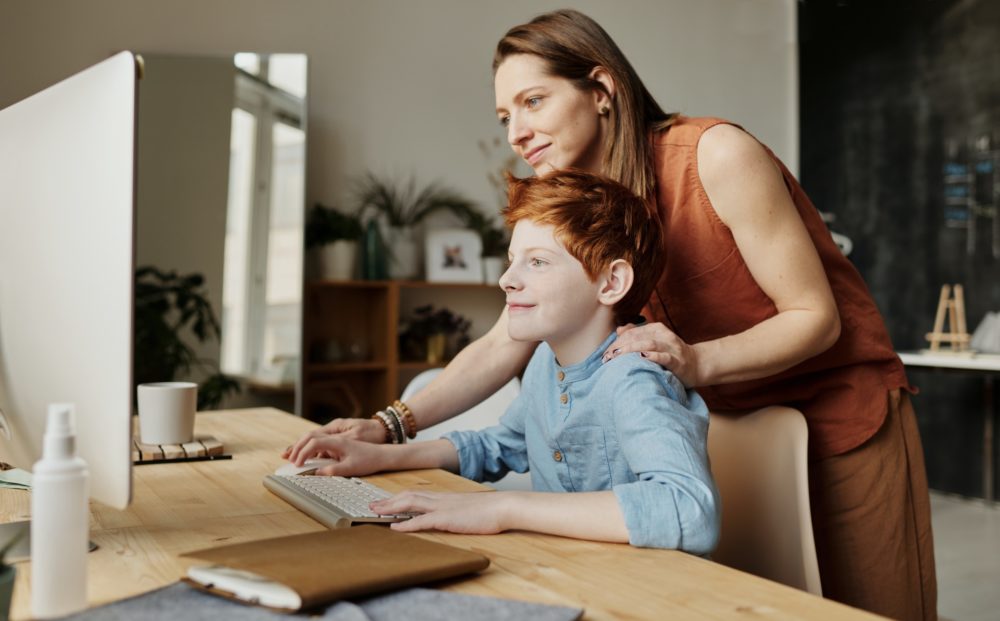 The solution included WebEx with TelePresence endpoints, which allow the teacher to be free to move around the room while staying engaged with their students.
WebEx's integration with most learning management systems allows for ease of classroom attendance. If classrooms are equipped with a display device which has an HDMI port, the teachers can share content and stay connected with the students. It also allows for recorded sessions and language translations.
The e-learning solution is a comprehensive remote-learning ecosystem that allows for individualized instruction as well as social and emotional growth opportunities. In the short term, one major benefit is a potential savings of up to $7 million in state funding, due to keeping students in the district.
For the long-term, the district sees other advantages, such as:
Teacher time savings based on the ability to digitally collaborate on and share lesson plans
Administrative time savings for future student sick days or district snow days
A wider range of learning opportunities – for example, a Chinese language class taught by an educator living in China
Vegas PBS, Clark County School District Use FOR-A Switcher
Nevada's Las Vegas PBS, which serves the Clark County School District, recently upgraded the control room that supports live streaming coverage of its board meetings with a FOR-A HVS-100 HANABI video switcher and CG-Portable compact character generator.
With COVID-19 restrictions in place that restrict the public's ability to attend meetings in the boardroom, the live video feed has taken on new significance, as it satisfies the county's open meeting laws.
"Not only has viewership skyrocketed, but we've moved from a convenience to a must-have, no-fail event that satisfies a requirement by law," said John Turner, director of engineering, IT, and emergency management for Vegas PBS, which provides a variety of education services and manages CCSD's video distribution needs.
The updated control room and boardroom are housed at the CCSD's main facility, which is located a few miles east of the Las Vegas Strip. Four PTZ cameras installed in the ceiling of the boardroom capture the action, while an output from the boardroom's dedicated audio system provides audio for the live stream.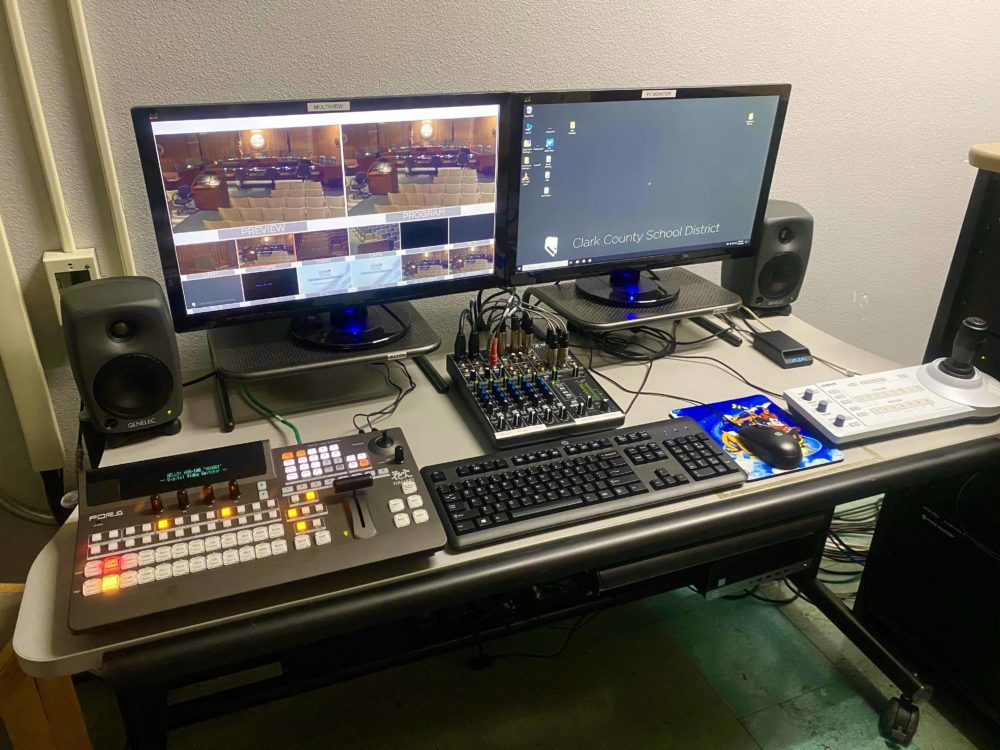 Installed in early March, the new system was operational only a few days before COVID-19 restrictions were put in place. Other improvements included a new audio mixer, two streaming encoders, and two H.264 recording appliances.
Turner praised the HVS-100's power and simplicity. Recently, the board asked Vegas PBS to add live video of an ASL (American Sign Language) interpreter to the bottom corner of the feed, a request he thought would require additional equipment and days to configure.
However, his crew was able to solve the problem in minutes with the switcher's built-in DVE – and even created a macro to recreate the setting with the touch of a button.
Purchased from Broadcast Management Group in Las Vegas and installed by the Vegas PBS engineering staff, the new FOR-A switcher is equipped with optional redundant power supplies, and was purchased to replace an aging integrated production system.
"I wanted to prepare us a little more for the future and not tie us to an all-in-one box," Turner said. "Equipment dependability is very important, because a technical glitch means no meeting."
The CG-Portable allows CCSD to produce the basic graphics needed for meeting coverage.
Meetings are streamed live to Facebook and the CCSD website. Most board meetings reach about 5,000 viewers, but some meetings have attracted up to 15,000 viewers.
The boardroom is now hosting other meetings as well, sometimes as many as three a week, because of its live streaming capabilities.
"For the Clark County School District, equipment failure means canceled meetings," said David Morris, FOR-A western regional sales manager. "The HVS-100 and CG-Portable were installed at the right time to help CCSD produce live video coverage of board meetings for the public reliably during the COVID-19 pandemic and beyond."
Through its browser-based GUI, CG-Portable allows PEG (public, educational, government) channels to produce and display lower-thirds and other graphics.
With software developed by Brainstorm, it supports two independent, multi-lingual text overlays for horizontal crawls and vertical rolls, plus a timer overlay for up/down count.
CG-Portable also offers more than 70 frames of graphic playback buffer, so users can insert animated as well as static logos over programming. Four SDI ports provide easy integration with production switchers and HD displays, while an Ethernet port allows for network connectivity.
People and Places
Jo Mayer Joins ISE as Senior Director of Marketing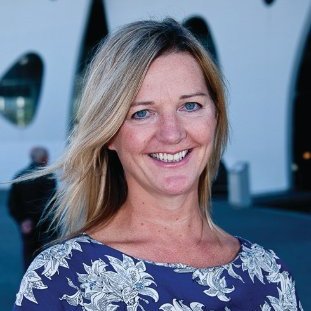 Integrated Systems Events this week announced the appointment of Jo Mayer as its senior director of marketing.
Mayer joins ISE from EasyFairs, a leading pan-European multi-format event organizer, and has more than 20 years' experience in trade shows, conferences and B2B publishing.
In her new role, Mayer is responsible for overseeing the company's marketing and content strategy across multiple platforms in the run-up to its flagship event, Integrated Systems Europe (ISE) in 2021 and beyond.
Skip Welch Appoints Danley Director of Sales and Marketing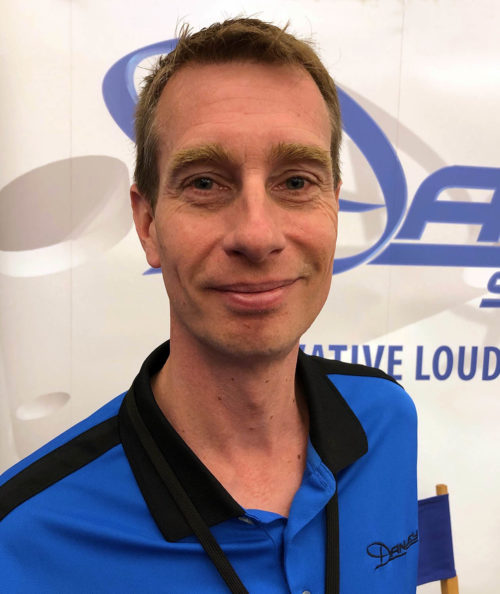 Danley Sound Labs this week announced director of sales Skip Welch will take on additional responsibilities as head of marketing.
Welch spent his first seven years at Danley in the roles of eastern regional manager and national sales manager.
TVU Networks Expands North America Sales and Marketing
TVU Networks this week welcomed two directors to its sales and marketing team in North America.
Gerry McAree joins as director of strategic accounts for the eastern region and will be responsible for working with major television networks and station groups headquartered on the East Coast.
Luc Comeau joins as director of product marketing and will spearhead product marketing efforts for the company's cloud solutions.
McAree is a 20-year veteran of the media industry, having held senior sales leadership roles with technology and solutions providers in news, sports, and entertainment. Prior to joining TVU, McAree was VP of sales for the eastern region for Paris-based Globecast.
Comeau has more than 25 years of experience in the media and entertainment industry. He joins TVU from Dalet Digital Media Systems, where he served in various roles, most recently as market director.
L-Acoustics Helps SoundGirls Educate and Empower Women in Audio
L-Acoustics recently announced a partnership with SoundGirls, kicking off an annual training grant program to support the organization's mission to empower women in audio.
Following a panel review of numerous applications submitted by SoundGirls members, L-Acoustics announced the three recipients of its 2020 SoundGirls Training Grants: Carolina Antón was awarded the L-ISA Grant, Kim Watson the Advanced Grant, and Eluned "El" Ashwood the Starter Grant.
"We were overwhelmed by the interest and response that we received from the SoundGirls community regarding these training grants," says Etienne Corteel, L-Acoustics director of education and scientific outreach.
"Carolina, Kim, and El all clearly demonstrated their drive and zeal for audio excellence and are, in our eyes, inspiring champions for diversity in this industry ," said Corteel.