AVI-SPL Acquires Adtech Systems
The acquisition of Adtech deepens AVI-SPL's coverage in the U.S. with expanded operations in the northeast.
Leave a Comment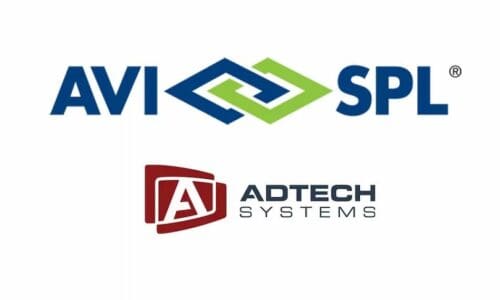 Editor's Note: Commercial Integrator's editors updated this post on January 13, 2023, with additional information about the role The DAK Group played in this acquisition.
AVI-SPL, the Tampa-based global provider of digital enablement solutions, announced it has executed an agreement to acquire Adtech Systems (Adtech). Adtech is an audiovisual design and systems integration firm headquartered in Massachusetts. Moreover, it has a 34-year history of expertly serving customers in the New England market with a focus on continuously optimizing communications and collaboration solutions for the modern workplace.
According to AVI-SPL the acquisition of Adtech Systems strengthens its resources in the U.S. northeast region. AVI-SPL's research also shows considerable opportunity in this market from untapped demand for IT services covering the full lifecycle of unified communications, collaboration and experience technology solutions.
"Our vision is to help organizations everywhere work smarter and live better," says John Zettel, chief executive officer of AVI-SPL. "Providing a local, comprehensive suite of modern work solutions where customers need us most is how we deliver on this. Bringing Adtech resources and knowledge of this region to AVI-SPL ensures an elevated customer experience."
Benefits of the Acquisition
Organizations of all sizes and sectors are rethinking how to meaningfully engage their stakeholders and create flexible work models where people connect and communicate from anywhere, at any time. The combined portfolio of AVI-SPL and Adtech delivers will deliver UC meeting solutions, enterprise video with digital signage, experience technology, and a suite of professional, managed and support services, These will enable customers to easily plan, deploy, operate and optimize their technology investments, says AVI-SPL. As a Microsoft Managed partner, AVI-SPL brings a heightened level of expertise to these realms.
Further, the acquisition by AVI-SPL will provide Adtech's customers with immediate access to AVI-SPL global operations that support multinational projects with a centrally managed, delivery program that oversees in-country purchasing, project management and day-two support services.
Additionally, Adtech customers now have access to AVI-SPL's Symphony platform to monitor, manage and analyze their entire collaboration estate. According to AVI-SPL, Symphony also gives customers faster issue resolution, less end-user impact and greater peace of mind.
The DAK Group Initiates, Manages Entire Transaction
Adtech relied on the expertise of The DAK Group to initiate and manage the entire transaction process. Indeed, The DAK Group served as the exclusive investment banker and financial advisor to Adtech. The DAK Group is, of course, a prominent investment bank specializing in middle-market mergers and acquisitions worldwide. It has numerous clients in the commercial AV category.
The investment bank ran a spirited, competitive sell-side process. "We leveraged our deep sector knowledge and relationships within the pro AV community," Ari Fuchs, managing director, says. Moreover, The DAK Group leaned on its knowledge of adjacent industries that touch the workplace-technology ecosystem. Those, of course, include IT services, low voltage, building automation and others. "There was a lot of interest in Adtech's differentiated approach to enterprise program management, entrenched customer base and northeast footprint," Fuchs adds. "As such, we identified a number of potential high-quality financial and strategic acquirers."
Fuchs, who led the transaction, continues, "Ultimately, AVI-SPL, backed by Marlin Equity Partners, emerged as the ideal partner to join forces with. They provide more solutions to existing clients and the infrastructure to scale services to meet a broader audience."
Expanding AVI-SPL's Footprint
"I'm incredibly proud of the success we've created for our customers, our partners, and our employees over the past three decades," offers Dustin Campbell, president and chief executive officer of Adtech Systems. "AVI-SPL, the first global AV integration firm, has done a remarkable job of scaling its services to meet the needs of enterprise customers. Our team's passion for delivering quality execution at scale aligns with AVI-SPL's global mission, and I'm excited for what our teams can accomplish together."
AVI-SPL has 60 office locations around the world. The acquisition of Adtech thus deepens AVI-SPL's coverage in the U.S. with expanded operations in the northeast. Similarly, the recent asset acquisition with Multimedia adds two AVI-SPL locations in Mexico and serves as a gateway to Latin America. Meanwhile, recent growth in India fortifies AVI-SPL's commitment to customers in Asia. The company says it plans to continue to grow its global footprint to deliver locally in markets where customers need its services most.