D&H Distributing Leads by Example with Video Wall Powered by Gefen in HQ
AV and IT distributor D&H Distributing creates eye-catching first impression using the power of Gefen 4K AV over IP technology as the centerpiece.
Leave a Comment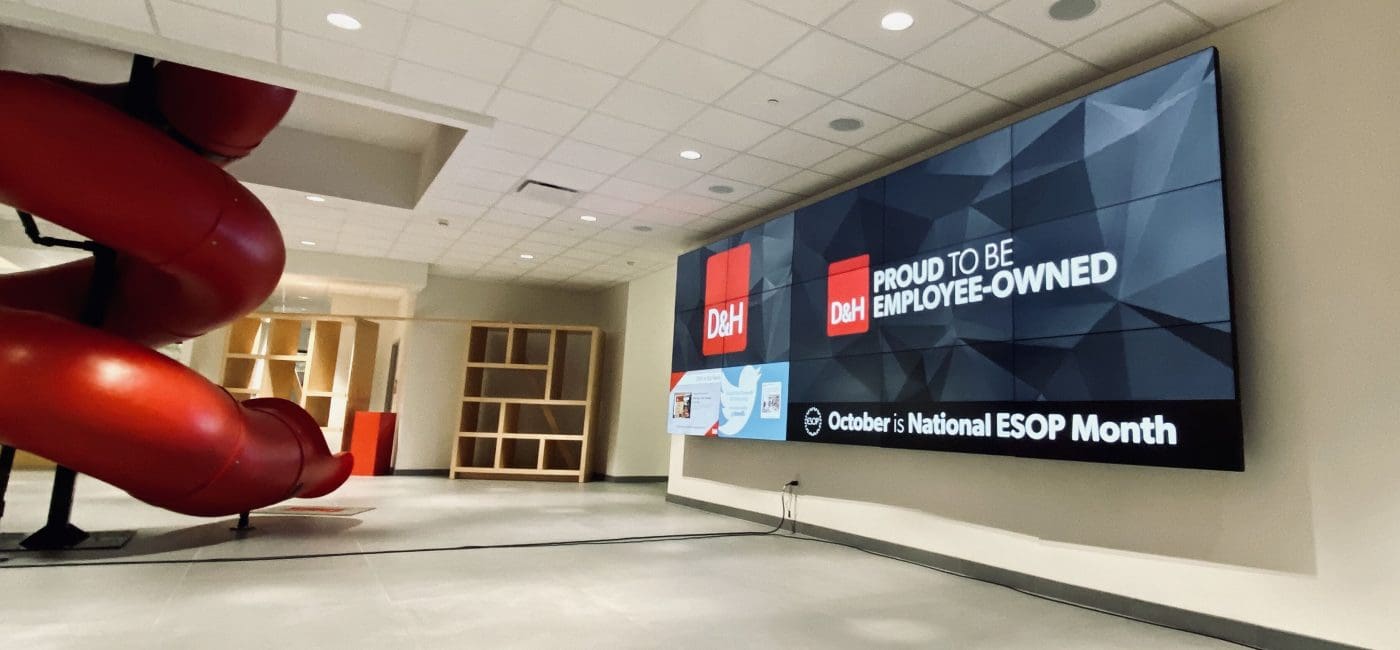 D&H Distributing is always looking for new tools to help its clients achieve their technology goals.
When the AV and IT distribution company recently moved to a new headquarters in Harrisburg, Pa., they saw an opportunity to demonstrate the products they sell and installed a 5×3 panel video wall in the lobby that uses Gefen 4K AV-over-IP to deliver customizable control of the HD content it presents.
"The video wall is a true showpiece," said Jason Fregede, pro AV solutions architect for D&H. "It's an attention-grabbing installation that also ensures we have access to any kind of visual content we want."
The video wall includes 15 NEC (UN4551S) 55-inch ultra-narrow bezel display panels in a five-panel-wide by three-panel-high configuration.
Inside the D&H Distributing Video Wall
Using four 4K digital signage players, and content managed by the Lenovo LDS platform, D&H can use the displays in a number of different configurations, with the option to create a three-by-three main display with flanking displays to show supplemental content.
The video wall's use cases vary from day to day with events and meetings that demand different capabilities. The video wall relies on multiple Gefen 4K UHD transmitters and receivers (EXT-UHD-LANS-TX and EXT-UHD-LANS-RX) plus the Gefen EXT-CU-LAN matrix controller for scalable configuration and control.
"We are working on a number of reseller events where we bring in clients to share our knowledge about new products and trends in the pro AV sector," said Fregede. "Outfitting our headquarters with solution-based labs puts our expertise front and center to exhibit how we can help clients achieve all their technology goals."
According to Aaron Hernandez, director of pro distribution for Nortek Security & Control—manufacturer of Gefen solutions—D&H's long and successful relationship with the brand factored heavily into their decision to use Gefen products in their own headquarters.
Currently, D&H's lobby video wall is used to present custom "welcome" or "thank you" slides and videos for guests and vendors and it can also link with the company's Twitter feed, YouTube channel and other online content sources to display a constant stream of branded content.