Ford AV Keeps Promises and Grows Consistently as a Result
Ford Audio-Video has the entertainment AV market practically eating out of its hand. That's because of a consistency unmatched by many competitors.
Leave a Comment

Ford Audio-Video, which catapulted from $92 million in revenue in 2016 to a projected $150 million in 2018, hired 100 employees in the past year, including 50 technical positions in the last six months. This is impressive enough — but there are still more reasons we included Ford AV on our 2018 Fast-Growing Firms list.
There is no magical formula for the firm's accelerated growth, according to Jim Ford — it's more of a consistent approach that continues to pay dividends. He cites reasons such as: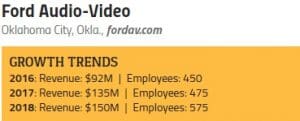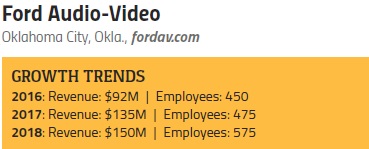 Delivering projects on time that work as designed
Meeting milestones
Keeping our promises to customers
Not outsourcing engineering, programming, and installation labor
All tech, including data networking are managed and executed in-house
"This gives Ford AV control over quality and timeliness and the ability to meet the project milestones and completion schedule," Ford says.
"Additionally, continuous internal training and a dedicated quality control team helps maintain consistency across all active projects."
The consistency also means that Ford Audio-Video isn't subject to the wild revenue swings that some fast-growing firms are. "Ford does not rely on large projects as a continuous means of growth," he says.
"Ford relies on its negotiated sales team for growth. Our philosophy is 'if you live by the bid, you will die by the bid.' We do not depend on bids."
Learn more about Ford AV here
Some impressive Ford Audio-Visual projects:
HeyDay Entertainment: To compete with the variety of interactive entertainment options in the vicinity, HeyDay wanted a flagship feature that would be the envy and focus of those in the Bricktown district. To accomplish that, Ford installed a 61-foot direct view large LED video wall that spans across all 10 bowling lanes. See pictures here.
FlyingTee: Owners of this 53,000 square-foot Jenks, Oklahoma facility developed the concept for a golf entertainment experience which goes far and above a typical driving range. FlyingTee's unique needs called for over 60 high-brightness displays which show patrons in detail the arc of their tee-off, where their ball lands, and how each hit compares with opponents'. See pictures here.