Latch Announces Major Workforce Reductions as Part of Strategic Growth Initiative
Latch states its operations will focus on a more efficient hybrid workforce model centered around its St. Louis office.
Leave a Comment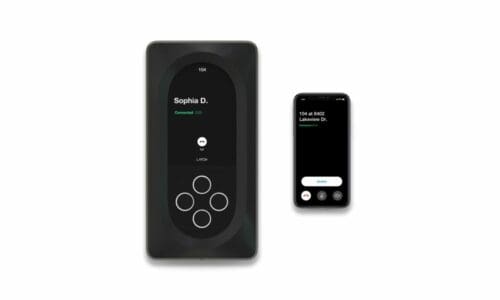 Latch, Inc., a manufacturer of intelligent access control hardware and software, announced a new strategic growth initiative which the company calls it a, "scalable foundation for growth." As part of this initiative, Latch has stated it will be going through a series of layoffs meant to reduce its current U.S. and Taiwan-based workforce approximately 59% by November 1, 2023.
This news comes following the completion of the company's most recent acquisition, Honest Day's Work, a platform designed to help service providers, such as housekeepers, dog walkers, and drivers, operate more efficiently, profitably, and independently through technology.
Latch has also unveiled a brand-new leadership team, alongside former Ring CEO, Jamie Siminoff–who is expected to become CEO of Latch later this year–who will be helping push the company's growth strategy.
Siminoff says, "These new measures are focused on creating the best foundation for growing the business long term. Discipline and efficiency are not only expected to save Latch millions of dollars but should also accelerate and simplify processes, both internally and externally.
"It is our responsibility to our customers to provide the best products and services at the lowest cost. Doing that should result in increased sales and profits, creating value for our stockholders."
Read Next: Should AV Integrators Diversify their Offerings to Include Security?
More on Latch's Workforce Layoffs & Executive Leadership Team
These new hires include Luciano Panaro, who is taking over as Chief Technology Officer; David Lillis, who is starting as SVP of Finance on July 17, 2023 and who is expected to take over as Chief Financial Officer later this year; Claire Duval, who is taking over as VP of Operations; Eugenia Adjigogovic, who is taking over as Head of People; and Chris Peckham, who has recently joined as Head of Sales.
"I'm excited to join the Latch team on this journey as we embrace a more disciplined and efficient approach to business operations," says Lillis. "I look forward to collaborating with the talented individuals at Latch to drive financial excellence and contribute to the company's continued growth and success."
In addition to the layoffs and new leadership teams, Latch has also stated that part of the strategic initiative is to add greater efficiencies into its current global workforce.
The company states that new U.S.-based roles that are most effective when co-located together, will be based out of the company's St. Louis office.
This hybrid approach, the company states, combines sourcing globally, allowing for remote work where appropriate, with a centralized office in St. Louis to build an efficient team that supports a sustainable business.
Another version of this article originally appeared on our sister-site CEPro on July 11, 2023. It has since been updated for Commercial Integrator's audience.
If you enjoyed this article and want to receive more valuable industry content like this, click here to sign up for our digital newsletters!