Should AV Integrators Diversify their Offerings to Include Security?
The lines that once separated AV, IT and security are blurring more every day. It might be time for AV integrators to consider diversifying their offerings to include security.
Leave a Comment
If you're an audiovisual integrator, chances are that you might have considered getting into the security game. However, AV and security integration have long been seen as distinct specialties. So, the question arises: Why get into another specialty when your firm is already really good at AV integration? 
However, technology disciplines are increasingly coming together, blurring the lines between the AV, IT and security sectors. That's why many AV integrators have begun to consider diversifying their portfolio of offerings to include some form of security integration. After all, doing so could open up new opportunities for growth and success in today's rapidly changing market. But only if the expansion is done right…. 
The Drive to Diversify
If there's one thing that integration business leaders learned from the pandemic, it was that they must diversify their offerings. As Tim Duncan, senior AV account manager at TSI Global Companies, warns, "Having a business model cater to one or two vertical markets is very susceptible to a pandemic, recession or [other external factors]. It could impact your vertical. It could kill your company." 
Duncan, whose firm is a Saint Charles, Mo.-based full‐service low‐voltage systems integrator, is a specialist in convergent audio and video, networked communications and security-system solutions. He says, "We're so diversified in our offerings [that] it makes us less vulnerable to changing market conditions." During the pandemic, while the firm was upgrading a conference room, the client expressed a desire to upgrade additional systems, such as security and access control. The TSI Global team was equipped to assist the client to meet both its AV needs and its security needs. 
Adding in these security and access-control services has the potential to produce more work from an integrator's existing client base. "When you think of security, you're not going to do security in one room," Gina Sansivero, vice president of marketing and corporate communications at Phoenix-based AtlasIED, says. "You want to think about the entire building." And, she adds, "Building your business with an existing client base is much more profitable than trying to recruit new business." 
Sansivero points out that AV integrators whose firms are already installing speakers and the communication endpoints may not be thinking about the possibility of leveraging those technologies for mass communication. "A lot of audiovisual systems integrators don't even realize that they're already in the security world!" she enthuses. "There's a lot more overlap now, as products are more commonly networked. We're going to see a lot of the same skill sets being utilized for security, AV and IT." 
Key Building Systems
Chris Wildfoerster, sales executive and business development leader at Axis Communications, echoes similar sentiments. He points out that surveillance cameras and door-entry control are already key systems in most buildings, and both of them pair well with modern Power-over-Ethernet (PoE) audio solutions. "With more solutions available, integrators now take on an even more important advisory role with clients, helping them understand which solutions meet their needs and ensuring seamless integration by recommending solutions they know work well together," he explains. "This allows them to provide safer, smarter solutions for customers." In addition, he adds, "It increases the profitability per project, as they are already familiar with the infrastructure and the client's needs, and all the necessary crews and materials are already onsite. [This], when added up, reduces the time and resources required to complete the project." 
Mike DiCesare, project manager at Manassas, Va.-based security integration firm Force Security Solutions, LLC, offers the perspective of a security specialist. He notes, "I have worked with many different trades on many jobsites, and one thing I see is the mastery of each installer for their trade." DiCesare continues, "We are entering a complex time when businesses are trying to be a 'one-stop shop' for clients. A one-house solution for IT, audiovisual, security and, ultimately, managed services for all, from a business perspective, it is a great model that could generate a generous recurring monthly revenue stream." Notwithstanding that, he sounds a note of caution. As DiCesare puts it, "The problem with this is too many integrators are dipping their hands in a variety of services and becoming a 'jack of all trades'…but a master of none." 
Q&A with Chris Wildfoerster, Sales Executive and Business Development Leader at Axis Communications 

Commercial Integrator: Traditional "POTS" lines are being phased out, which arguably means that it's an especially good time for AV integrators to expand their offerings to include physical security and alarms. If you agree with that statement, explain why it's true. 

Wildfoerster: Today, everything is on the network. That means it's critical for AV integrators to understand networking and how various subsystems work together in unison. Modern solutions are almost all PoE-based and cyber secure. The days of separate analog or "POTS" systems operating in their own siloes are quickly waning. The growth of AI, machine learning and deep-learning analytics has created a real-time, action-oriented ecosystem of solutions for integrators to bring to their clients. Those clients increasingly expect solutions that allow them to monitor and respond to incidents in real time. The ability to integrate those solutions into broader building-management systems will continue to be critical as we move into the future. 
Security Skill Set
Clearly, for AV integrators to branch into security successfully, unique skill sets are required. "Each [integration professional] should be a master of their trade and 'stay in their lane,'" DiCesare opines. "But that doesn't mean audio companies shouldn't get into the alarm business. You can be a company that does both — but you should have specialized and highly trained individuals." He elaborates further, adding, "The technician installing the speakers and working on the displays should be a master at the audiovisual installation. A separate technician, who is a master at security installation, should work on installing the security devices." Ultimately, DiCesare believes, trying to crossbreed integrators will do a disservice to not only the business but also the customers. "Because they will lose faith in the entire IT, audio [and] security system when one piece fails due to improper installation," he warns. 
DiCesare isn't looking to discourage anyone, but he wants to convey a key point: AV integrators and IT professionals shouldn't look at security and think it's as simple as running a cable and making a connection. He notes there are life safety codes to account for, as well as being effectively liable for people's livelihoods. "To put that in perspective," DiCesare begins, "if an audiovisual integrator installs a conference-room setup and it doesn't work, what happens? The client is frustrated, and the presentation doesn't run smoothly." The result is a disappointed client and a possible loss of business. 
DiCesare continues, "Now, let's consider a security system installed improperly. If a security integrator does not install the system or sensors to UL specs, and it does not work in a break in-scenario, what are the consequences? Loss of property. Loss of classified documents to a foreign agent. It could turn into a hostile situation really quickly." Physical-security systems are not merely alarms, he says, adding, "It is the singular piece of technology that people are counting on to protect their homes, businesses and lives!" 
Potential Consequences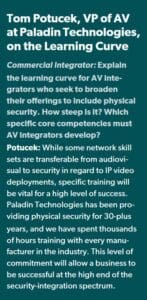 It's worth knowing that, if an integrator working with security systems is found to have been negligent in their installation of the system, they can face legal consequences. Some states require hours of education, training, background checks, licensure and permits to install security systems. Will Seifert, Pavion's integration business unit president, urges any integrator exploring the space to do their homework regarding state and local requirements. "There are specific local, state and national regulations when it comes to security and fire," he explains. "Make sure your organization is licensed and registered and trained properly from a compliance standpoint." 
DiCesare next turns to the learning curve to properly install alarm systems. "Technology is always changing, and criminals are getting smarter and more elaborate in their break-ins," he laments. "That, in turn, causes the integrator to have to grow with the criminals and come up with new solutions to their crimes. It is knowing the capabilities and limitations of individual devices. It is knowing what type of lock to use on a door based on how often the door will be used, the swing of the door, what type of environment the door is in and what you are allowed to use based on the Authority Having Jurisdiction (AHJ)." 
And with regard to cameras, other considerations come into play. The integrator must know exactly what the client wants to see and then specify the correct camera so that footage is not missed in a security-related event. 
Related: CTSI Relaunches as Pavion Amid 'Unprecedented' Growth
Demonstrating ROI
from Security Technology
Another differentiator between the AV and security spheres centers on ROI. "In the AV world, we're always about ROI," Duncan observes. "When it comes to physical security, it's not an ROI discussion. It's a life discussion!" He explains further, saying, "You're not going to make your money back on a [life safety/security] system. [The system] is there to protect the people in the building." 
Pavion's Seifert echoes a similar sentiment. The company, formerly Corbett Technology Solutions, Inc. (CTSI), is a Chantilly, Va.-based integration firm that, after 10 acquisitions since 2020, has positioned itself as one-stop-shop integration provider for fire, security and critical communications. "We're doing the security systems; we're doing the mass notification; we're doing the AV; and we're tying these systems together to provide one situational awareness within the space to protect people," he attests. "We're also connecting the larger school districts and the first responders and giving them the awareness of what's happening. They're not walking into a situation blind." That enables a kind of redefinition of the term "ROI." As Seifert puts it, "That's the real return on that investment: We have a better picture of any situation that's happening." 
A word of wisdom from our interviewees is that, if your firm is looking to bring together the AV, IT and security trades, it's imperative to get the right people — the recognized experts — involved. "If you're going to partner with a vendor, make sure that you trust them as your own," Duncan says. "If you come in as the AV integrator, but you're also going to have a security contractor under you, you need to take ownership of all of those and take the lead on the project. [That] means that you have to trust your partners." Part of that trust is having utmost confidence that they'll perform to the level that your firm sets forth. 
Minimizing Scope Gap
One of the virtues of marrying AV, IT and security is that it can help avoid miscommunication when it comes to project scope. "The more contractors you have, the worse it is," Duncan opines. "Because, unless you're sitting everybody down at a table and making them coordinate everything, which typically falls on the general contractor, you're going to run into scope gap. Somebody else thought somebody else was supposed to be doing X." But when the opposite is true, there's little room for miscommunication. "If you go in [on a project] and say, 'We're a single-source vendor, and we're going to do it all for you,' there's no chance to scope gap," he adds. "Because you own all those areas…all those scopes." If one integrator is responsible for the data cabling, the AV and the security, there's no question as to whether the cabling for the security falls under the low-voltage contractor or the security contractor. "You're both," Duncan says, "so it's going to get covered one way or the other." 
When there's no room for scope gap, it usually means fewer change orders. "The fewer the change orders, the happier the customer," Duncan says. "Scope-gap items are hard to get covered from a cost standpoint. When scope gap happens, somebody winds up eating the cost at the end of the day, or you have a long, drawn-out process to find out who should have had it and why they didn't have it." 
Integrators whose firms can offer AV, IT and security — provided they do it well — can add a lot of value for customers. "That's why I say we're a low-voltage specialty systems integrator," Duncan explains. "Yes, we do AV, but we're not an island." And the value proposition is easy enough to explain. Duncan puts it this way: "Why does a customer want to hire five contractors when they can hire one company that can do the AV, security [and] cabling? That's the sales pitch when you're at the table." 
'Why does a customer want to hire five contractors when they can hire one company that can do the AV, security [and] cabling? That's the sales pitch when you're at the table.' 

— Tim Duncan, senior AV account manager, TSI Global Companies 
Going Deep and Wide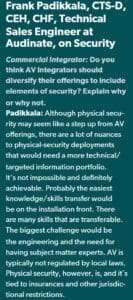 As Sansivero noted earlier, it's far more profitable for an integration business to keep a client than win a client. "The deeper you are with a customer, and the wider the services your firm offers, the harder it is for them to really break up with you," Duncan says. "For integrators thinking about how they can strengthen their relationship with their customers, bringing on additional services is a good way to do that." 
Duncan points to clients calling up their integrator partner, looking for AV work, but then, during the site visit, the conversation broadening. "We go in, talk to them and tell them about everything else we offer," he relates. "They're like, 'Wow! You do that and this? There's so many other things that we can work with you on that will make our lives easier.'" It's a compelling approach, and, in Duncan's view, not enough integrators embrace it. 
But Duncan doesn't pooh-pooh DiCesare's point that adding offerings can be difficult to do. "To be able to do a lot of things very well is challenging," he readily admits. "And some AV integrators are just afraid of that. They know how to do AV really well, but they fear, if they go out and do security, they're going to screw it up and ruin their business reputation because they tried to expand into an area that they really shouldn't have." Duncan readily concedes that, yes, it's a risk. 
Hire or Acquire Expertise
Duncan has some advice for minimizing that risk. He says, "Don't try to learn [security] and do it. Hire an expert first. Or even [approach it] through a merger or acquisition." Pavion's Seifert echoes that latter point, saying, "Acquisitions are a good thing, but not every [integration business] has the backing to go through with something like that." Nevertheless, he adds, there are opportunities for local partnerships. "[Those are] relationships that you can leverage to get into [security] and really figure your way through the process of starting your own practice," Seifert adds. It all adds up to DiCesare's words of warning: AV integrators looking at this category must do the work to train on, learn about or acquire expertise on how security systems work.
No Need for Animosity
At the end of the day, animosity or turf battles between the trades will not create or maintain successful technology deployments. And, ultimately, what lies at the core of all AV, IT and security applications is taking care of the customer and delivering the best possible solution. 
In conclusion, the blurring of the lines between AV, IT and security brings both opportunities and challenges. AV integration businesses that are prepared to tackle the challenges of diversifying their services and offerings will be able to take advantage of new possibilities for meaningful growth. However, they must do so mindfully, intentionally and with a clear plan for success. 
If you enjoyed this article and want to receive more valuable industry content like this, click here to sign up for our digital newsletters!