NanoLumens Founder and CEO Rick Cope Left Company at the End of 2018
After NanoLumens achieved 'record revenues' and worked on 'record size of deals,' founder Rick Cope leaves management team to carry on his vision.
Leave a Comment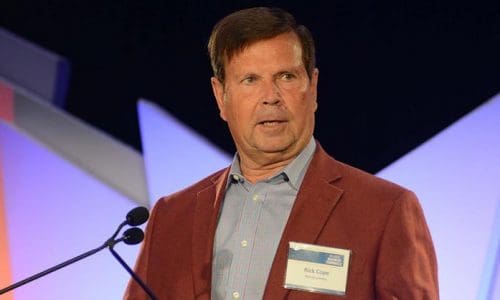 NanoLumens founder and CEO Rick Cope left the company at the end of 2018 in what VP of global marketing Joe' Lloyd says was a surprise.
Still, Lloyd told CI in a phone interview today she and other NanoLumens executives are ready to lead the company as it continues through "a rapid growth stage." Lloyd, CTO Gary Feather, VP of sales Dave Merlino and VP of research and development Jorge Perez-Bravo will lead the company for the time being, says Lloyd.
Atlanta-based NanoLumens hired Chuck Gottschalk as COO about six months ago, she says, but that hire was not in anticipation of Cope's departure.
"I wouldn't say [Cope's resignation] was a planned departure," says Lloyd, "but it's one we're well-prepared for. Rick has been an incredibly visionary leader who led us through a rapid growth stage and now it's time to let us truly grow.
"He's seen his vision come to life and we're ready and prepared to execute on that vision," says Lloyd, noting the NanoLumens founder started the company with his wife, Karen Robinson, 11 years ago, the first five of which were in research and development.
What's Next for NanoLumens?
Robinson moved from executive VP of NanoLumens to a strategy and corporate development role at the end of the year, says Lloyd.
NanoLumens just wrapped up a year where the company achieved record revenues and record growth, says Lloyd, although she didn't give exact figures because the company is privately held.
Among its biggest achievements was breaking into the theme park space, she says.
"We achieved record revenues and record size of deals," says Lloyd. "We're excited for the year to come and we're excited for the year that just passed. We're passionate about our history and our future. We're excited for what's to come."
In addition to theme parks, NanoLumens displays are in some of the world's most prestigious arenas and sports stadiums, casinos and gaming facilities, corporate buildings, federal government buildings and systems, higher education buildings, houses of worship, retail shops and transportation lines.