Small Business Administration Announces Start of Second Round of Paycheck Protection Program
New borrowers can begin applying for a PPP loan next today, and businesses hoping for a second loan can begin applying Wednesday.
Leave a Comment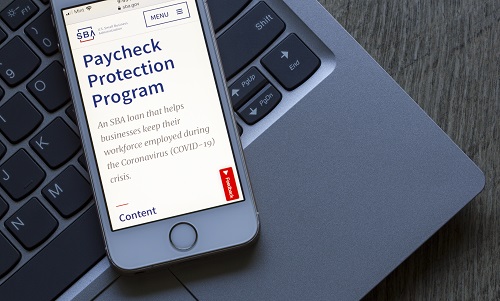 Small businesses will be able to begin applying for a second round of forgivable loans through the Paycheck Protection Program beginning Jan. 11, the U.S. Small Business Administration announced Friday.
New borrowers will get first dibs starting next Monday, and businesses hoping for a second loan can begin applying to the program on Wednesday, Jan. 13.
Initially, only community financial institutions will be able to make first draw loans on those dates, and the program will open to all participating lenders shortly after. This round is designed to help small businesses keep employees on the payroll and fund other expenses through March 31.
For this round of small business relief, Congress approved $284 billion to help small businesses impacted by the COVID-19 pandemic.
This time, the program is expanded to help businesses cover additional expenses, like operating expenditures, property damage costs, supplier costs and worker protection.
Additionally, eligibility for the program is expanded to include more nonprofits, housing cooperatives, direct marketing organizations and others.
Related: Why Mark Cuban Thinks Being Compassionate Business Leader is More Important Now Than Ever
Other updates include greater flexibility for seasonal hires and the option for some to modify their first loans.
The expanded program also allows some businesses who borrowed loans from the first round of funding to apply for a second loan provided that they have or will use the full amount for only authorized uses, has no more than 300 employees and can demonstrate a reduction of 25% in gross receipts between comparable quarters in 2019 and 2020.
The SBA also released new guidance for potential borrowers, including on accessing capital for minority, underserved, verteran and women-owned businesses, final rules on the new round of funding and rules on second loans.
The first round of funding for the Paycheck Protection Program was approved by Congress in March as part of a $2.2 trillion coronavirus relief package, with $525 billion in loans given out to small businesses.
We interviewed several small integration firms in April who said the application process was essentially seamless and that the funds helped them keep employees on the payroll.
In a statement, Treasury Secretary Steven Mnuchin said the program has provided 5.2 million loans and helped support 51 million jobs.
"This updated guidance enhances the PPP's targeted relief to small businesses most impacted by COVID-19," Mnuchin says. "We are committed to implementing this round of PPP quickly to continue supporting American small businesses and their workers."
If you enjoyed this article and want to receive more valuable industry content like this, click here to sign up for our digital newsletters!