Unified AV Dipped Its Toes Into Other Markets, and It Paid Off Tremendously
Unified AV isn't just AV anymore: they've delved into network & security projects, too (something they say keeps them safe from ups/downs of business).
Leave a Comment
Unified AV Systems is 100-percent employee-owned. That means there are a lot of people taking pride in and invested in the company's recent growth — a more than 25 percent revenue jolt projected for 2018, landing them on this year's list of Fast-Growing Firms.
We've written about Unified's unique commitment to project management as one of the keys to the firm's success. It's difficult, however, to pinpoint keys to success for a company that seems to be thinking a few steps ahead of the pack.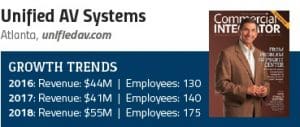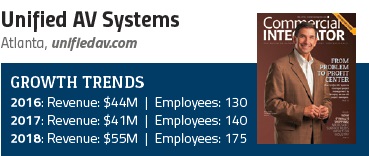 When we asked Unified's Barry Goldin to what he attributes the company's recent growth, he points to "our expansion into network, security and infrastructure."
That, he says, "has allowed Unified AV to go after much broader projects and satisfy those with a single vendor solution to our clients."
That broadening from AV to network and security solutions may make Unified less prone to the up-down swings of project-based businesses, Goldin contends.
"Diversification across multiple technologies, multiple geographies, and multiple customer verticals can limit that impact. We see growth as something that is strategically important and very possible in the current environment."
Related: Why Great AV Employees Quit Their Jobs (And How to Prevent Them From Leaving)
Meanwhile, 25 percent revenue growth can take a toll on a company's processes. "Change is constant and we are always having to adjust internally and externally," Goldin says.
"As we expand our team and skill sets we have had to make changes to our internal management structure, training plans, and marketing to our external customers and prospects.
Unified AV in Action
LPL Financial, a leader in the retail financial services market, recently teamed with Unified AV to bring a high-tech Wall Street aesthetic to its Fort Mill, S.C. trading floor.
They wanted to recreate the high-energy environment of a Wall Street trading floor, complete with monitors, televisions and ticker feeds running the latest stock quotations.