Managed Services: What Are You Waiting For?
It's tough for AV integrators to make money selling expensive gear, but there's a better way for them to maintain a close relationship: managed services.
Leave a Comment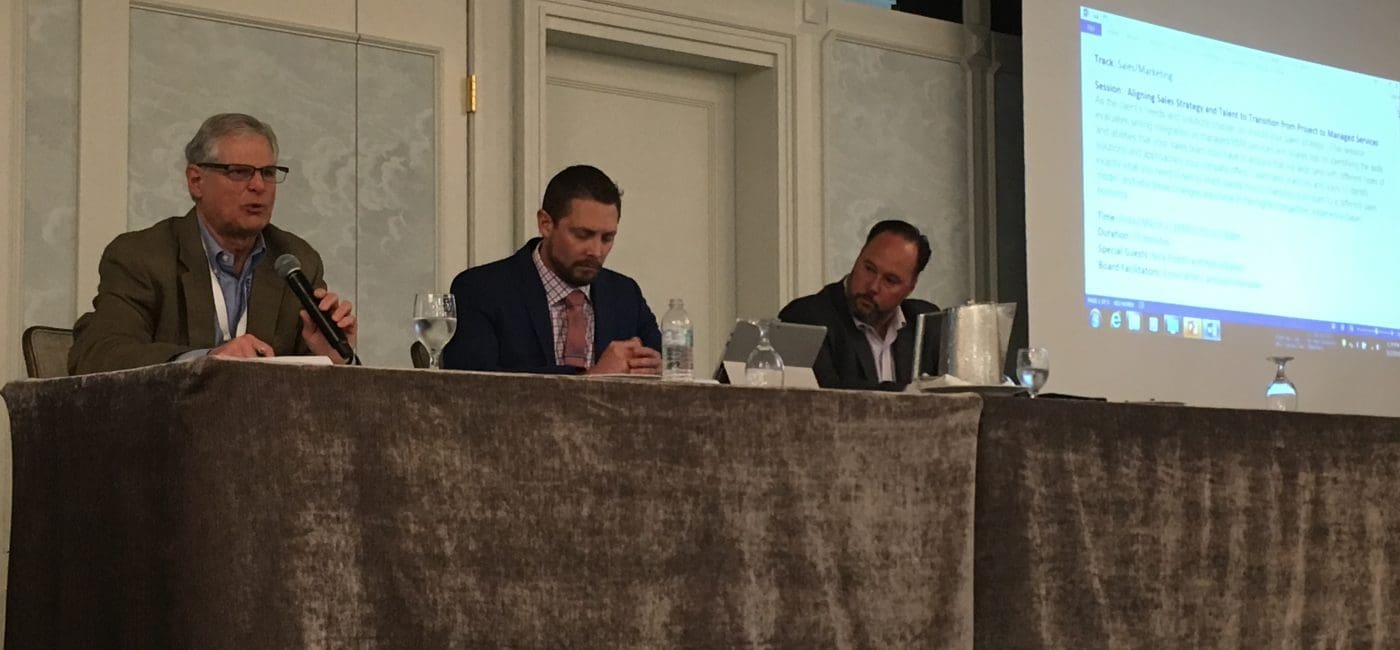 OK, what's your excuse? We've been telling you for years that your competitors are offering managed services and yet you're still not doing it.
We even chose our 2015 Integrator of the Year in part because of their proficiency in literally thinking outside the box and working to perfect their recurring revenue model to the point where they don't take an integration job unless it comes with a managed services component.
If you're struggling to master the fine art of managed services to go along with your AV integration work, you're not alone. That was evident during a breakout session at the 2018 NSCA Business & Leadership Conference (NSCA BLC) when attendees asked how they can do it better—or do it at all in some cases.
"Most companies try to take their current sales teams and transform them into managed services salespeople," says panelist Robert Lobascio of Corporate Sales Coaches. "Most who are successful use a dedicated person or staff just to sell managed services."
Managed Services Help You and Them
Panelist Anne Sellers of Sensory Technologies, which launched its managed services arm in 2005, agrees. Selling managed services, she says, is "selling peace of mind."
"We've never been able to teach an old dog new tricks," says Sellers.
Steve Alexander of Avidex agrees, saying salespeople have different strengths and it takes different abilities to sell boxes and to sell services.
"When someone thinks about managed services all day, it's a different mindset than selling systems or products," he says.
Panelist Nick Points of CharTec says his company generates about $300,000 every month in recurring revenue and it's helped the company to "get out of the break-fix mindset."
Doing Managed Services Right
Sellers stresses the importance of having an around-the-clock managed services team ready to take calls, even if you expect you'll never need it.
"We get called seven times a year between midnight and 7 a.m. but if you want to sell to big clients, you need it [to be a 24/7 offering]," she says.
Selling managed services is about "culture more than aptitude," says Lobascio
"It's not as much a style issue as it is a focus issue," he says. Typically, if you tell customers to give you a year or two under a managed services offering, they'll go for it, especially when they're already spending a lot of money on their tech upgrades anyway. They can be for break/fix services, a designated block of hours or remote monitoring, says Lobascio.
"I want to get into the [customer's IT] network somehow," says Points. "Once I'm in, I'm taking everything [and converting it into managed services for the customer]."
Technicians who visit customers can be among the best people to spot opportunities for managed services, says Lobascio's partner, Len D'Innocenzo.
"Make sure they keep their heads up and their eyes open," he says.
Great America Bank offers a program that allows NSCA members to "transform [their] business models to an as-a-service model," allowing customers to make monthly payments  and help them generate the recurring revenue they crave.
Since everything AV can be offered as a service today, this standardization is a good way for AV integrators to launch their managed services offering, says panelist Josh Shanahan of SVT, who was recently elected NSCA president. SVT has been generating recurring revenue since it launched in 1950.
Read Next: 6 Ways Business Software Helped ClearTech Media Transition to Managed Services
"A lot of your customers are already accustomed to paying service and monthly fees for their IT," he says. "You can't just wait for a call. You have to be proactive and make sure you have that sticky relationship with your customer. This is something all of you are equipped to do."
"Go in, solve a problem for the client, give it a name, sell it to them, then have them sign a 36-month contract," says Sellers, with her tongue only slightly in her cheek.
"There isn't anything complicated about this," says Lobascio. "The toughest part is transforming your sales team. They need to be able to have a business conversation or they'll be price-chopped."
Learn more about the NSCA BLC here.
If you enjoyed this article and want to receive more valuable industry content like this, click here to sign up for our digital newsletters!