You May Already Be Selling AV as a Service and Not Even Know It
CI Summit panelists say selling AV as a service is more about repackaging and talking to your customers in new ways than launching something entirely new.
Leave a Comment
The early returns for CI's 2019 State of the Industry are pretty dismal when it comes to managed services, with more than one-quarter of respondents saying they don't earn any recurring revenue and almost 60 percent saying they bring in less than 5 percent of their overall revenue from AV As A Service.
Could it be that too many integrators don't realize that what they're doing could—and should—be considered a managed service and they're just not calling it that?
That's what Dan Abrams, VP of business development at IVCi, told attendees at last week's Total Tech Summit in a panel discussion with Bill Riley, New York regional director at Sensory Technologies, and CI editor Tom LeBlanc.
"These are largely marketing terms," says Abrams. "Many of you in this room are offering these things and don't call it managed service."
Managed services, he says, comes in many forms from dispatching an employee to work with a customer after an installation to remote monitoring to more traditional services.
Most car dealers, says Abrams, no longer use the term "lease" because it implies some level of user ownership and most customers are used to paying monthly fees for other services, from their cell phones to cable TV services.
AV integrators have been slow to adopt that sort of model for some reason, he says, but there's no better time than the present.
"Much of it has to do with semantics," says Riley.
"Are you providing something that someone is willing to pay for regularly?" That can be digital signage, videoconferencing, refreshing a conference room's technology or sending staffers to a client to work there as embedded employees, where they help with meetings, video production and more.
"By branding service, it allows us to be less tied to a particular vendor," says Riley. "We're always looking for the best products to support the platform."
Selling AV As A Service
All it takes is a little creative thinking in some integrators' offices—particularly in their marketing departments—to launch or expand their service offerings, says Abrams. That would counter the AV integrators who say they don't have enough support or the right staff to launch a managed services branch.
"You're not creating new things to do," he says. "You're creating new ways to package the things you're already doing."
IVCi regularly does self-evaluations when it comes to how much they use the systems installed in their offices and Abrams says they do the same for customers, even if it means taking out some pieces that don't get used like they originally thought they would.
"Sometimes selling yourself out of something embeds you so much further into the company," he says. "It's a comprehensive look at yourself."
Managed services can also help integrators increase their leads by giving the customer more points of contact within your organization, says Riley.
"We used to get 30 to 40 percent margins on a piece of hardware, but things have shifted," he says. "Whenever we get people involved with a client, that's going to increase our margins. It develops a level of stickiness. We want them so entrenched with our services that they don't even look at anyone else.
"If you're continuously selling just integration, accountants will look at you in terms of assets. But if you sell AV As A Service and contracts, you're going to increase the value of your business," he says.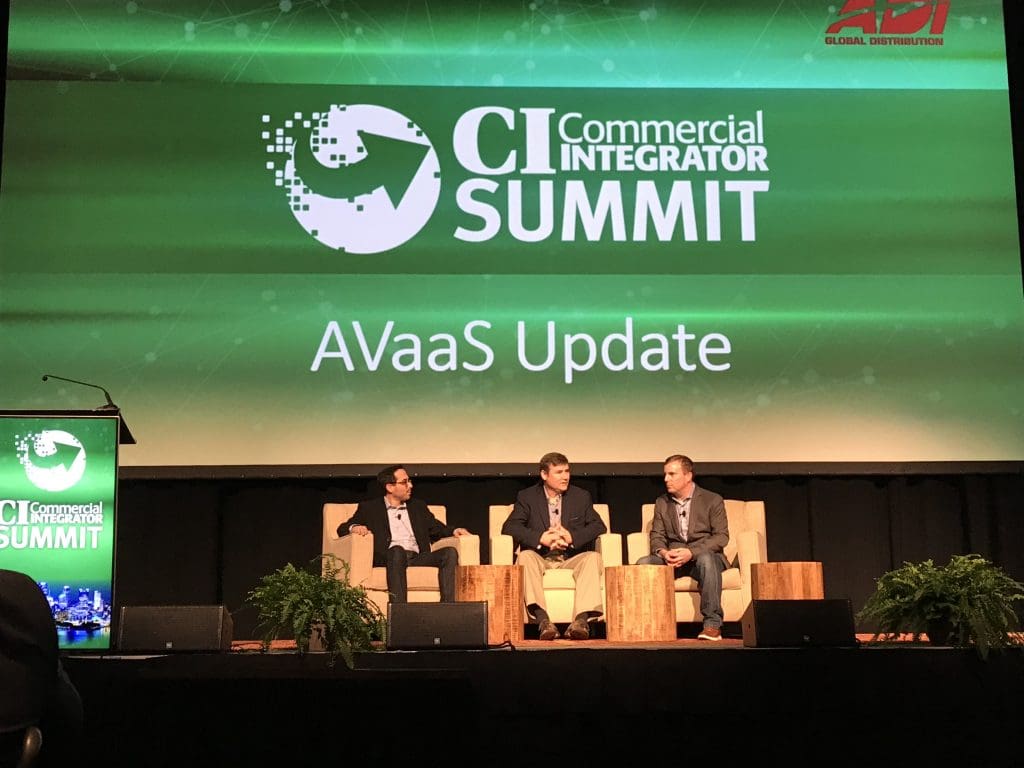 Thinking with Service Mentality
AV as a Service is a concept that's starting to gain more traction and was discussed in a couple of panels at the Total Tech Summit last week. Abrams dismissed the notion that hardware was a necessary part of an AV as a service model.
"It's about understanding who is actually owning the hardware," he says. "The best advice I can give you is to get creative and talk to the people in the industry who are progressive. If you want to know how to price stuff, ask the people who are already doing it."
The "as-a-Service" model is "wholly born of the IT world," says Abrams. That approach and that language "drives culture and mindset," says Riley.
Think of security companies like ADT. What good would they be if they simply installed a security system in your home or office? Monitoring is the key component—and the same is true for AV systems, he says.
"The whole purpose of putting in a system is to have someone watch over it and monitor it," says Riley. "There needs to be a shift in how we tell our story. We're not here to hack into your business. We want to make your system work better for you."
One of the major obstacles when it comes to thinking of AV as a service is flipping the expenditure from a capital to an operating expense on the client's balance sheet. That decision comes down to how soon the customer expects to see a return on the investment, says Abrams.
Using terms like "licensing" will help the conversation because it's how they already pay for most of their IT-related contracts, he says.
"If you make it that easy for them, that's when you find they modify their willingness to do something different," says Abrams.
There's certainly some new training and different people who need to be part of the conversation, though, says Riley.
"When you're talking capital expenses versus operating expenses, that's something every CEO will understand," he says. "But when you're trying to have your sales team have that conversation with a CFO, it takes a different level of sophistication."
If you enjoyed this article and want to receive more valuable industry content like this, click here to sign up for our digital newsletters!