AVIXA Predicts Global Pro AV Industry to Grow to $230 Billion by 2023
Asia Pacific passes North America in global AV share in next 5 years, with emphasis on hospitality, retail and health care says IOTA Global Summary.
Leave a Comment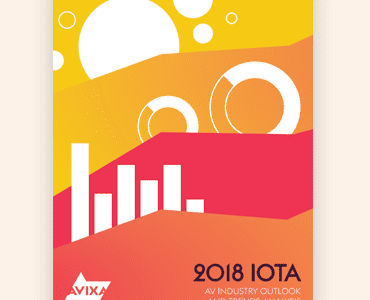 The global AV integration industry will grow from about $186 billion this year to $230 billion in 2023, according to AVIXA's 2018 AV Industry Outlook and Trends Analysis Global Summary, fueled by widespread adoption across Asia-Pacific and an increased emphasis on creating experiences through technology.
The second annual IOTA Global Summary "examines the forces driving growth—from macroeconomic factors to technology trends to vertical market demands—on a global scale," according to the AVIXA press release announcing the report's release. [release]
The 2018 IOTA report was produced for AVIXA by insights and intelligence firm IHS Markit, whose research "was based on combining supply-side market sizing with demand-side market requirements, which were then aligned with macroeconomic factors and inputs."
The $230 billion forecast includes services provided by AV integrators and measures the overall amount spent by end users on AV technology and related services, says AVIXA senior director of market research Sean Wargo.
"We've drawn a very large circle around the industry and some categories may be considered to be peripheral to the industry," he says. "These days, integrators are tasked with being very broad in their offerings."
Inside the IOTA Global Summary
The 2018 IOTA Global Summary forecasts compound annual growth of about 4.3 percent globally from 2018 to 2023, which is consistent with worldwide GDP estimates, says Wargo.
An interesting note in the 2018 AV Industry Outlook is seeing Asia Pacific passing North America for the largest chunk of the pro AV market with 36 percent by 2023, compared to about 33 for the U.S., Canada and Mexico.
The retail, hospitality and health care vertical markets are among those that are expected to help AV integration thrive in the next five years, says Wargo.
That's because they're among the markets that "emphasize user experience," he says, bringing about "more cutting-edge implementations of AV."
The 2018 IOTA Global Summary predicts the health care market will grow 10 percent from $2.4 billion to $3.9 billion, while hospitality will grow 7 percent from $7 billion to $9.4 billion by 2023.
Another example of a market that could grow thanks to AV is cinema because of the recent price compression of direct-view LED displays, a phenomenon that's "fueling expectations of a growth cycle," says Wargo.
How Global AV Integrators Should React
For those integrators who read the 2018 IOTA Global Summary and think it'll be easy to launch a practice in verticals such as hospitality and retail, Wargo says it's not always easy and certainly won't happen overnight.
"It's a process of exploration," he says. "You have to understand the landscape. How are they spending? Who do they go to first? The shortcut is to partner with someone who can pull you in and help you develop the contacts and the linguistics.
"Just because you did something successfully in a corporate setting, that doesn't mean it transfers to a storefront, for example," says Wargo.
The flurry of mergers and acquisitions in pro AV within the past few years isn't enough to slow down the growth across the industry, he says.
"There's an equal amount of innovation and new players coming in to AV," he says. That includes IT and experiential design firms that aren't tradition AV integrators but who have become part of the process.
Here's Craig MacCormack's full interview with AVIXA senior director of market intelligence Sean Wargo on the 2018 AVIXA Industry Outlook and Trends Analysis Global AV Industry Outlook: