The State of Distance Learning Technology
We surveyed our integrator audience & spoke with higher ed tech managers to learn about how distance learning technology is evolving.
Leave a Comment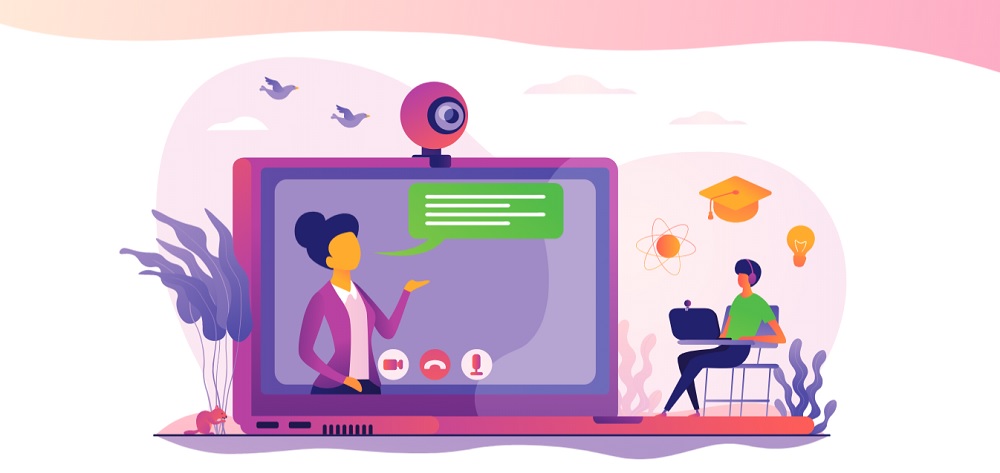 Distance learning has certainly been one of the most discussed technology categories in the entire country since early March when schools and businesses began to run remotely as a result of COVID-19. 
More than six months later, many schools and universities are still utilizing distance learning solutions to continue education without putting students at risk. 
Many schools—especially at the K-12 level—have been practicing distance learning for the first time. The sudden need for systems that were not yet implemented gave rise to a massive growth in videoconferencing. 
Many of you will recall the number of Zoom meetings that were hacked into early on in the pandemic. This trend of "Zoom bombing," as it came to be known, highlighted the clear lack of distance learning options schools had at their disposal and security risks of this technology. 
Higher education facilities are similarly affected. According to a recent study by The New York Times, counties in the U.S. where college students make up at least 10% of the population are seeing a much larger increase in COVID-19 cases than those non-college counties. 
The University of North Carolina at Chapel Hill allowed students to return for one week this fall semester, before the rise in COVID-19 cases forced them to return to distance learning indefinitely. 
The positivity rate on UNC main campus rose from just under 3% to nearly 14% in that week alone. 
Similar solutions are occurring in schools and universities all over the country.
Some are allowing smaller portions of students to return to campus while the majority of students continue to learn from home. 
Some are implementing a hybrid system where students return to school on some days and learn remotely on others. 
Few, if any, educational institutions are able to return all students, faculty and staff to their classrooms and campuses at this time. 
The Long Tail of Higher Ed
These circumstances surrounding the coronavirus pandemic have, however, led to opportunity for educational facilities and integration firms alike—specifically in higher education. 
Ultimately, K-12 learning institutions will one day return to normal. It makes little sense for K-12 to implement sophisticated distance learning solutions that will, eventually, be of little use. 
Once the COVID-19 pandemic is behind us, it's important for children to return to school. The social and emotional skills learned in those formative years are crucial, as well as the need to ensure children are somewhere safe and secure while parents work. 
In addition, K-12 provides nutrition and physical activity that some children have little access to in their home lives. 
Higher education is another story altogether. Long before COVID-19, many higher education facilities had already begun to implement sophisticated distance learning technology. 
There have always been students that need to work full-time but still want to earn degrees and students in remote areas that don't have the funds to live on-campus at a major university and students with familial obligations that can't move away from home for four years.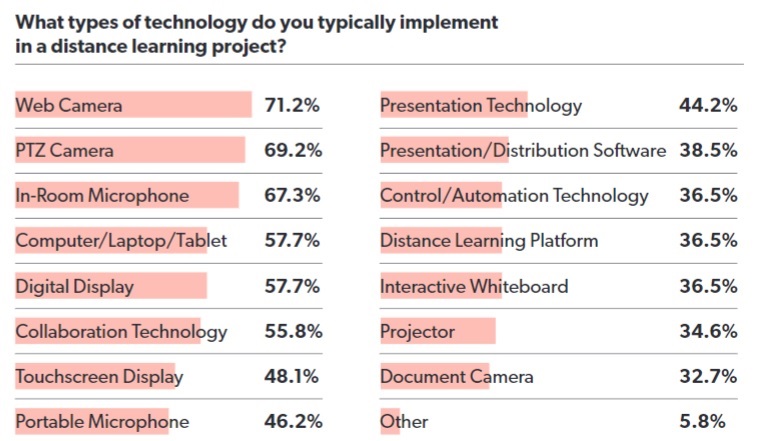 These students have realized the opportunity of earning an online degree that fits into their lifestyles.
Online programs exist at some of the most prestigious universities in the country.
Students have been earning bachelor's degrees, master's degrees, and even doctorates through fully online education for years.
The institutions that offer these programs are able to take on far more students—earning far more tuition—for years. 
For those who had yet to implement an online degree program, COVID-19 has thrust them into the world of distance learning, which should be considered a boon to all higher education clients. 
The systems that are put in place at higher education institutions as a result of COVID-19 have long–tail profit potential.
What that means is that once COVID-19 is behind us, the distance learning systems implemented to handle the pandemic can be used to build online learning initiatives for the university. 
This allows universities to recruit students from anywhere in the country without having to convince them to move to the campus. 
In the short term, distance learning solutions will help higher education institutions serve their current student base and continue to educate amidst the COVID-19 pandemic. 
In the long term, distance learning technology will allow these same schools to implement online degree programs that vastly expand their recruitment base as well as their total student capacity.  
It's crucial that they make the investment to implement sophisticated systems so that they can achieve the latter. 
Typically, the window for installing sophisticated systems lasts as long as summer or winter break. Higher education institutions will never again have the amount of time and freedom for mass implementation of systems that they have now. 
While COVID-19 has been difficult for us all to deal with, on the bright side the stars have aligned to push higher ed customers toward taking a step to an evolved curriculum. 
It's up to integration partners to convince their customers that now is the time. Detail the mass benefits of implementing sophisticated, long–tail distance learning systems now in order to receive benefits for years to come. 
To help in that endeavor, let's take a look at one school that did just that.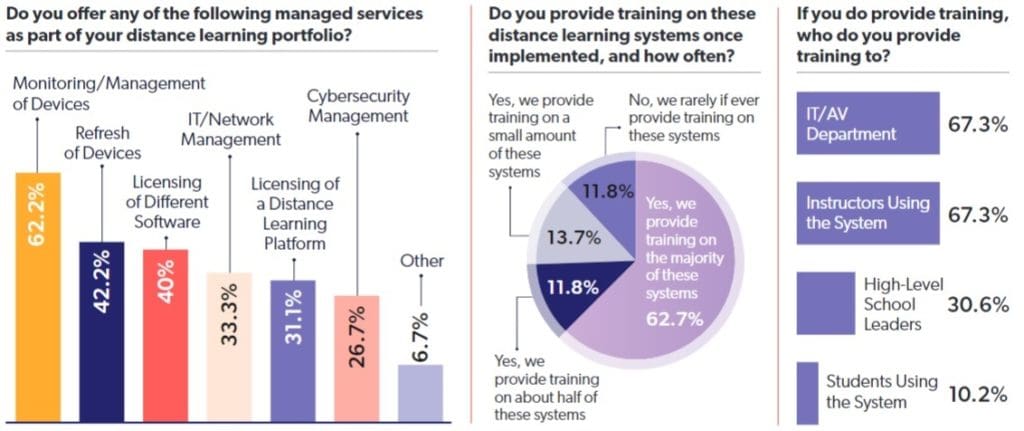 USC Distance Learning Solutions Overhaul
"We were already in the plans of upgrading all of our general use spaces – about 300 total – before COVID-19 ever happened," says Joe Way, director of learning environments at the University of Southern California.  
"We were planning on having more hybrid learning spaces and moving our AV into the future as a core directive," he says. 
With the convergence of AV and UC and the advancement of AV-over-IP, Way and USC had already set forth the plans to vastly expand their distance learning offerings. The COVID-19 pandemic only further proved the necessity of such systems. 
"COVID-19 helped justify the upgrade," says Way. "People understood why we wanted to do this."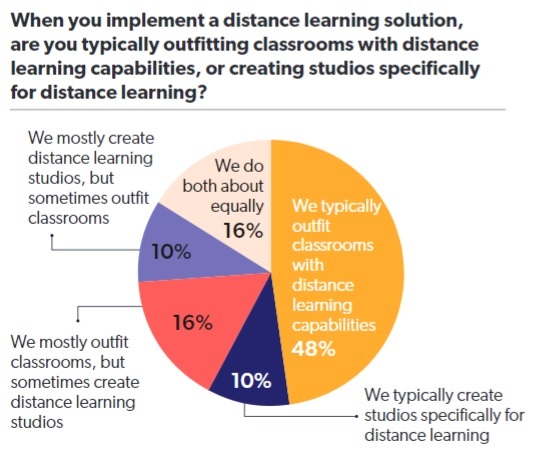 Way and USC were looking for interactivity first and foremost.
With typical online degrees, the interaction often amounts to writing and commenting on posts, watching lectures on demand, communicating with professors through email – an asynchronous approach. 
"What the students and faculty want is interaction. We gave options to create that two-way interaction," says Way.
"We brought extra instructional designers in to assist the faculty who had never needed to teach online. We increased graduate assistants to monitor breakout rooms and Q&A sessions. 
"Is it exactly the same? Of course not, but it gets closer to personal connection and live interaction," he says. 
As a result, once California moves into phase 3 of its pandemic recovery plan, USC is ready to provide a hybrid approach where students in class and students online are in the same courses at the same time. 
"We've actually seen Zoom bombing turn into a positive, where you will have Dr. Dre or Steph Curry hop into a class as guest speakers," says Way. "That was the whole reason I designed our hybrid spaces. 
"If there's an expert in the field in Africa or Asia, you can have them call into the class. Now it's becoming the way we have to teach [during COVID-19]," he says. 
Way also stresses looking to faculty to better determine how to set up virtual classrooms in order for them to teach. 
"We recognized that faculty missed whiteboard and chalkboards," he says. "It's their comfort zone. Standing in front of a room is where they work best." 
USC took an entire floor of spaces and turned them into production rooms, with ceiling microphones, confidence monitors, document cameras, and extra peripherals. Teachers could see students in front of them and feel comfortable teaching similarly to how they always had. 
"If a student sees a faculty member with a chalkboard behind them, they recognize that and feel like they're getting better value. There's a connection to the university," says Way. 
The core of USC classrooms are Crestron FLEX UC engines, Zoom-enabled so every class is essentially a Zoom room. When faculty members walk in, they use their own computer to join. 
USC has integrated the Zoom client in with the classroom scheduling so the room knows who is teaching. This lets the faculty member take over the microphone, camera, and other equipment in the rooms that they prefer to use. 
"When I came on in August 2019, USC wasn't doing any wireless sharing or lecture capture," says Way. 
Content is pushed out automatically through the Blackboard platform USC uses. Zoom classes are pre-populated in the platform, with single-authentication sign-ins pushing students to the content they're meant to see. Students can then interact with professors and other students live through the Zoom and Blackboard platforms. 
For easy management of this new ecosystem, Way sought to move as many services as possible either to the cloud or as software-defined options. 
"We went fully XiO Cloud and Fusion Cloud," says Way. "We've been working with Crestron on it since before last fall. We are able to remote manage through that side of it." This allows Way and his team to remotely monitor classrooms and diagnose problems. 
"That's how I designed this ecosystem. I wanted our call to resolution in under five minutes, and when some buildings are eight minutes away, the easiest way to solve that is to never actually go to the room," he says. 
Way and his team have been able to leverage the remote management options so that the main control room really is a control room. 
They can see the status of all the tech they need to manage.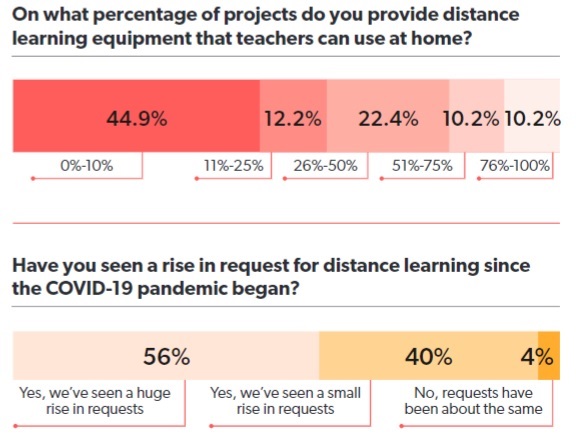 They even implemented BrightSign Cloud for digital signage for campus communication and integrated digital signage into the classrooms so all classroom displays become advertising when not in use. 
"Before the faculty even knows there's an issue, we have been notified," says Way.
"We can restart it or do whatever, which has really limited the number of tickets because we've solved things before anyone knows it's a problem. With legacy systems that wasn't the case." 
Even before the pandemic, Way was preaching the need for hybrid classrooms and distance learning solutions.
He stresses the benefits of cloud, IP-based protocols and software options. 
"Hence why we use Crestron XiO cloud, Fusion cloud and NVX" says Way. "I'm using Shure's IMX Room for our software DSP. We're integrated with Zoom, our classroom scheduling, Blackboard, and our service ticketing. 
"Our digital signage switched to BrightSign cloud so all the displays in our classroom become advertising when not in use. We're even using CH5 [HTML5] for our touchpanel programming, with the GUI based on user-centered design principles. We're using Dante Domain Manager for our audio. There's probably even more I haven't mentioned," he says. 
"All of those options work really well together, while allowing us to scale," says Way. "I am about 55% of campus, which make up the general use spaces but not specialty schools. 
"This platform that we've created will allow us to scale up and offer our services beyond our department. We can easily pull them into this ecosystem," he says. 
USC is a storied and massive institution with the resources to handle this project internally. That being said, the sudden growth of the project due to COVID-19 meant hiring an integration firm for additional labor.  
Related: Sorting Through Body Temperature Scanning Systems
"Originally it was going to be 226 spaces and it went up to about 300," says Way. "We also originally weren't doing full voice control. We added occupancy sensors so the room could be fully automated. Because the scope grew we brought Spinitar in. 
"We hired a programmer plus support people plus installers as well to support our team. We kind of piecemealed how I needed my service," he says. 
However, Way has worked at a number of schools in his career, and stresses that the majority of schools outside of the top 100 don't have the resources that he has enjoyed at USC. 
"It's a very different scale which allows me to do a lot of stuff in-house," he says. 
Many more schools are going to need to implement distance learning technology even throughout the end of the year. 
"That's where there's a lot more room for integrators, especially if they have to do another project," says Way.
Integrators can help them by encouraging them to expand on that idea and build a program that can be a boon far beyond COVID-19. Luckily, there are programs like USC's to learn from and apply elsewhere.