Key Indicators of What's to Come in 2023
Need some reliable data to create better projections for an unpredictable year? NSCA's Electronic Systems Outlook will help.
Leave a Comment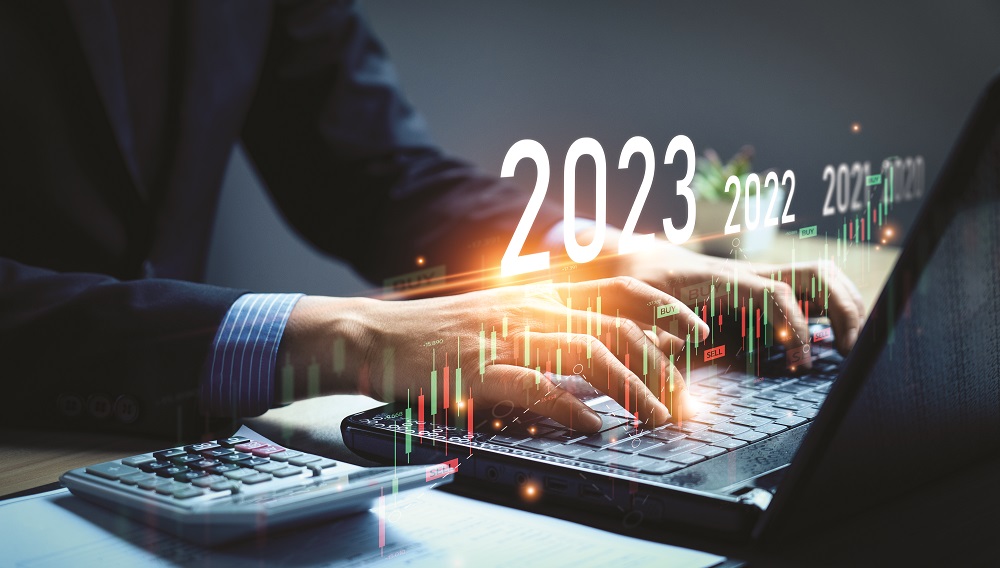 For integration company leaders, dealing with uncertainty is part of the job description. However, it seems as though there are even more question marks floating around in 2023. Forecasting has been difficult due to inflation, supply-chain ambiguity and myriad other factors. NSCA hopes its biannual Electronic Systems Outlook will provide integrators with some trustworthy data as they sketch out their roadmap for the remainder of the year. 
This report is based on construction data, which NSCA has found to be a valuable indicator of integration opportunities (or the lack thereof). To compile the report, NSCA works with FMI, a research firm, to track new construction starts and renovations across various vertical markets. 
A Range of Verticals
Among the verticals covered are the following: 
Corporate

 

Education

 

Government

 

Healthcare

 

House of Worship

 

Lodging

 

Manufacturing

 

Residential 

 

Retail

 
The data and trends analysis point to where growth potential lies. NSCA recommends that integrators use the data in the very early stages of design; moreover, it recommends that integrators even consider using the "percentage of total vertical market construction" averages as a starting point in discussions with clients, tracking how their local marketplace compares to national averages. 
The information in the report can also be critical when budgeting for a project. It can be used to measure growth opportunities and monitor market-share potential. These averages can be used when working with clients, offering the opportunity to show comparable solutions that fit within the average dollars spent on systems in each vertical market. The report gives a baseline average for a good-better-best solution, and it helps guide clients by avoiding underfunding, which leads to subpar system installations. 
The newly released Winter edition of the Electronic Systems Outlook shows total U.S. engineering and construction spending ending 2022 up 8%, which is the same as it was in 2020 and 2021. However, it's noteworthy that the growth is led primarily by residential. Some commercial verticals, such as healthcare and retail, meanwhile, look particularly strong. 
Takeaways from the
Electronic Systems Outlook
Report
What follows are some key takeaways: 
Looking at 2023, FMI forecasts a 2% decline in engineering and construction spending levels as compared to 2022.

 

A limited number of segments are expected to end the year with growth rates between 0% and 4%, which would be roughly in line with historical rates of inflation. Those segments include lodging, offices, education, transportation and communication. Elevated inflation in 2022 is driving output contraction across those segments.

 

The strongest commercial verticals, based on construction data, appear to be healthcare, manufacturing and retail, all of which are predicted to grow at more than 5%.

 

The healthcare market is looking particularly strong, forecast to be up 7%. Future investment is expected to remain strong, driven by demographic shifts that spur demand for new facilities and new technologies that pertain to healthcare services.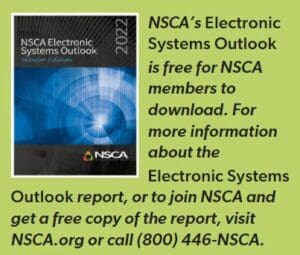 This auspicious data on the healthcare vertical is backed up by what integrators report in the field. "There is such a drive to improve patient experience that a lot of money is being spent," Ray Bailey, founder and president of Lone Star Communications (LSC), as well as president of the NSCA Board of Directors, says. "You see it in movement of patient rooms, lobbies [and] expanded visiting hours. You just see a real push." 
Cautious, but not Disheartening
The data for some other vertical markets that are popular with commercial integrators is less optimistic but not disheartening. The corporate market is expected to stay stable and see spending related to reimagining workspaces and office footprints. However, the report does indicate that rising unemployment in 2023 is likely to curtail some of the flexible and hybrid-work models that emerged from the pandemic. 
Although the news isn't all rosy, NSCA hopes that the report provides valuable data and analysis to help integrators like you create reliable projections for the remainder of the year. 
If you enjoyed this article and want to receive more valuable industry content like this, click here to sign up for our digital newsletters!