Poly Study Says Employees Prefer WFH
A new study from UCC&C company Poly polled more than 5,000 employees and found that 63% of employees are resisting the return to the office.
Leave a Comment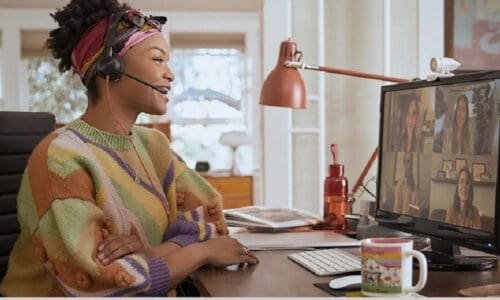 San Jose, Calif.-based Poly's Hybrid Performance Review study polled 5,000 U.S. employees and employers to uncover how workspaces, technology and personality traits are impacting workplace performance, and how employers are responding to today's employment market.
"Our research indicates that hybrid work is here to stay," says Dave Shull president and CEO, Poly.
"Organizations will need to adapt and upgrade their office gear, to include video enabled meeting rooms with technology that's as easy to use as the devices we have all come to know and love while working from home. Once we deliver the tools, technologies, and benefits that employees crave today, we will be equipped to take on the future of work."
The manufacturer announced the findings of its workplace study in conjunction with the opening of its newly remodeled customer experience center in New York City. The new center will serve as an interactive way to showcase enterprise technologies that foster hybrid workplaces.
Research Emphasizes Consistent, Equitable Experiences Key for Hybrid Work
The company says 72% of employees agree that employers can do more to create a more cohesive experience between those in the office and remote workers.
Also Read: HP to Acquire Poly for $3.3 Billion, Combine PC Sales With Poly Solutions
Poly's WFH and hybrid workplace study also discovered that 17% stated out-of-date or cumbersome videoconferencing equipment are frustrating to use.
Other findings from the hybrid work study include:
16% said faulty headset/poor audio also can be frustrating to use
A lack of adequate equipment or retrofitting office spaces led to just 28% of workers and 35% of business leaders saying their organization has created suitable experiences for remote and in-office employees
An inequality between remote and in-office employees is seen by 36% of workers, saying their employers have provided adequate technology to connect with WFH employees
Employers admit they can do more to support hybrid workplaces. Poly's study says 45% rate their support as excellent when it comes to supporting hybrid workers with technology. 45% said their employers support them with wellbeing services; 44% said they are supported with inclusion initiatives, and 42% state they are supported with collaboration
Well over half of employees (57%) admit that they get pressure from their employers to return to the office
Video is quickly becoming the standard way of working, with 71% of employees using the medium, as well as 66% stating they prefer presenting to large audiences via videoconferences rather than in person
Examining how WFH and hybrid workplaces complement a range of personality types, the study finds that employees that consider themselves introverted are nearly twice as likely to say working from home (48% to 25%) better suits their personalities.
A greater number (64%) of those who consider themselves introverted also feel they have increased their productivity since the pandemic compared to 51% of extroverted employees. Just over a third of those asked attribute these feelings to a better work/life balance.
A version of this article originally appeared on our sister publication site, CEPro.com.