AV News to Know Jan. 15, 2021: New Products, Cool Projects and People in New Places
This week: Lowell releases new wall-mount shelf, Martin Audio enhances Italy's Covo nightclub and a flurry of hires and promotions.
Leave a Comment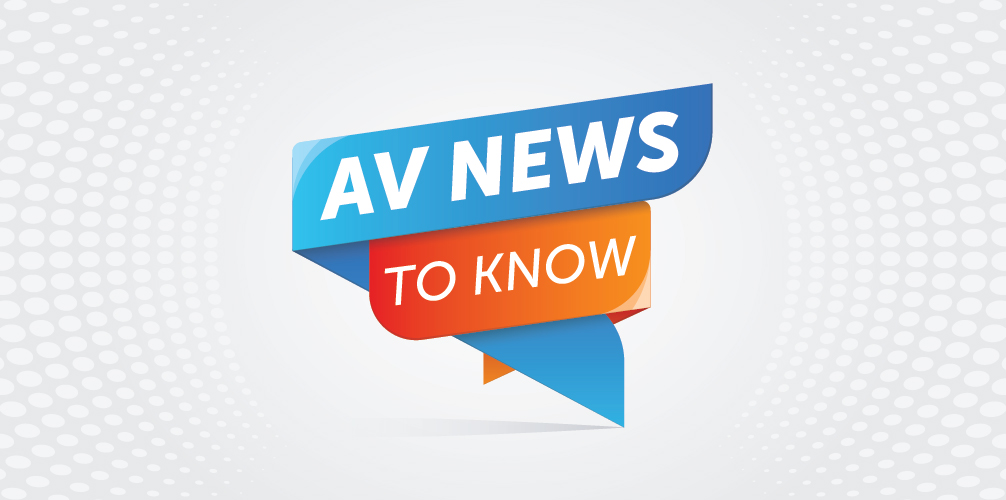 New AV Products
Pexip and Logitech Partner on AI-Powered, Immersive Video Collaboration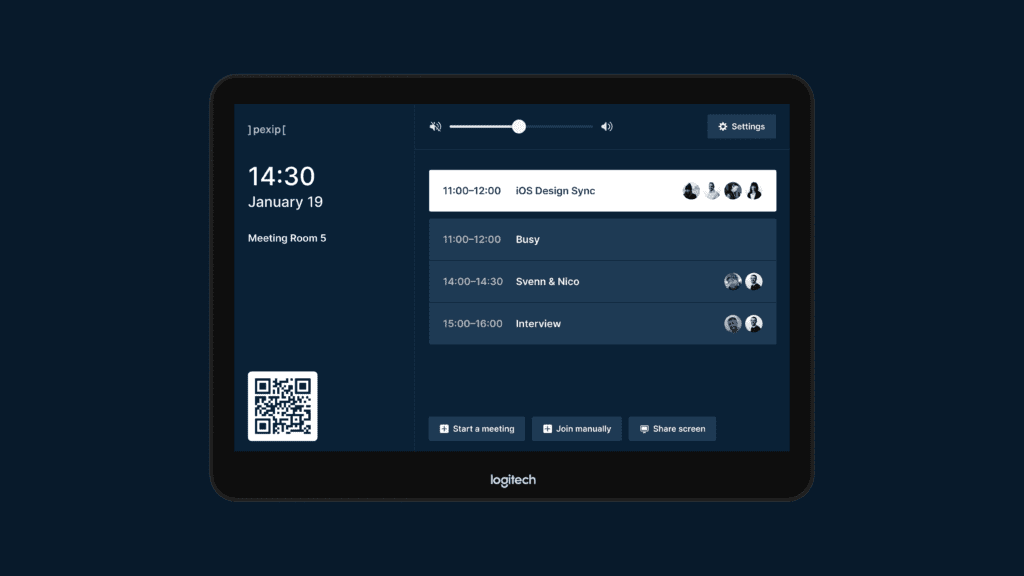 Pexip this week announced a partnership with Logitech to deliver a secure video conferencing experience for meeting rooms. Pexip will natively integrate with Logitech's new generation portfolio of video conferencing solutions to provide a consistent end-to-end user experience from any location.
With One-Touch Join, users can safely and easily join Pexip Meetings from a Pexip Room, the Pexip app on a mobile device or laptop, or through any web browser that supports WebRTC. The Pexip Room software will be available on Logitech's video bars, Rally Bar and Rally Bar Mini, as well as Logitech RoomMate which all use the Logitech Tap controller as the user input device.
Lowell Manufacturing CPU Shelf Streamlines Work Areas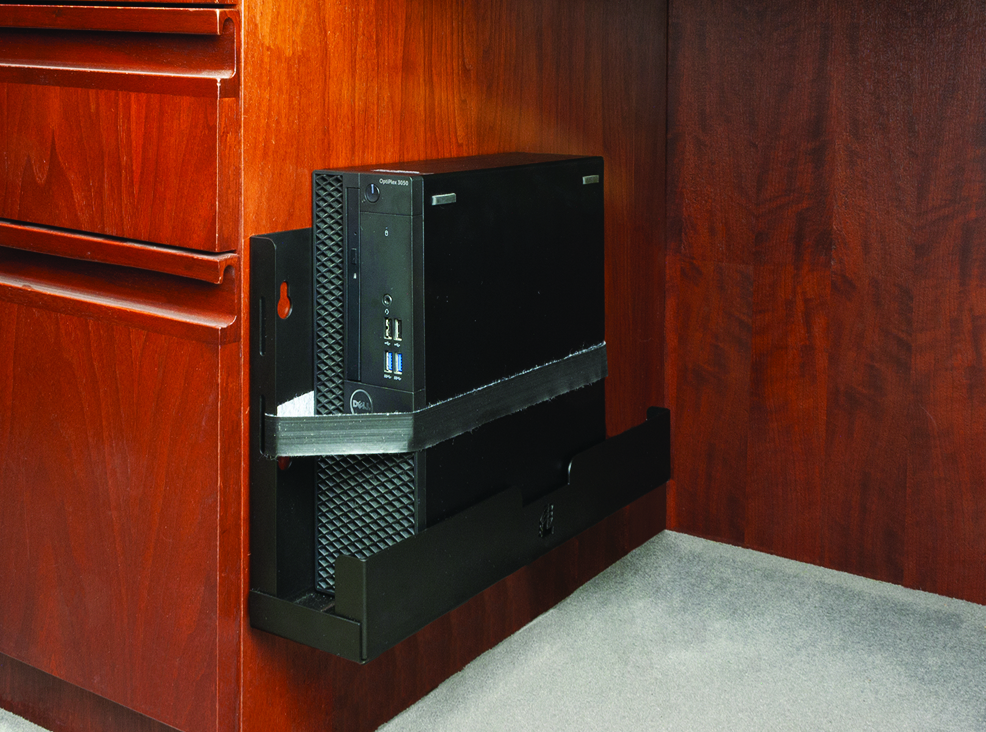 Lowell Mfg. Co. this week released a new design for a wall-mount shelf made to streamline desktops by moving computer towers off the desktop and into their own space—without relegating them to the floor.
The steel shelf has keyhole mounting slots on 16-inch centers to mount to a wall or the side of a desk, allowing a personal computer tower or mini tower to be placed out of the way but still near at hand for ready access to ports for peripheral device connections.
The 14-gauge steel shelf has a load capacity of 75 lbs. so it can also be used to store heavy equipment, such as uninterruptible power supplies (UPS). Each shelf includes a 50-inch length of hook and loop strap to feed through side slots and secure equipment in place.
The 19-inch by 10-inch shelf is available with four-inch depth, model WMS-CPU-4, or eight-inch depth, model WMS-CPU-8. WMS Series shelves begin shipping in January.
ClearOne Introduces VESA Mounting Option for its Beamforming Microphone Array Ceiling Tile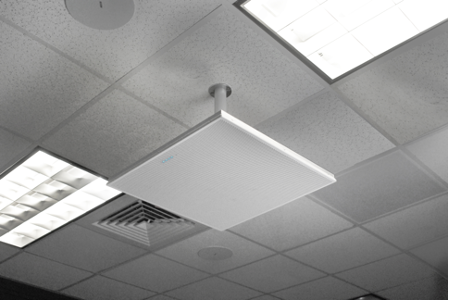 ClearOne this week expanded the installation flexibility for its Beamforming Microphone Array ceiling tile microphone with a new, optional VESA mount bracket.
The VESA Mount Bracket is designed to allow pole mount or projector mount options for the BMA CT and the Versa BMA CTH solutions.
The VESA mounting options facilitate installation on non-drop, "hard" and angled ceilings and allow the easy positioning of the BMA CT and BMA CTH at a convenient height from the floor.
Utelogy Releases Analytic Tiles to Provide Actionable Insights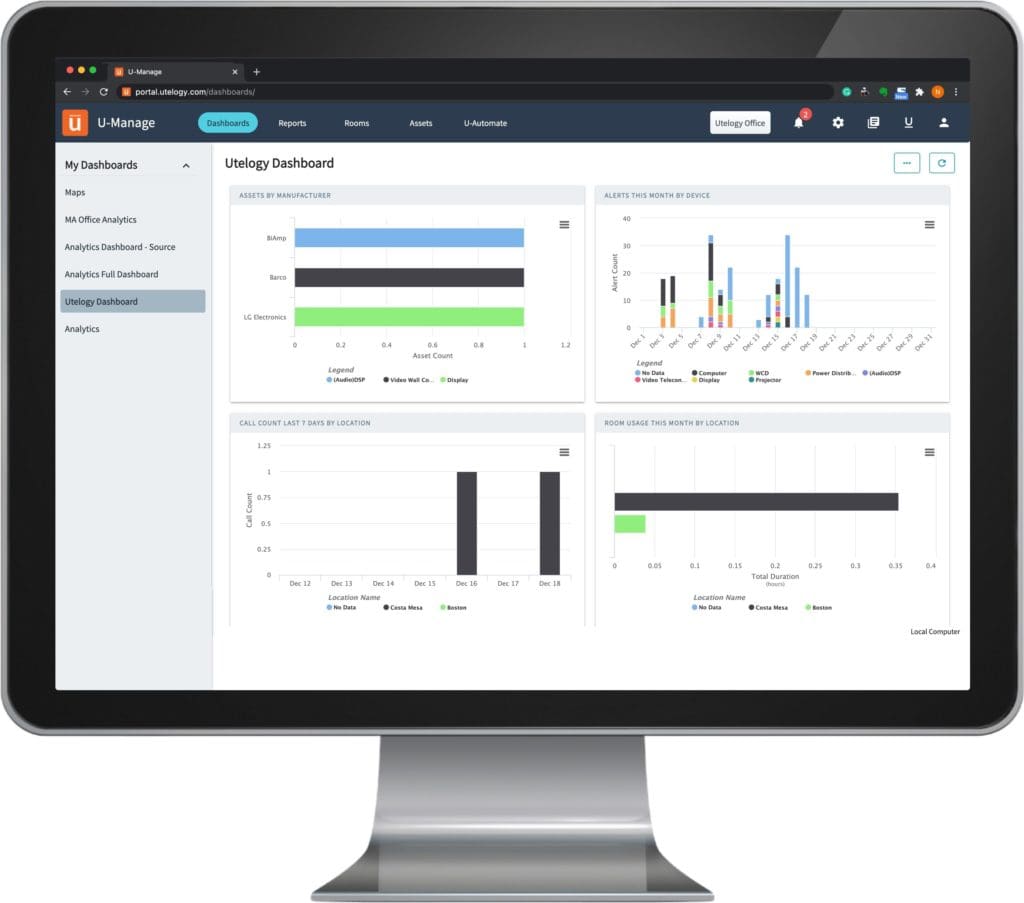 Utelogy Corporation this week announces the release of Analytic Tiles, a new deep insights tool for users of its U-Manage Dashboard Platform.
Available on all existing and future dashboards, Analytic Tiles improve the management of companies' AV and UC estates by providing deep-level insights into device usage, space utilization, system performance, asset management, alert data and much more.
Fully configurable visual tiles provide actionable data analysis allowing campuses and enterprises to have full visibility into current and future performance and utilization trends and take a proactive approach to equipment refresh programs or building out new workspaces.
FSR Receives U.S. Patent for Smart-Way Raceway Wire Management System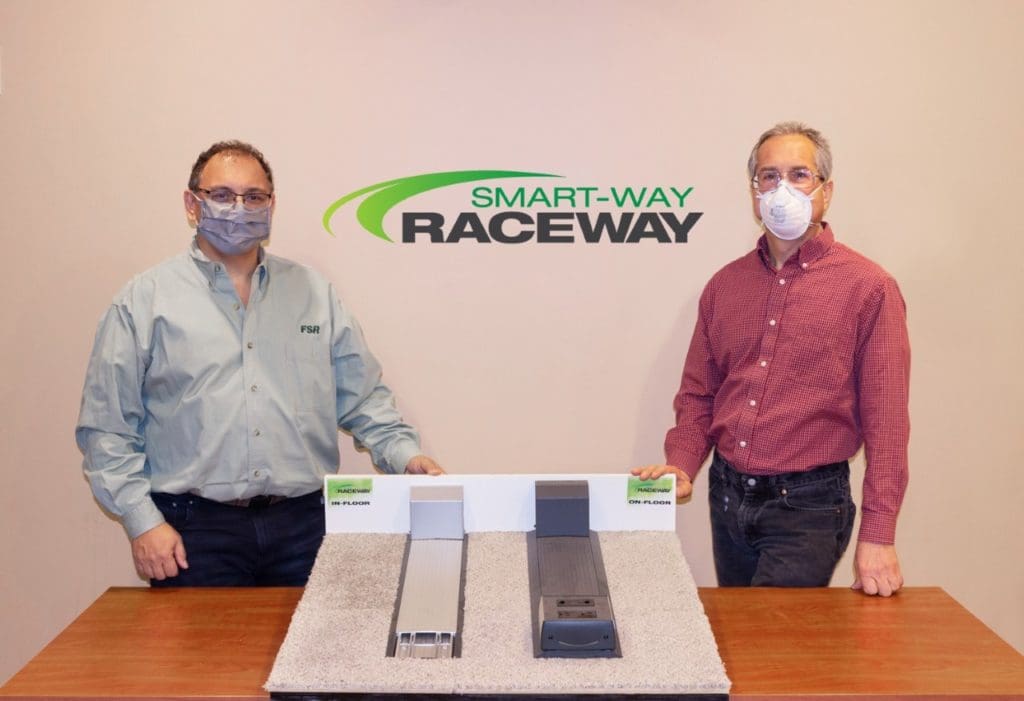 FSR has been issued a patent by the U.S. Patent Office for its Smart-Way Raceway wire management system. Smart-Way houses electrical and connectivity cables in a track configuration that can be adapted for use on or embedded into different flooring.
The Smart-Way raceway system is a way to organize cables and wires and get them across the floor to where they're needed for connectivity, power and communications signals. The Smart-Way is the only floor Raceway system that provides in-feed options to transition power and low voltage cables from the wall, ceiling or below the floor.
Audio Visual Projects
Bloomfield Stadium Delivers Stunning Sound for Football Matches and Events
KLEY-ZEMER's professional division KZPRO (R.B.X international) were chosen to supply a state-of-the-art JBL Professional audio system for the 60-year-old Bloomfield football stadium during its extensive three-year renovation project.
The installation was a cooperation between independent consultant Harel Tabibi, integration company Barkai LTD and installation company The Charmer Group.
Bloomfield stadium, home of Hapoel Tel Aviv, Maccabi Tel Aviv and Bnei Yehuda Tel Aviv football clubs, first opened in 1962. In addition to hosting three football clubs, the veteran stadium has accommodated world-renown musical acts including Celine Dion, Rihanna, and Pixies.
In 2016, the stadium was closed for a three-year renovation, which included expanding the capacity to 29,150 seats, making it the third-largest football stadium in Israel.
Barkai LTD was brought in to outfit the newly renovated stadium with a sound system that would be loud enough for football matches, had clear and responsive sonic quality for concerts, and could withstand extreme weather conditions.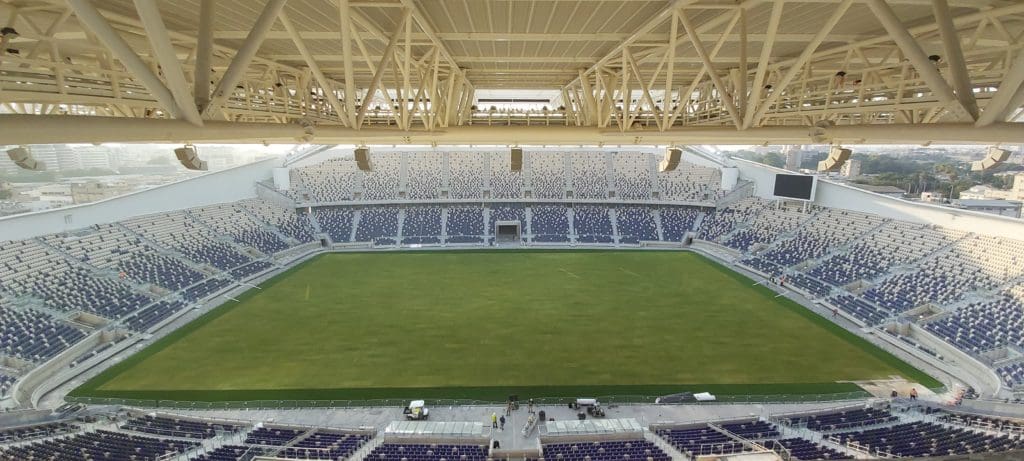 "The main challenge of this project was to give appropriate sound coverage to the southern and northern balconies that are not roofed," said independent consultant Harel Tabibi, who specified and designed the new sound system.
"As a result, we had to install the speakers over the sides of the balcony, 80 meters away from the audience," he said.
The system installed by The Charmer Group includes 80 JBL PD564 WRC loudspeakers. The stadium was also equipped with 12 PD6322 WRC loudspeakers, which were chosen for their high output sensitivity and extended low-frequency response.
The speakers were powered by 16 of Crown's flagship I-TECH 4X3500-HD power amps, selected for their ability to deliver power output across four channels.
Systems engineer Babo Levy from Charmer Group managed the installation. He explained that it was important that the installation was perfect the first time to avoid making difficult adjustments after the installation was complete.
"The angles were spot on—after the installation process took place and testing began there was no need for any adjustments with the hang points. It was a challenging project, as there were no cranes allowed on-site after the installation of the soccer pitch, so the very detailed plans we got helped a great deal."
Martin Audio CDD for Italy's North-East Covo Nightclub
Martin Audio's CDD loudspeaker series has found another high-profile home—this time on the Italian Riviera in Santa Margherita Ligure at the famous Il Covo Di Nord-Est nightclub.
The venue features both indoor and outdoor spaces: the main bar is located in the former, while the dance floor and sofas, arranged differently every night, can be found outside. The main DJ area hosts local artists as well as more well-known names in the music industry, and it is here that the ultra-compact 2-way CDD loudspeaker solution was specified.
The upgrade had been the result of a storm back in 2018 which had necessitated a complete venue rebuild, including the new audio system, which will now take on new challenges, both indoors and out.
Venue owners Stefano Rosina and Matteo Canepa (from Mito srl) considered several tenders before choosing Vibra Service of Albenga (SV) to undertake the work. The company had previous experience working at Il Covo in 2018.
Vibra Service, in turn, chose CDD series for its ultra-performance, with owner Stefano Lo Sardo, stating that he considered it to be the best option in terms of quality-price ratio. The weather resistance of the 'WR' version provided an added bonus.
"I knew the dispersion would guarantee even coverage throughout the entire venue, particularly in the main guest seating area around the center," said Rosina. Furthermore, he was confident that with this system sound leakage to the neighboring buildings could be avoided.
"In this instance I have prioritized sound clarity and uniform coverage above seeking a high SPL," he said.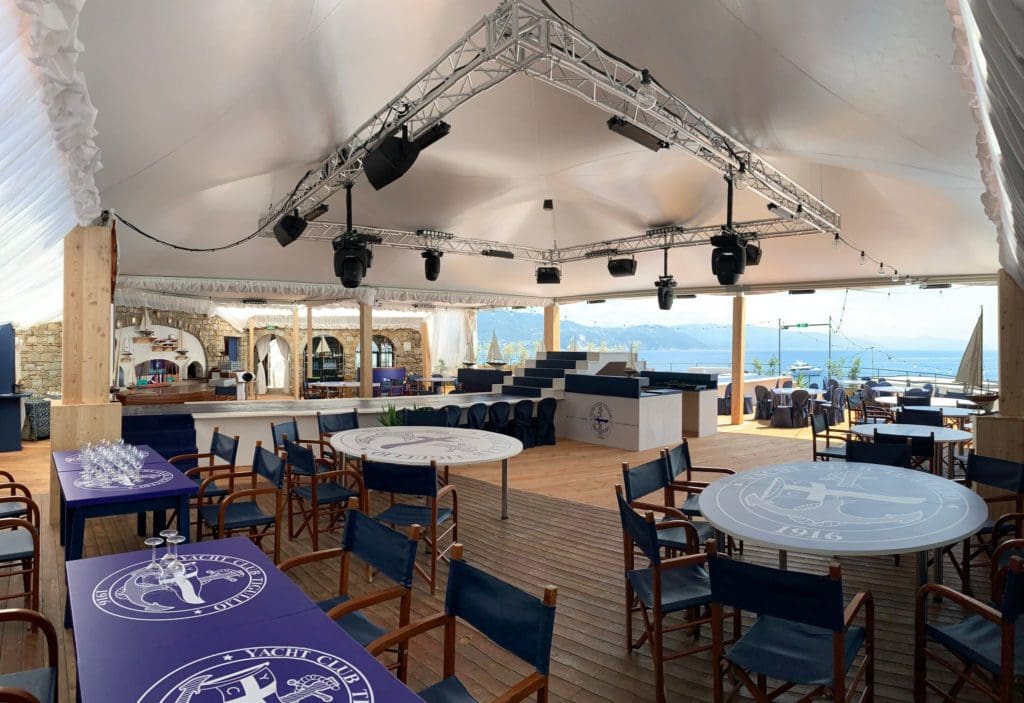 The sound system design itself comprises four ultra-compact CDD5B, with a pair of SX110B subwoofers and six CDD10B for the interior. They have maintained continuity with CDD in the outside area, with a pair of CDD10B-WR weatherized speakers and four SX112B subs.
This will reproduce background music for entertainment, during the day, and dinner shows with slightly more forceful volume in the evening.
And so the impressive legacy of this eminent place, which oozes elegance and class, looks set to be maintained. Originally a house set in the rocks overlooking the sea, built at the beginning of the 20th century as a private home, it only became a public place in 1934.
Names such as Brigitte Bardot and Roger Vadim, Jane Fonda, Frank Sinatra, Nat King Cole, the Platters, Gloria Gaynor and Gigi Rizzi have all passed through the venue over the years.
,"The customer is extremely satisfied with the new sound system, so much so that he is now considering replacing the PA in the downstairs area with Martin Audio," said Stefano Lo Sardo.
People and Places
Joel Harris Joins Navigate Management Consulting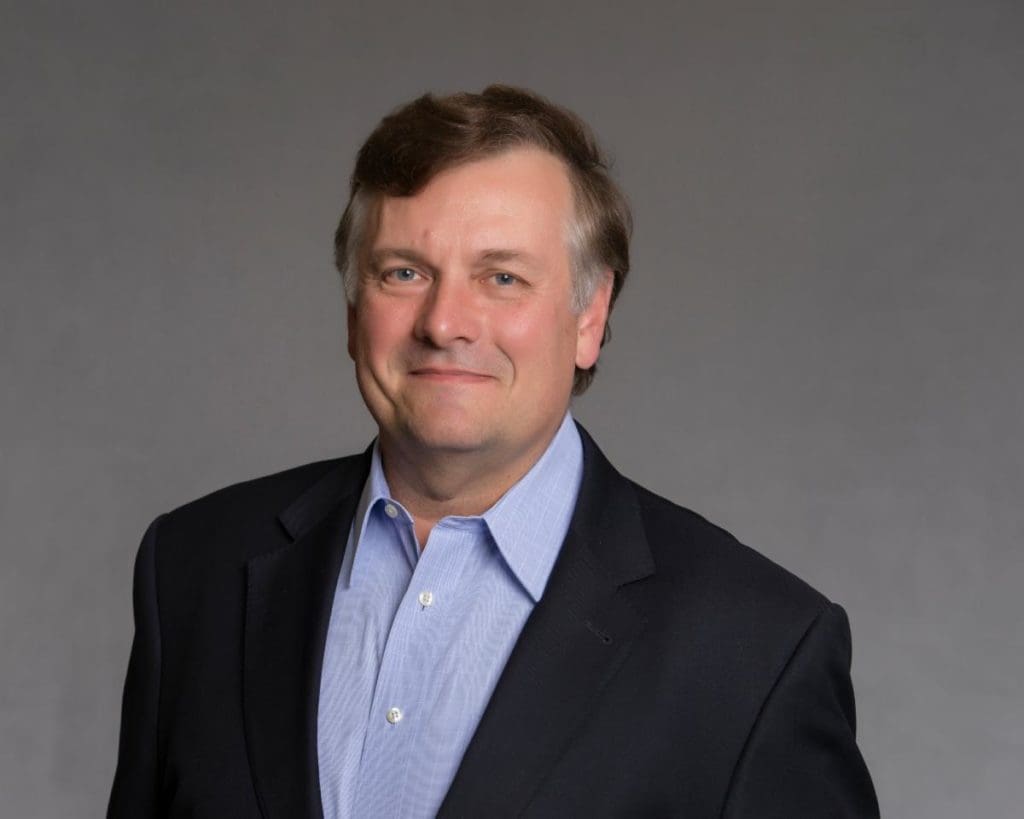 Navigate Management Consulting this week announced Joel Harris has joined the firm.
Harris brings more than 25 years of experience in executive and leadership positions in systems integration businesses. He continues to serve as fractional COO for HB Communications, having joined HB in January 2019.
Prior to HB, Harris served as CEO of Telerent Leasing Corporation (the holding company for TeleHealth Service, Avidex and Digital Networks Group).
AVIXA Announces 2021 Council and Committee Leadership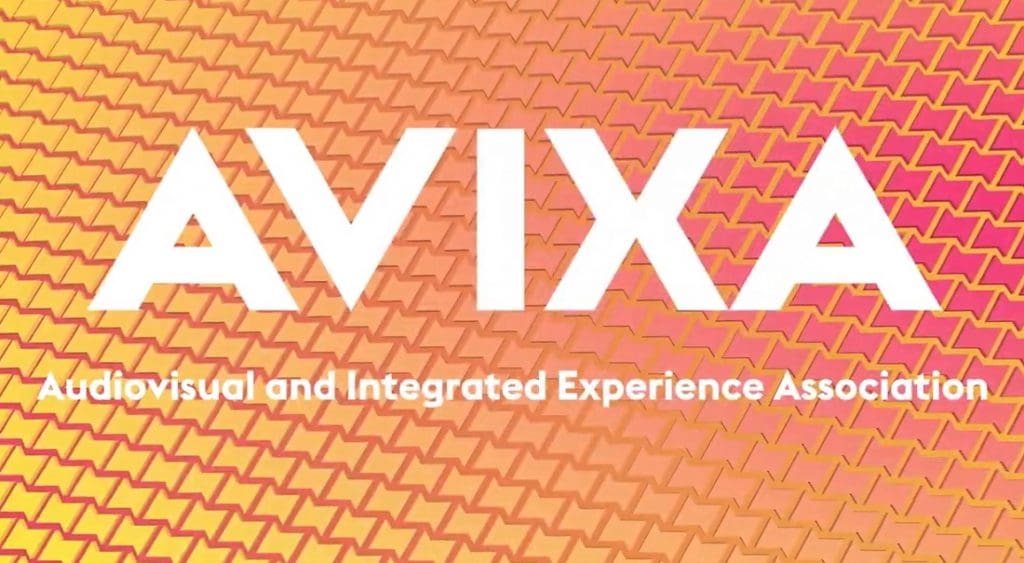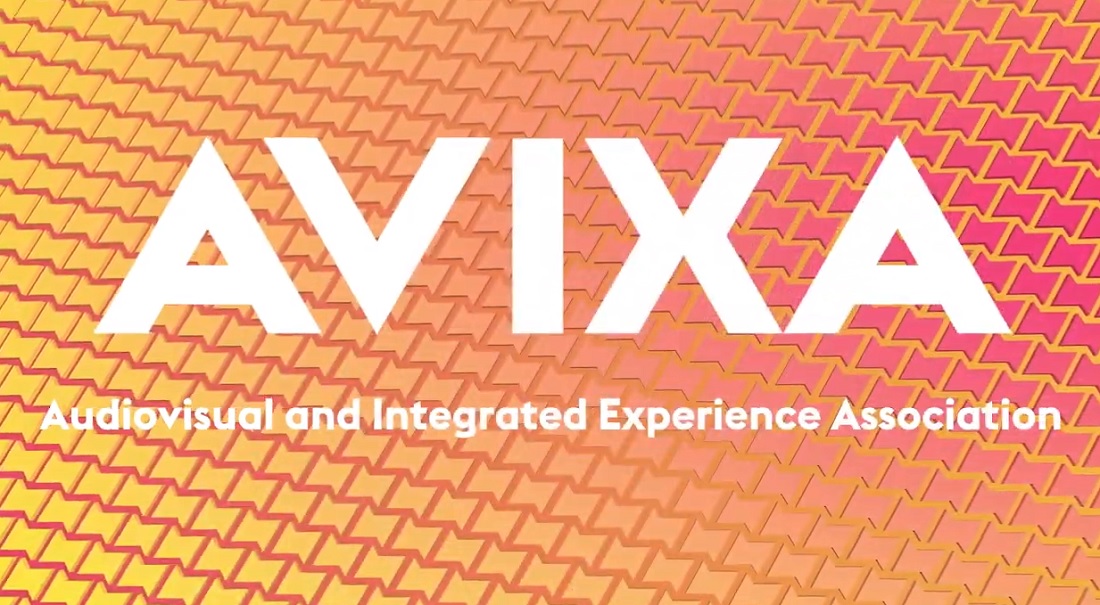 AVIXA this week announced the 2021 leadership of the association's councils and committees.
The AVIXA Board of Directors has appointed Justin Frick of AV Chicago as chairperson of the Live Events Council, Vince Shuster of MediaStar Systems as the chairperson for the Manufacturers Council, Kevin McLoughlin from The Royal Society of Medicine as the Membership Committee chairperson, and Gregory Rushton of Mulvey & Banani AV Inc. as co-chair the Young AV Council.
Here's the full list of 2021 AVIXA Council and Committee leadership:
Consultants Council: Joseph D'Angelo, D'Angelo & Associates, and Peter Hunt, Hewshott International
Diversity Council: Charmaine Torruella, Verrex
Independent Technical Service Council: Mark DelGuidice, Atlantis
Live Events Council: Justin Frick, AV Chicago
Manufacturers Council: Vince Shuster, MediaStar Systems
Membership Committee: Kevin McLoughlin, The Royal Society of Medicine
Systems Integrators Council: George V. Fournier, Jr., AV Design Engineer
Technology Managers Council: Michael Pederson, Iowa State University
Women's Council: Brandy Alvarado, Business Development Manager
Young AV Council: Gregory Rushton, Mulvey & Banani AV Inc. and Matt Eckstein, AE Design, Inc.
Paul Weiser Joins ASG as Head of Marketing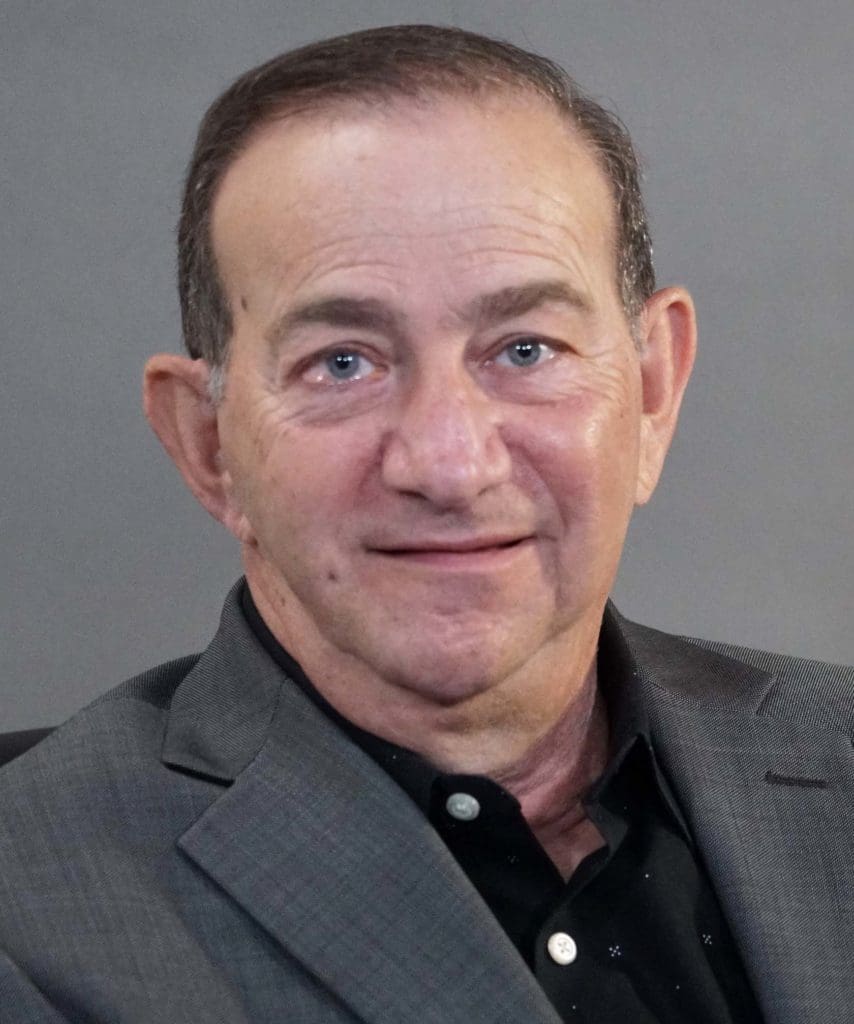 Paul Weiser joined Advanced Systems Group (ASG) on Nov. 16 as head of marketing.
Weiser has directed sales teams for a number of companies. Most recently, he served for three years as senior vice president of sales for the Americas and Asia Pacific regions for ChyronHego.
Previously, he held a similar role for the Vitec Group's Production Services Division. Weiser has also led sales efforts for AJA Video, Autodesk, Apple, and Avid Technology. In 2012, Weiser founded and managed KDM Global, a consulting firm.
Symetrix Promotes Scott Wrege to National Sales Director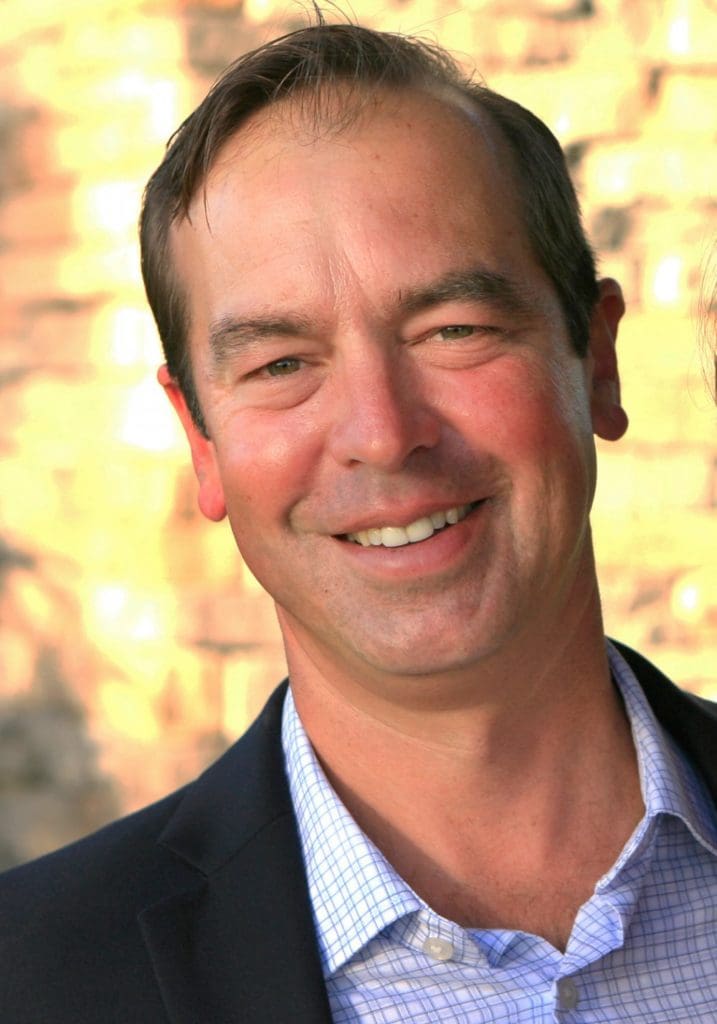 Symetrix, Inc. this week announced the promotion of Scott Wrege to National Sales Director for the U.S. In this role, he will primarily be responsible for implementing sales programs throughout the U.S.
Wrege joined the company in 2019 as western regional sales manager. He previously owned his own rep firm, Pacific AV, which represented AV lines in California, southern Nevada, Arizona and Hawaii.
Maxell Promotes Elaine Casabuona to Head of Commercial and Marketing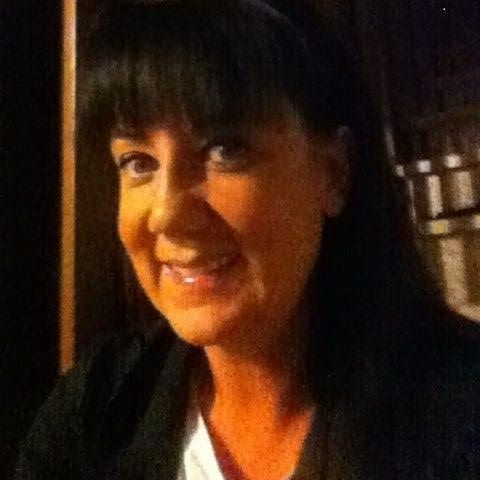 Maxell Ltd announces the appointment of Elaine Casabuona as Head of Commercial and Marketing
Maxell Ltd. this week announced, in line with the expansion strategies of its distribution network, the new role of Elaine Casabuona as head of commercial and marketing.
In her new role, Casabuona will also be responsible for establishing new commercial and programming agreements with the main groups operating in the professional AV market.
Casabuona has been working in the electronics and professional AV sector for more than 20 years with assignments related to sales and marketing.
She began her career at Hitachi Europe in 1989 in a marketing role for the design department, working on heavy industry market.
Alliance Audio Visual Group Represents A.C. ProMedia in Southern California, Southern Nevada, and Arizona!
A.C. ProMedia this week announced Alliance Audio Visual Group (AAVG) as their newest sales representative partner.
Working with A.C. ProMedia's Michael Colon, Regional Sales Manager, and Franck Fabry, VP of Sales, AAVG will cover the Southern California, Southern Nevada, and Arizona territories.
AAVG will represent all of A.C. ProMedia's lineup of brands including AUDAC, Luminex, Harvey, LumenRadio, Chroma-Q, and PROLIGHTS.