AV News to Know March 26, 2021: New Products, Cool Projects and People in New Places
In this week's edition: Sony releases new live production switcher, DAS Audio helps church deliver message and VuWall hires COO/CFO.
Leave a Comment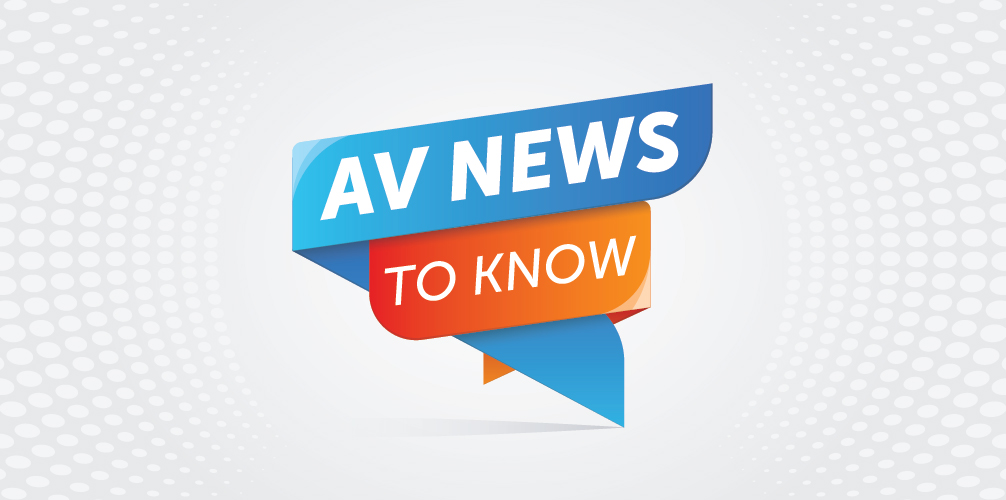 Here's a closer look at some of the AV news, products and projects you might have missed this week. We call it AV News to Know:
New AV Products
Tripp Lite Introduces Safe-IT Antimicrobial Products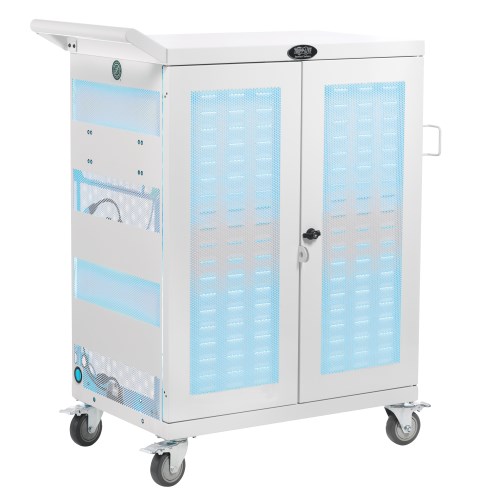 Tripp Lite has introduced Safe-IT products, a new collection of antimicrobial products designed to promote safer, cleaner and healthier environments for working and learning.
Tripp Lite Safe-IT products have antimicrobial or antibacterial properties to inhibit the growth of harmful microbes and/or UVC sanitizing lights to help disinfect mobile devices.
Sony's New 4K Live Production Switcher, XVS-G1
The newest addition to Sony's switcher family, the XVS-G1, is an entry-level compact live production switcher developed as a next-generation platform. It combines the legacy of Sony's switching technology, the power of a new video processing engine, 4K and 1080p support with a modern design.
Optimized for live production needs including news, entertainment, sports as well as houses of worship, corporations and educational institutions, the XVS-G1 system is intended for small to mid-size studios, outside broadcast vehicles and fly pack systems.
Powering Up is a Snap with FSR's New Chargers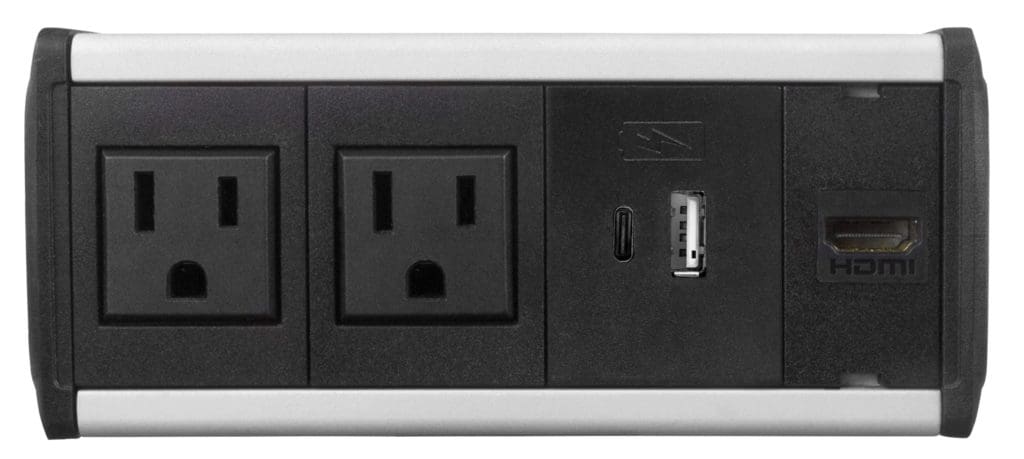 FSR has expanded its line of charging solutions for iPhone, iPad or any smart device with the introduction of power management options for USB-C connectivity.
The Keystone Snap-In charging port is the perfect power option for FSR's Symphony series as well as the company's table and floor boxes, wall plates and Raceway system.
The newly launched Dual Combination USB chargers provide a choice exclusively for the Symphony range of table boxes and its pedestal charging tower.
Fairview Microwave Releases New SMT Noise Sources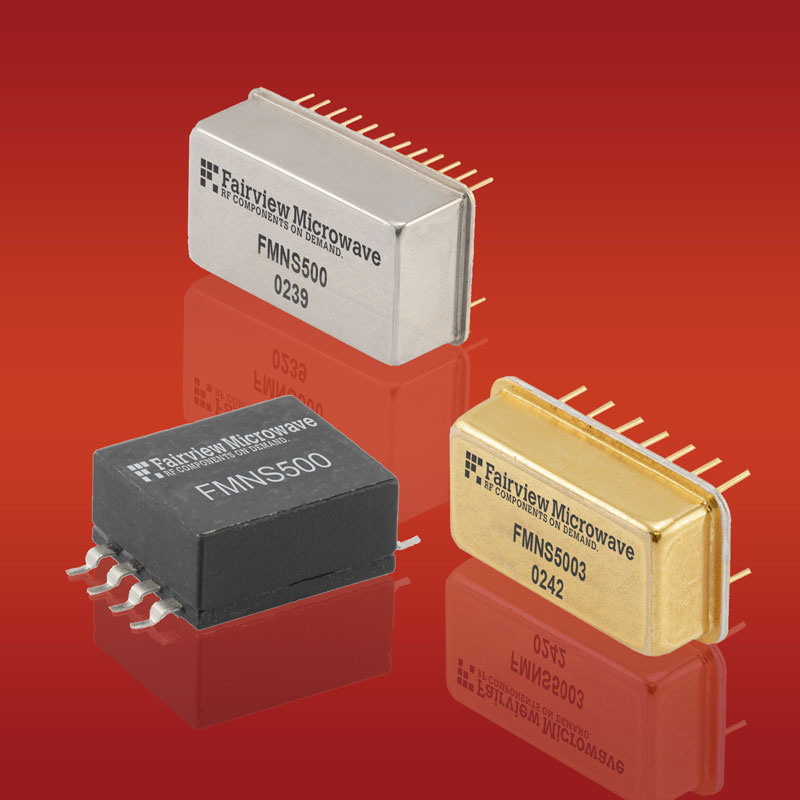 Fairview Microwave Inc., an Infinite Electronics, has just debuted a new series of miniature SMT packaged noise sources that are ideal for built-in test equipment, dithering for increased dynamic range of A/D converters and as a source for bit error rate testing.
Applications include microwave radio, communication systems, military and commercial radar, base station infrastructure, test and measurement and telecom data links.
Fairview Microwave's new line of noise sources includes nine models with dual in-line pin (DIP) and industry standard SMT gullwing pin surface mount packaging options. They cover frequency ranges from 0.2 MHz to 3 GHz and provide a source of additive white gaussian noise (AWGN) with a crest factor of 5:1. The DIP models boast a noise output power level of -5dBm.
The SMT gullwing pin models in this line feature high output ENR levels ranging from 31 dB to 51 dB.
Audio Visual Projects
HARMAN Provides Immersive, Networked Sound and Lighting for Samsung KX
To complement the next-generation technology on display at Samsung KX, Snelling Business Systems and Cosmic Electronics recently outfitted the venue with a complete state-of-the-art HARMAN networked AV, lighting and control system.
Situated in the recently developed Coal Drops Yard shopping district in King's Cross, London, Samsung KX is a destination for the public to experience Samsung's range of innovative connected technologies working together.
The 20,000 square-foot space features a 32-foot Screenmax LED display wall, connected "smart kitchen," immersive augmented reality experiences and an ever-changing list of temporary installations.
To further enhance the futuristic experience, Samsung KX required a facility-wide immersive AV, lighting and control system with enough flexibility to serve any current or future needs.
AV integrator Snelling Business Systems and lighting integrator Cosmic Electronics outfitted the space with state-of-the-art JBL, Crown, BSS, Martin and AMX solutions.
"We didn't approach Samsung KX like any other traditional shop," said Tanya Weller, director of Samsung Showcase. "It was very much about creating an incredible space to bring the latest innovations to life and showcase our products working seamlessly together, but also a flexible environment that we could invite the community into for various events and experiences.
"The beauty of it is that it's incredibly adaptable. If we've got an event in one zone, we can ensure the sound is great in that area, or we can have total takeover of the space," she said.
The centerpiece of Samsung KX is the Screenmax video wall, which features tiered seating for presentations, panel discussions, movie nights, gaming sessions, interactive experiences and other events.
To provide cinematic sound for any application, Snelling installed JBL CBT1000 line array column loudspeakers with CBT 1000E extensions on either side of the screen, which deliver full-range audio with focused coverage.
Along the top of the screen, four JBL AC16 compact loudspeakers provide additional center coverage, with proprietary Coverage PT waveguides for consistent 90-degree vertical and horizontal dispersion.
Two JBL VTX F18S subwoofers complete the Screenmax sound system, delivering bass response in a compact enclosure. Snelling also supplied four JBL 708P powered reference monitors, which can supplement the system to create a temporary surround-sound setup.
The opposite side of the space features a Samsung The Wall Professional LED display in a comfortable living room-style environment. Two soffit-mounted JBL Synthesis S3900 speakers provide ultra-dynamic, high-fidelity sound thanks to dual 10-inch low-frequency drivers, a 1¾-inch high-frequency transducer and a dedicated ¾-inch ultrahigh-frequency transducer for treble detail.
JBL AC115 subwoofers provide additional bass, delivering full-range sound that brings the latest movies and games to life with incredible depth and impact.
To provide AV control and reconfiguration of the space, Snelling equipped Samsung KX with BSS signal processors, Crown amplifiers and AMX control systems. BSS Soundweb London signal processors provide a digital audio bus that can route up to 256 individual channels over standard Cat-5 cable.
The BSS signal processors feed network-connected Crown amplifiers, which provide amplification to the many speakers throughout the showroom, as well as advanced DSP via HiQnet Audio Architect software.
An AMX Netlinx NX-1200 integrated controller, Modero MD-1002 touch panel and multiple Samsung tablets loaded with the AMX TPControl app provide seamless control over the audio, video and lighting systems.
"In order to deliver mission-critical performance with a versatile and robust AV infrastructure, we turned to HARMAN's technology," said Steve Royans, director of Snelling Business Systems. "The BSS signal processors allow for highly flexible deployment of DSP over two 'wings' of the store, as well as full audio routing to independent zones.
"Using Dante networked audio, we were able to configure all 52 speaker channels individually, which enabled us to 'move' audio around the space. The AMX NX-1200 integrated controller, Modero touch panel and AMX TPControl app give Samsung KX staff complete control of the space at all times," he said.
To further elevate the Samsung KX experience with dynamic lighting effects, Cosmic Electronics deployed a variety of Martin lighting fixtures and LED video elements.
In the Screenmax area, three Martin MAC Encore Performance fixtures provide spot lighting for presentations and events, while seven MAC Aura XB fixtures provide washes with superb color mixing.
Additionally, Cosmic Electronics highlighted the unique architecture of the bridge that joins the two wings of Samsung KX using Martin VDO Fatron 20 LED video blades.
Mounted vertically at intervals along the floor-to-ceiling windows, the fixtures feature a 20mm pixel pitch and 16-bit color mixing, providing dazzling video effects when mapped with Martin P3 control.
"We knew that the refresh rate was going to be fine for any sort of camera work and not conflict with anything on the screens," said Mark Damon, director of Cosmic Electronics.
DAS Audio Loudspeakers Bring Engagement to First Baptist Church
With its mission to develop disciples of Christ Jesus who joyfully exchange all that they are for all that He is, First Baptist Church is devoted to developing disciples of Christ.
The church recently underwent an extensive facility upgrade to its sound reinforcement capabilities and, as part of this endeavor, they now have new loudspeakers drawn from the Vantec, Event, and Aero series catalogs of Valencia, Spain-based DAS Audio.
DiTech AV LLC of El Campo, TX, an AV design / build firm that services the worship and commercial markets while also operating a live event services division, was contracted to design and deploy the church's new sound system.
Paul Guthrie, the firm's owner, who heads sales, system design, and system integration, discussed the project.
"First Baptist Church has an incredibly unique, 1200 seat sanctuary that is contemporary in its design and is positively beautiful," he said. "The overall width of the space is 150 feet with a depth of 140 feet. The stage runs the width of the room with a center 30-foot thrust that projects out in front of the stage area.
"Seating is fixed with a capacity for 1200 people and the congregation area has an incline, or rake, of 18 feet from front to rear. Services are a blended style of both traditional and contemporary but leaning more toward the contemporary side," said Guthrie.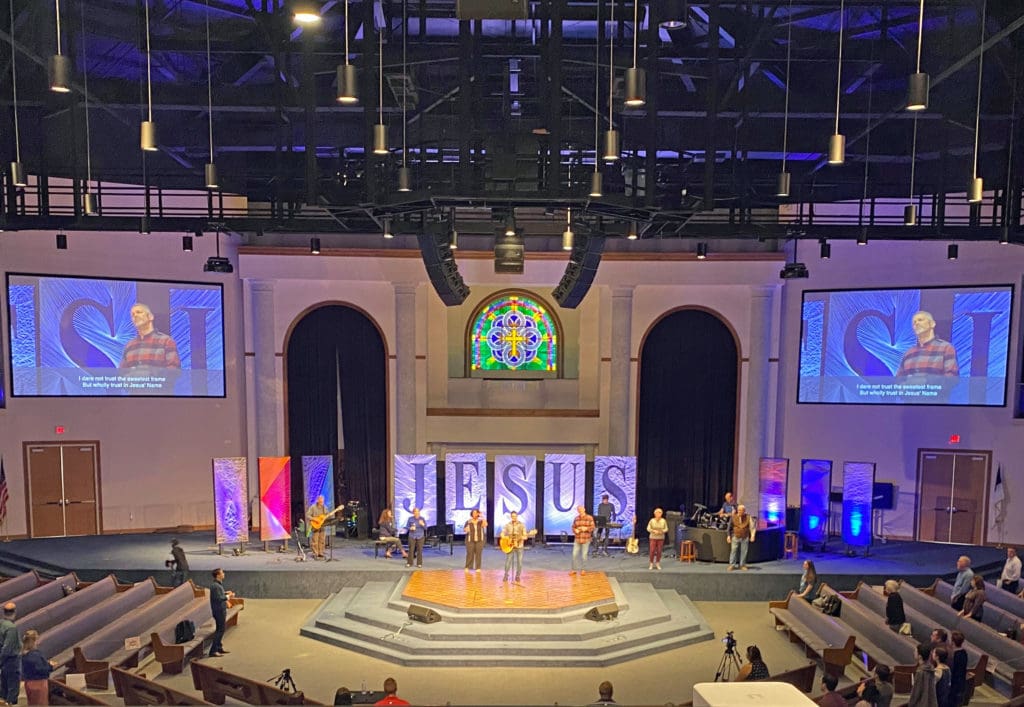 "There is both a praise band and an eight-member praise vocal team that provide a very uplifting worship experience," he said.
The new loudspeaker system deployed by Guthrie and his crew includes three DAS Audio Vantec-20A active curve sourced line array enclosures that are flown dead center—facing straight out into the room—directly above the stage thrust.
There is also a fourth Vantec-20A that serves as a center delay speaker. This is positioned 70 feet back into the room. Directly to the left and right of the center loudspeaker cluster, there are two flown clusters, with each hang consisting of five DAS Aero-12A powered line array elements.
These two loudspeaker clusters are angled to face the left and right sides of the sanctuary.
For low frequency support, the DiTech AV team deployed two DAS Audio Event-218A powered subwoofers. These two enclosures are positioned in the center area above the line array clusters and among the stage truss.
When queried about those attributes of the DAS Audio loudspeakers that made them so well-suited for the First Baptist Church project, Guthrie stressed the importance of both speech intelligibility and the ability to accurately reproduce music.
"Ultimately, speech intelligibility was a crucial concern, because without this, the message gets lost," he said. "We also wanted the system to be very musical and live sounding. We wanted the audience to not only hear the music, but to feel it as well.
"The entire installation is very clean in appearance and is not the least bit visually distracting," said Guthrie.
With the new DAS sound system up and operational since January, Guthrie reports receiving a lot of positive feedback.
"I can finally hear—and feel—the low end," he said.
Omar Garcia, the worship and evangelism pastor, added, "After service, I had a church member ask what we had done, or how we fixed the sound, because it sounded phenomenal. He said the music sounded great and you could clearly hear Pastor David Adams.
"Pastor David is happy because he can come down off the stage and get closer to the audience without any feedback. With this new system, we could host concerts if we wanted and not have any worries," he said.
People and Places
Shure Announces Executive Promotions
Shure Incorporated has announced that four executives have been promoted to VP and senior VP roles at the company.
Mike Hader has been promoted to VP of global software in the product development division. He joined Shure in 2019 with more than 30 years of experience in planning, executing, and delivering technology-driven solutions during his time at such companies as Continental Automotive, Zebra Technologies, Motorola and Nokia.
Pat Knoll has been promoted to VP of global facilities. She leads an international team that oversees all Shure properties worldwide. Knoll joined Shure in 2005 and today leads a global team responsible for all acquisition, leasing, construction, maintenance, disposition, and security activities associated with the company's offices, manufacturing plants, warehouses, distribution centers and other facilities.
Meg Madison has been promoted to senior VP of human resources. Since joining Shure in 2005, Madison has held positions of increasing responsibility in HR. Meg oversees Total Rewards, Training and Development, Talent Acquisition, HR Information Systems, and Shure's HR Business Partner team.
In addition, she has been a member of the Executive Staff since 2016 and plays a key role on various cross-functional teams, including the global Crisis Management Team.
Bruce Skof has been promoted to senior VP of corporate finance. In addition, he remains the Company's Chief Financial Officer. Bruce joined Shure in 2000 and has held numerous positions in its Finance Division, including Controller, Manager of Financial Analysis, and Senior Director of FP&A and Treasury.
He was a strategic member of the Corporate Management Committee and a key driver in the expansion of Shure's presence around the world through his involvement in the opening of new offices around the globe.
VuWall Appoints Pierre-Yves Desbiens as COO/CFO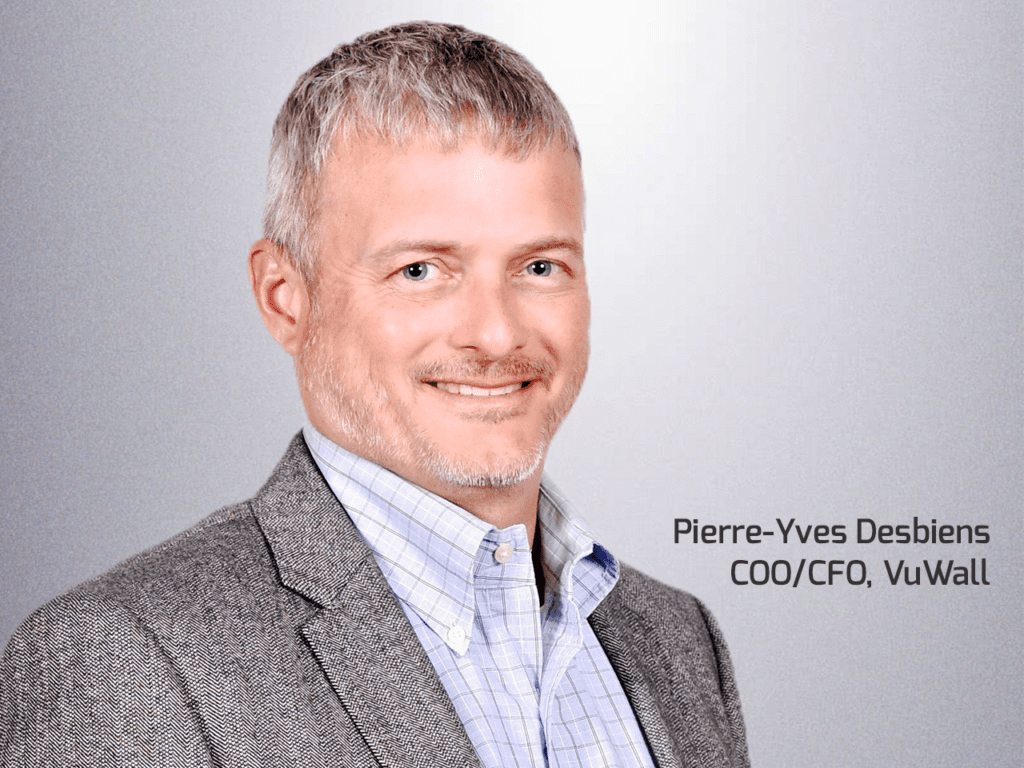 VuWall this week announced the appointment of Pierre-Yves Desbiens as COO/CFO, effective immediately.
Desbiens is replacing CFO Keith Findlay, who retiring May 3.
Desbiens is responsible for finance, accounting, business intelligence, legal, human resources, and overall business operations. He has more than 35 years of leadership experience, where he held COO and CFO titles for the last 25 years for various companies in the fields of technology, innovation and life sciences.
ANC and digiLED Form Strategic North American Distribution Partnership
ANC and digiLED this week announced the formation of a strategic partnership that makes ANC the exclusive North American distributor, integrator and service partner for digiLED's LED products, including the company's flexible LED, ultra-thin line of products and other experiential LED solutions.
The ANC/digiLED partnership gives owners, developers, architects, and contractors looking for the most advanced digital technology solutions access to innovative products designed to fit the most creative ideas and best visual experiences with the assurance of ANC's design, system integration and service offerings.
WorldStage Video Engineer Michael Alboher Dies at 44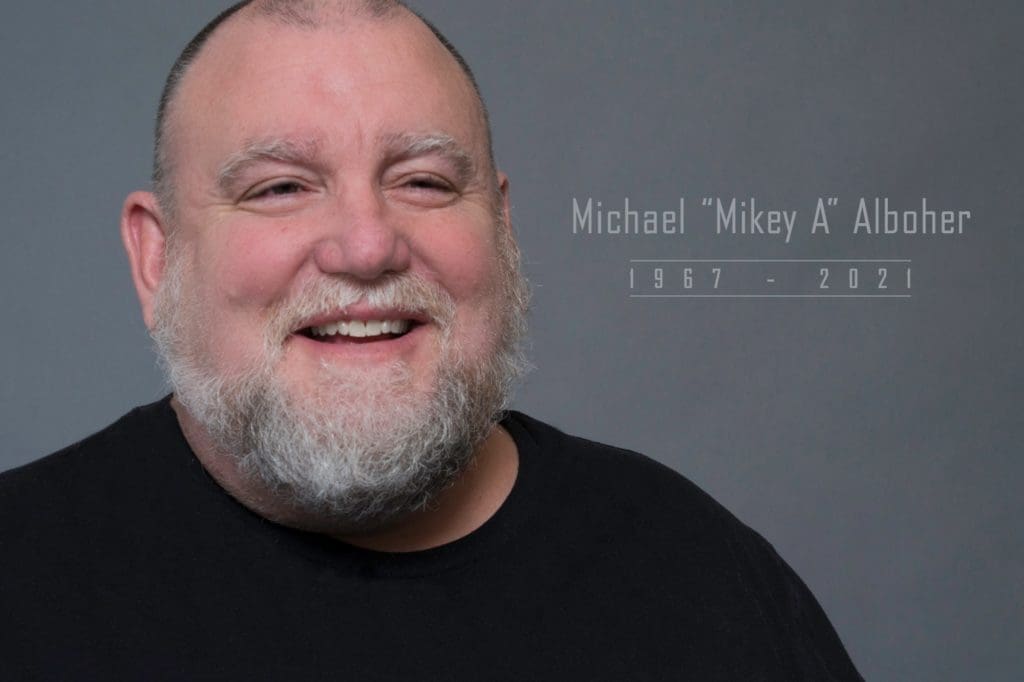 WorldStage announced the death of Michael "Mikey A" Alboher on Wednesday, March 24, 2021.
Alboher's tenure as a video engineer began at Scharff Weisberg Inc in 1994 and he remained a company stalwart until his death. A friend to many in the corporate event community and a constant source of stability, he was always sought after for the toughest assignments.
An inveterate prankster, Alboher could enliven the most interminable backstage sessions but he was also the most generous of technical experts, always willing to share his technical wisdom and experience with others. He leaves behind two sons.